Site News
Warning: This wiki contains spoilers. Read at your own risk!


Discord and Twitter: If you would like, please join our Discord server, and/or follow us on Twitter at @FEWikiOfficial!
Attack
From Fire Emblem Wiki, your source on Fire Emblem information. By fans, for fans.
For the battle stat, see Strength#Attack.
---
This page has been marked as a stub. Please help improve the page by adding information.
---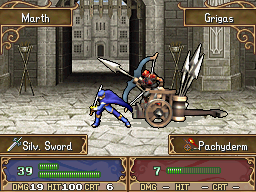 The act of attacking (Japanese: 攻撃 attack) is a basic command available to all weapon-wielding units, in which an allied unit engages an enemy unit in battle, or vice versa. If a unit of the opposing army is within the range of a unit after said unit has moved, the "Attack" option appears. Selecting the option and choosing a weapon to attack with displays the combat forecast window from Mystery of the Emblem onward, summarising both units' stats (enemy stats only in Mystery of the Emblem) which are relevant to battle (such as attack speed and defense/resistance), or, in later games, the amount of damage to be dealt and whether the unit can double.
In Fire Emblem, combat is fuelled by a set number of calculations: the damage to be dealt by both participants and the defense/resistance mitigating said damage, their mutual attack speeds in comparison to each other, their hit rates and critical hit chances. In most games, most of this data is displayed in some form in a segment of the battle screen, and all of it is displayed beforehand in the combat forecast.
Fire Emblem: Genealogy of the Holy War has a second command used for attacking bosses who are stationed at castles, Charge (Japanese: とつげき).
Etymology and other languages
Names, etymology and in other regions
Language
Name
Definition, etymology and notes
English

Attack

--

Japanese

攻撃

Attack

Spanish

Atacar

Attack

French

Attaquer

Attack

German

Angreifen

Attack

Italian

Attaccare

Attack
Gallery