Site News
Warning: This wiki contains spoilers. Read at your own risk!


Discord and Twitter: If you would like, please join our Discord server, and/or follow us on Twitter at @FEWikiOfficial!
Range
From Fire Emblem Wiki, your source on Fire Emblem information. By fans, for fans.
"Rng" redirects here. For "RNG", see random number generator.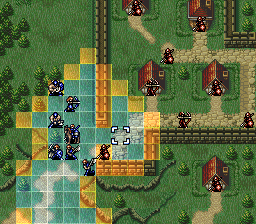 A weapon's range (Japanese: 射程 range), abbreviated Rng, denotes the distance with which its wielder can attack. Measured in terms of spaces, the range with which a unit can attack with a weapon is, generally speaking, the unit's movement plus the range of the weapon; almost anywhere which falls inside this radius can be attacked, depending on the terrain properties and the weapon. The vast majority of weapons have a range of 1 or 2; attacking at 1 range is traditionally called "direct" or "melee combat", while attacking at 2 or more range is referred to as "indirect" or "ranged combat".
Typical ranges
Each weapon type is primarily associated with a basic range possessed by the majority of weapons of the type; however, for each weapon type there are a small number of rarer weapons which to some degree exceed this basic range. The extended ranges almost always occur in set patterns associated with a certain type of weapon variation.
In addition, there are rare occasions on which range can be extended by other means; for example, the Marksman gains +1 range boost for all bows except longbows.
Items and skills affecting range
Flavor text
Game
Text
(English)
Text
(Japanese)

The Binding Blade

Weapon Range. A range of 1
can only hit adjacent spaces.

*

??

The Blazing Blade

Weapon Range. A range of 1
can only hit adjacent spaces.
??

The Sacred Stones

Weapon Range. A range of 1
can only hit adjacent spaces.
??

Path of Radiance

The weapon range.
A range of 1 means the weapon can
reach only enemies in adjacent spaces.
??

Radiant Dawn


(NTSC-U)
The weapon range. Weapons with a
range of 1 can reach adjacent units
and 2 can reach units 2 spaces away.
武器の射程
1は隣接攻撃2は間接攻撃可能

Radiant Dawn


(PAL)
The weapon range. 1 indicates a
direct-combat weapon, 2 or more
indicates an indirect-combat weapon.
--

Three Houses

Distance from which the unit can attack
an enemy unit.
??
Etymology and other languages
Names, etymology and in other regions
Language
Name
Definition, etymology and notes
English

Range

--

Japanese

射程

Range

Spanish

Alcance

Scope

French

Portée

Range

German

Reichweite

Range

Italian

Raggio

Radius

Dutch

Bereik

Range

Korean

사정

Simplified Chinese

射程

Traditional Chinese

射程