Site News
Warning: This wiki contains spoilers. Read at your own risk!


Social media: If you would like, please join our Discord server, and/or follow us on Twitter or Tumblr!
Gambit
From Fire Emblem Wiki, your source on Fire Emblem information. By fans, for fans.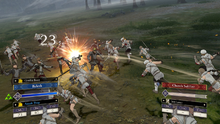 Gambits (Japanese: 計略 Stratagem) are a special kind of action introduced in Fire Emblem: Three Houses. Tied to the use of battalions, they have a variety of uses, ranging from powerful attacks, enhancing the capabilities of multiple units, and various other effects. They have large areas of effect, and can affect multiple units in a single use. To compensate for their power, they have limited uses per battle, and their hit rates can fluctuate significantly, though the latter is tied to the charm stat.
Overview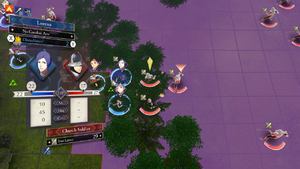 All gambits are categorized as one of the following:

physical attacks,

magical attacks, and

supportive actions. Gambits have an area of effect, allowing them to damage, afflict, or aid multiple units at once; these areas extend out from whichever target is chosen. The shape and size of the area of effect can vary significantly, with some being straight lines, some being radial, and some even being triangular. Offensive gambits will only affect enemy units, while support gambits will only affect allied units. All gambits additionally have a set number of uses per battle, which are replenished at the end of each map.
Like weapons, each gambit has its own might, hit, and range stats. The damage dealt by an offensive gambit scales similarly to regular attacks, being boosted by the user's strength or magic, and reduced by the target's defense or resistance. The charm stat additionally improves the power of gambits, though to a much smaller extent. The accuracy of a gambit, on the other hand, is handled much differently from weapon or spell accuracy. For accuracy, charm is the primary factor, with the difference between the user's and the target's deciding how accurate the attack is; if the user's charm is higher than their target's, the gambit will have a higher chance of succeeding. Gambits can never be counter-attacked in any way, though gambits themselves can also never make follow-up attacks or land critical hits.
If a gambit hits its primary target, then all other opponents in the gambit's area of effect will also be affected by it. If a gambit misses its primary target, however, then no units will be affected by it at all. Units that are affected by an offensive gambit will be afflicted with the rattled status, limiting their movement to zero and preventing them from benefiting from battalions, or using a gambit themselves. Most offensive gambits also have a secondary effect, which can range from changing terrain, to moving the affected units' positions, to other various effects. Gambits can only kill their primary target; any other enemies within their area of effect will be left at 1 HP if the attack would kill them otherwise.
If a gambit's area of effect contains multiple spaces occupied by a monster unit, the monster will only take the damage dealt to the main target. The main target's barrier will also be destroyed instantly, while other barriers within the area of effect will be weakened, or destroyed if they have already been weakened by another attack. In addition, using a gambit on a monster will force the monster to target the gambit user instead of whoever they were targeting previously.
Calculations
Damage
Game
Formula
Notes

Three Houses

Mt + (Strength or Magic) + (Charm / 5) + (Ability bonus) + (Battalion bonus) + (Gambit Boost) − (Target's Protection or Resilience)
Strength and Protection are used for physical gambits.
Magic and Resilience are used for magical gambits.
If any bonus is not relevant, the bonus in question is taken to be 0.
For targets that are not the primary target, the gambit's attack power will be reduced by 50% before factoring in protection/resilience.
Hit rate
Game
Formula
Notes

Three Houses

Hit + [(Unit's Charm − Target's Charm) × 5] + (Ability bonus) + (Equipment bonus) + (Gambit Boost)
Charm's effects on hit rate are capped at +30/-30 hit.
If any bonus is not relevant, the bonus in question is taken to be 0.
Gambit Boost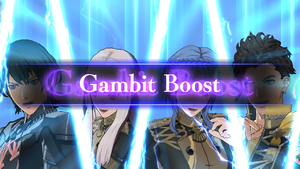 See also: Linked Attack
If a unit uses a gambit while also fulfilling the conditions for a Linked Attack—that is, if there are other allied units that can attack the target from their current range—a Gambit Boost will occur. Applied only for offensive gambits, Gambit Boosts increase both the power and hit rate of the used gambit. The potency of this increase is proportional to both how many allies are supporting the unit, as well as the unit's support level with each of them.
Gambit Boost from a single ally
Support level
Stat boost
None
Attack +1, hit +5
C
Attack +2, hit +10
B
Attack +3, hit +15
A
Attack +4, hit +20
S
Attack +5, hit +25
Like a Linked Attack, a Gambit Boost will only factor in up to three supporting allies on the field along with an adjutant, for a total of four allies, prioritizing the adjutant and units higher in deployment order if more units could contribute. The maximum Gambit Boost values in a typical playthrough are +16 attack and +80 hit, if three supporting allies are in range, an adjutant is set, and the user has reached an A-rank support with all of them; with New Game +, Byleth can unlock their S supports with multiple units, allowing for a maximum bonus of +20 attack and +100 hit.
Items and abilities affecting gambits
Etymology and other languages
Names, etymology and in other regions
Language
Name
Definition, etymology, and notes
English

Gambit

--

Japanese

計略

A stratagem, trick, or ruse.

Spanish

Tactica

Tactics

French

Tactique

Tactics

German

Strategem

Stratagem

Italian

Stratagemma

Stratagem

Korean

계략

Stratagem or trick

Simplified Chinese

计策

Stratagem

Traditional Chinese

計策

Stratagem
Gallery
References
See also