Site News
Warning: This wiki contains spoilers. Read at your own risk!


Social media: If you would like, please join our Discord server, and/or follow us on Twitter or Tumblr!
Hidden treasure
From Fire Emblem Wiki, your source on Fire Emblem information. By fans, for fans.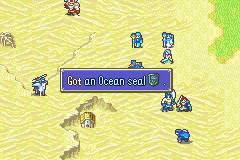 | | | | |
| --- | --- | --- | --- |
| " | What are all of you guys doing? Are you hunting for treasure, like that other guy? Let me tell you a secret. There's something good buried near the bones. I know stuff like that. | " | — Fae |
In many games in the Fire Emblem series, rare items are occasionally available as hidden treasure (Japanese: 隠れた財宝 hidden treasure). These items are buried and completely invisible on the map, and locating them and retrieving them is a secondary goal in a chapter. Hidden items are usually very rare and are not easily found in villages, chests, or shops around the same point in the game, and in some cases are even the only available instance of certain items in the entire game. Common hidden items include offensive staves, stat boosters, and powerful weapons with unique effects.
Unlike the more common ways of obtaining free items as a reward, such as villages and chests, hidden treasure is very infrequently present in chapters and often only appears in one map in an entire game, often a map set in a desert which has a very high number of hidden items present. The two major exceptions to this rule are Radiant Dawn, where every chapter outside of the Part IV, Endgame has hidden treasure, and Mystery of the Emblem and its remake, where five chapters have hidden treasure.
Mechanics
Each piece of hidden treasure is tied to one or more specific spaces on a map which never change. The games themselves do not give any information at all on where each piece of hidden treasure is hidden, and there are no certain clues on the maps themselves. In chapters set in deserts it is common for pieces of hidden treasure to be located very close to piles of animal bones, although this is still uncertain and may sometimes be deceptive. Without the use of external guides on the games, a player will usually have to stumble upon them by accident, or spend entire chapters going through every single space on the map.
In order to obtain a hidden item, a unit must select the Wait command to end their move on top of the treasure's area, but successfully getting one is a matter of luck and the player is not guaranteed to receive it immediately. When a unit waits on a hidden item's area, they have only a relatively small chance of receiving the item. The player effectively must keep waiting on the same area until they successfully receive the item. However, using Thieves and related classes usually increases or maximizes the chance of succesfully obtaining a hidden item; in Radiant Dawn, the chance of successfully receiving a hidden item is also affected by biorhythm. The main exception is New Mystery of the Emblem, where everybody is guaranteed to pick up hidden items on their first try.
Unlike chests and villages, enemy units do not attempt to claim hidden treasure or to actively stop the player from reaching it.
To have a chance to obtain a hidden item, simply have a unit stand on the spot it may be. The difficulty is knowing where these items are, and successfully picking up the item, which is semi-random in most games.
The % chance to find hidden items, by game, is as follows:
Trivia
The character Stefan is recruited similarly to how one finds hidden items. A certain character (Lethe or Mordecai in Path of Radiance, and Micaiah (or Lethe or Mordecai if the save file was started with a data transfer) in Radiant Dawn) must wait on a specific tile, and Stefan will appear and join the player's army.
Etymology and other languages
Names, etymology and in other regions
Language
Name
Definition, etymology, and notes
English

Hidden treasure

--

Japanese

隠れた財宝

Hidden treasure. Used in the window that pops up after obtaining one in Mystery of the Emblem.
Gallery
References
See also