Site News
Warning: This wiki contains spoilers. Read at your own risk!


Social media: If you would like, please join our Discord server, and/or follow us on Twitter or Tumblr!
Creature Campaign
From Fire Emblem Wiki, your source on Fire Emblem information. By fans, for fans.
---
This page has been marked as a stub. Please help improve the page by adding information.
---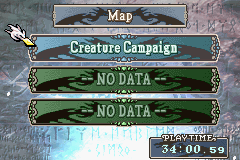 The Creature Campaign (Japanese: 大陸の魔物退治 Continental Monster Eradication) is a post-game gameplay mode which is available in Fire Emblem: The Sacred Stones. The player can choose to continue Epilogue save files in Creature Campaign mode through the Extras menu.
In Creature Campaign, the player wanders the completed world map and fights in the Tower of Valni, Lagdou Ruins, and various monster Skirmishes, using all their units and items from the cleared save file. The player has access to all of the game's shops on the world map to replenish their supplies as they go. The mode has no ending at all and there is no clear goal, giving the player freedom to do whatever they want with the mode: among other activities, they can aim for time and kill records in the Tower and Ruins, or they can focus on grinding to maximize the levels of all of their units. Secret shops are available allowing the player army to infinitely collect items, allowing every unit to have their stats maxed if the player is interested in doing so.
Overview
---
This section has been marked as a stub. Please help improve the page by adding information.
---
Skirmishes
During Creature Campaign mode, three skirmishes will spawn on the world map at the beginning of the mode and every time the Tower of Valni or Lagdou Ruins are visited. Skirmishes can take place on every skirmish location from the main game.
Tower and Ruins records
Exclusive characters
There are also several bonus units to be recruited when playing the Creature Campaign, with most of them being major story characters and bosses. The Creature Campaign has no story content whatsoever.
Trivia
Hayden is the only character recruited in the Creature Campaign that is not deceased by

The Sacred Stones

's conclusion.
Etymology and other languages
Names, etymology and in other regions
Language
Name
Definition, etymology, and notes
English

Creature Campaign

Japanese

大陸の魔物退治

Continental Monster Eradication

Spanish

Monstruos

Monsters

French

Combat de créatures

Battle of creatures

German

Monster-Kampagne

Monster Campaign

Italian

Campagna mostri

Monster campaign
Gallery
References
See also