Site News
Warning: This wiki contains spoilers. Read at your own risk!


Social media: If you would like, please join our Discord server, and/or follow us on Twitter or Tumblr!

Engage info: As the game has only recently released, we lack much key information. Please help add any info that you can.
Substitute character
From Fire Emblem Wiki, your source on Fire Emblem information. By fans, for fans.
This article is about the inheritance mechanic in

Genealogy of the Holy War

. For the spare units in

Shadow Dragon

and

New Mystery of the Emblem

, see Replacement unit.
---
In Fire Emblem: Genealogy of the Holy War, substitute characters are playable units who replace the second-generation children characters in the event that their corresponding mother failed to have children. Seven of the female characters in the game's first generation, all potential mothers, are not guaranteed to be married before or to survive until the first generation's end, and so if a mother dies or is not paired up before the conclusion of Chapter 5, their corresponding children characters are replaced by a pair of substitute characters who function in a near-identical role in the second generation's plot and gameplay. To a lesser extent, the substitute character concept is also applicable to Fire Emblem Awakening with regard to Lucina's parentage in the event that Chrom fails to marry.
Overview
Of the nine female characters playable in the first generation, seven are left to the player's discretion on the matter of being paired up, and so the potential exists for these mothers to either be killed or fail to be paired with a male character in order to give birth to the mother's assigned child characters for the second generation. As such, each mother is assigned a pair of substitute characters who will appear in their children's stead if they fail to be paired, filling story roles and ensuring the player does not have any fewer units than if the mother had been successfully paired. This obviously does not apply to the two pre-set relationships in the first generation's story and gameplay: Deirdre's children, Seliph and Julia, do not have substitutes as Deirdre being married to Sigurd is entirely unavoidable in the course of the game, and Julia's stats are instead pre-set outside the standard inheritance system. Ethlyn's children, Altena and Leif, also do not have substitutes as she begins the game already married to Quan.
For the most part, the substitutes are identical in class and functionality to their matching children, with a small handful of exceptions: Amid is a Wind Mage as opposed to Arthur's Mage, Linda is a Thunder Mage as opposed to Tine's Mage, and Creidne promotes to Forrest instead of Swordmaster as Larcei does. As the substitute characters do not receive any form of inheritance from either parent in the course of gameplay, as a general rule they are inferior to their corresponding child characters, though still entirely usable. The only substitutes to possess Holy Blood are Amid and Linda, who are still part of House Friege as necessitated by replacing the story roles of Tailtiu's children. The game goes to some lengths to provide minor compensation for the inferiority of the substitutes: some of them have access to extra events and rewards which the corresponding children do not, and others start with otherwise unobtainable items and skills not easily available to the corresponding children.
While the matter of what is and is not considered canon is always nebulous and debatable in the context of Fire Emblem games, owing to the large number of possible outcomes with respect to unit survival and pairings achieved, as a general rule the substitute characters are neglected as not canonically existing in other representations of the Genealogy of the Holy War cast. Fire Emblem: Thracia 776 establishes a number of canon pairings and accordingly present children while none of the substitute characters appear or are acknowledged, although there is evidence to suggest that at some point in the development of the game they were intended to appear instead.[1] Similarly, only actual children characters appear as bonus units in Fire Emblem Awakening while the substitutes remain excluded, and no manga adaptation of Genealogy of the Holy War features the substitute characters even in cases where some children are omitted.
Substitutes in Genealogy of the Holy War
Fire Emblem Awakening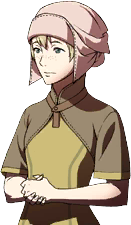 While Fire Emblem Awakening also features a similar multi-generational children system, unlike that of Genealogy of the Holy War, the children are not the sole focus of part of the game and are optional units, fighting alongside their parents due to being involved with Lucina's travel back to Chrom's time. As such, Awakening does not need - and thus does not have - substitute children characters. A slight exception exists with Lucina, who is critical to the game's plot: if Chrom does not have any support relationships with an eligible female character (Sumia, Olivia, Sully, Maribelle or a female Robin) by the end of Chapter 11 for any reason (such as his potential brides being already married or having been killed), he will instead marry an unnamed, generic Maiden as a substitute wife. Similarly to the Genealogy of the Holy War substitute children, this results in a Lucina with poorer base stats and growths fueled solely by Chrom's stats, as well as lacking any skills that may be inherited from a proper bride.
References
See also