Site News
Warning: This wiki contains spoilers. Read at your own risk!


Social media: If you would like, please join our Discord server, and/or follow us on Twitter or Tumblr!

Engage info: As the game has only recently released, we lack much key information. Please help add any info that you can.
Battalion
From Fire Emblem Wiki, your source on Fire Emblem information. By fans, for fans.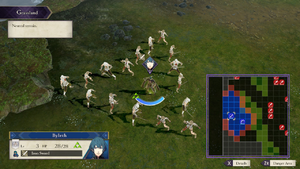 Battalions (Japanese: 騎士団 Order of knights) are a mechanic introduced in Fire Emblem: Three Houses tied to the authority skill level introduced in the same game. Battalions provide bonuses to stats and can level up to increase those bonuses, have their own endurance, and allow the use of gambits.
Overview
Battalions can be equipped to units based on two factors: authority level and movement type. Similarly to weapon level requirements, a unit must have an equal or greater authority level in order to equip a battalion. Additionally, battalions, like units, have movement types—infantry, armored, cavalry, and flying—that limit which battalions they may equip; infantry, armored, and cavalry units may equip all battalions, but flying units are limited to flying battalions. Authority level and movement type also determine the icon used by a battalion.
Battalion icons
Movement type
Infantry
Armored
Cavalry
Flying
E & D
C & B
A
An equipped battalion may boost or penalize any number of the following stats: physical attack, magical attack, hit rate, critical hit, avoidance, protection, resilience, and charm. In general, battalions that require high authority provide higher bonuses. These bonuses can be increased further by leveling up a battalion. Battalions start at level 1 and can grow to level 5. Upon leveling up, the battalion gains a fixed increase in certain stats determined by the battalion; these stat increases can be stored as decimals, though the effective value will be truncated, allowing for increases other than 1 on subsequent level-ups (e.g. the Jeralt's Mercenaries battalion gains 2.5 points of avoid per level, meaning it gains 2 points on the first and third level-ups, but 3 points on the second and fourth).[1]
A unit equipped with a battalion can use the gambit tied to that battalion. When a battle is finished, all expended uses for the gambit are recharged. While gambits are not necessarily unique to any movement type, some gambits are tied closely to a particular type—such as Assembly to flying—and some gambits are unique to only a single battalion—such as Sacred Shield to the Kingdom Heavy Knights.
Battalions have an endurance stat, similar to HP, which increments from 0 to some number, 30 at the lowest. Each battalion has a unique maximum endurance which does not increase with a level-up, unlike the other stats. When a unit takes damage, their equipped battalion takes half the damage (rounded down in case of decimals) from their endurance. Additionally, when a round of combat would reduce a battalion's endurance to below one- or two-thirds its maximum, the rest of the damage is prevented and the battalion is reduced to exactly one- or two-thirds respectively. When a battalion's endurance hits 0, the unit it's equipped to can no longer gain the benefit of its stat boosts nor use its gambit. Unlike HP, battalion endurance does not refresh once a battle is done, requiring instead to be replenished at the battalion guild; unlike units, battalions reduced to 0 endurance are not permanently lost, and their endurance can be replenished like any other battalion.
The main method of acquiring battalions is by hiring them from the battalion guild. The battalions available from the guild vary by route, allowing battalions tied to the homeland of the relevant class or route to be hired. Multiple battalions are obtained as rewards from completing paralogues, requiring that a particular character be recruited. These battalions generally reference a character's homeland and are usually equipped by the required character when encountered as an enemy. Many battalions are acquired instead as rewards from completing quests; these battalions tend to not be aligned with any particular place and cannot be hired from the battalion guild.
Abilities affecting battalions
Abilities affected by battalions
Trivia
There are four unused battalion sprites in

Three Houses

using the black layout used by Agarthan items such as Athame (, , , ).
Etymology and other languages
Names, etymology and in other regions
Language
Name
Definition, etymology, and notes
English

Battalion

--

Japanese

騎士団

Order of knights

Spanish

Batallón

Battalion

French

Escouade

Squad

German

Bataillon

Battalion

Italian

Battaglione

Battalion

Korean

기사단

Order of knights

Simplified Chinese

骑士团

Knight squadron

Traditional Chinese

騎士團

Knight squadron
Gallery
References
↑ Battalions, Serenes Forest, Retrieved: March 27, 2020