Site News
Warning: This wiki contains spoilers. Read at your own risk!


Social media: If you would like, please join our Discord server, and/or follow us on Twitter or Tumblr!
Sound Room
From Fire Emblem Wiki, your source on Fire Emblem information. By fans, for fans.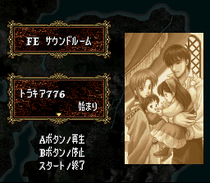 In video gaming, a sound room or sound test (Japanese: サウンドルーム sound room) is a function built in to a game to allow the player to play the game's music tracks or sound effects at their whim. Traditionally, as the name suggested, the purpose of a sound test was for developers to test whether a game's sound and music were correctly functioning, and for consumers to test the performance of the game's sound on their hardware, acting as a way to easily compare the output in different modes of sound. As gaming developed, the sound test functionality largely evolved into a jukebox feature intended primarily, if not solely, as a reward for the player.
In the Fire Emblem series, the first formal Sound Room was implemented in Fire Emblem: Thracia 776; however, it was technically predated by hidden Sound Test modes in Fire Emblem: Shadow Dragon & the Blade of Light and Fire Emblem Gaiden. The Sound Room is traditionally unlocked upon first completing the game in question, though some games vary the unlock conditions. A common feature of Fire Emblem sound rooms, absent only in The Sacred Stones, is for it to also display the game's CG images and to allow the player to browse through them while listening to the game's music. Most Fire Emblem sound rooms contain the full game soundtrack, but on some occasions there are songs not accessible through the Sound Room at all.
Sound Rooms by game
Trivia
The Sound Room in Sacred Stones had its buttons redrawn and recolored when the game was localized in the West.
Path of Radiance is the only game in the Fire Emblem series where the Japanese version lists all of its song titles entirely in English.
Etymology and other languages
Names, etymology and in other regions
Language
Name
Definition, etymology, and notes
English

• Sound Room
• Soundtrack
• Sound Test
• Music Library

• Used in every game prior to Awakening.
• Used in Awakening and Fates.
• Used in Echoes: Shadows of Valentia.
• Used in Three Houses.

Japanese

• SOUND TEST MODE
• サウンドルーム

• Used in the NES games.
• Sound Room. Used in most games from Thracia 776 onward.

Spanish

Canciones

Songs

French

Musiques

Music

German

Musikzimmer

Music room

Italian

Colonna sonora

Soundtrack

Dutch

Muziek

Music; used in Echoes: Shadows of Valentia.
Gallery
References