Site News
Warning: This wiki contains spoilers. Read at your own risk!


Social media: If you would like, please join our Discord server, and/or follow us on Twitter or Tumblr!

Engage info: As the game has only recently released, we lack much key information. Please help add any info that you can.
Chapter
From Fire Emblem Wiki, your source on Fire Emblem information. By fans, for fans.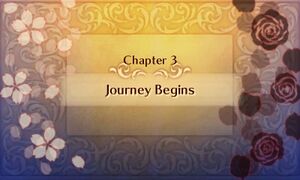 Chapters in the Fire Emblem series generally refer to the individual levels of a game, usually consisting of a single map during which the story progresses at the start of the battle, and upon its completion. Each chapter is assigned a number and title, with the usual exception of the first and final chapters of the game, which are instead designated "Prologue" and "Endgame", respectively, in place of chapter numbers. Players travel through a game's chapters in numerical order; however, occasionally a player will be presented with an alternate route, in which the story and gameplay briefly diverges based on certain conditions, or a sidequest, an optional additional chapter which is typically unlocked by fulfilling certain conditions in the previous chapter, such as ensuring the survival of certain NPCs. Equivalent chapters of alternate routes are assigned the same number, while sidequest chapters in most games are assigned the same number as the preceding chapter, albeit with an "x" prepended; in Awakening and Fates, sidequests instead follow their own numbering schemes independent of the chapters of the main story.
Main series games
Unlike most games in the series, Gaiden only features five Acts, each consisting of several maps which the player may challenge at their leisure via the world map.
Genealogy of the Holy War consists of twelve chapters, which is fewer than most games; however, each chapter is significantly longer than those of other games, with maps spanning entire countries of Jugdral.
Thracia 776 is notable as the first game to feature alternate routes, in which the story and gameplay diverges based on certain conditions, but later reconverge, and sidequests, additional chapters which may be unlocked by fulfilling certain objectives in the preceding chapter.
The Sacred Stones is the final title to date to feature alternate routes. Like Gaiden, its chapters are accessed via a world map, and the player may choose to play them in order, or to take on skirmishes or purchase items between chapters.
In Radiant Dawn, chapters are divided among four "parts" of varying length, with each part following a different playable army and story, before the plot, and all playable armies, converge in Part 4. The chapters of each part have their own numbering schemes, including their own Prologue and Endgame chapters.
In Awakening and later games, sidequests are labeled as "Paralogues", and may be completed in any order the player chooses after they become available. Like in Gaiden and The Sacred Stones, a world map is featured, from which the player may choose to proceed to the next available chapter, complete a paralogue, fight a skirmish, or purchase items. Awakening also introduces downloadable content chapters to the series; like paralogues, these may be played at any time after the player has purchased them, by visiting the Outrealm Gate. DLC chapters do not follow any numbering scheme.
Fates features three sets of branching routes – Birthright, Conquest, and Revelation – which split off from each other at the end of Chapter 5. Each consists of completely different chapters, and these routes never converge or overlap at any point.
Unlike most games in the series (but similarly to Gaiden), Shadows of Valentia only features a short prologue, consisting of one battle, and six chapters, each consisting of several maps which the player may challenge at their leisure via the world map. Unlike other games in the series, chapters are instead known as "Acts", presumably to differentiate them from the more conventionally-structured chapters of other games.
Three houses has two parts. The first 12 chapters share the same chapters with only slight changes. Part 2 is anywhere from 6 chapters long to 10 chapters long. The chapters change in part 2 based on which house is picked in part 1 and certain choices made when in the Black Eagle House. In between chapters, the main player can decide to lecture, skip, rest, explore, or battle on free days. Typically there is 2 to 4 free days a month. When picking battle, there are paralogues like in previous games and also skirmish like battles. Sometimes quests found while exploring can point a player to a unique skirmish with extra rewards.
Spin-off games
Spin-off games do not necessarily follow the same conventions as main series titles, and so may follow different rules for organizing chapters, or may not divide the story into chapters at all.
Etymology and other languages
Names, etymology and in other regions
Language
Name
Definition, etymology, and notes
English

Chapter

--

Japanese

• 章
• EP.

• Chapter; used in most names.
• Episode; used in Three Houses, which uses the normal 章 for its parts.

French

Chapitre

Chapter
See also