Site News
Warning: This wiki contains spoilers. Read at your own risk!


Social media: If you would like, please join our Discord server, and/or follow us on Twitter or Tumblr!
Merchant (shop)
From Fire Emblem Wiki, your source on Fire Emblem information. By fans, for fans.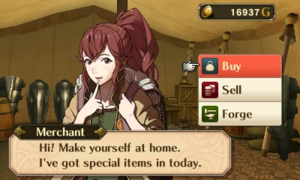 The merchant is a type of bonus shop which appears Fire Emblem Awakening. Merchants take on two forms that work in similar ways, both appearing on various locations on the world map. Both provide the temporary ability to purchase rare items which otherwise are not available at that location's armory.
Traveling merchant
Traveling merchants are a means of purchasing items that do not normally appear in the shops they appear on. These merchants (who are all Annas) take over the armory at the location they appear at, and offer the armory's typical fare in addition to three randomly-selected items that depend on the location. These items often, but not always, are sold at a slight discount from their regular sale price. The randomly-selected items are only sold once per appearance of a particular merchant.
Traveling merchants typically appear at random. However, the player can force one to appear on their present location by using a Rift Door.
In the event a traveling merchant appears on the same space as a swarm of Risen, the player must fight a skirmish against those Risen in order to buy from the merchant. In this case, the merchant appears as a non-playable unit on the map; protecting the merchant will net the player a random item, but conversely the merchant will disappear from the map if killed in this skirmish.
Below is a list of items that can appear at any given shop whenever a traveling merchant visits it:
SpotPass and StreetPass merchants
A merchant function is also a component of Awakening's SpotPass and StreetPass systems. Whenever a unit encountered via either appears on the map, an option called "Buy Items" appears when parleying with that unit. If a player chooses to do so, they can buy one of any item held by any unit on the team; only one of a particular item may be purchased, even if the team has multiple of that item in their inventories. Aside from a specific list of restricted items, any item can potentially be purchased from StreetPass and SpotPass merchants, including any forged items which will retain their forged stats and name. Once you've bought items from the team, that team vanishes from the world map, leaving you unable to battle against the team or recruit its leader.
Etymology and other languages
Names, etymology and in other regions
Language
Name
Definition, etymology and notes
English

Merchant

French

Marchand

Shopkeeper
References
See also