Site News
Warning: This wiki contains spoilers. Read at your own risk!


Social media: If you would like, please join our Discord server, and/or follow us on Twitter or Tumblr!

Engage info: As the game has only recently released, we lack much key information. Please help add any info that you can.
Cervantes
From Fire Emblem Wiki, your source on Fire Emblem information. By fans, for fans.
Cervantes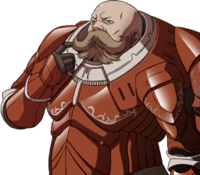 Cervantes's portrait in Awakening.
---
A Valmese commander who takes great pride in his "hairs".
| | |
| --- | --- |
| Gender | Male |
| Race | |
| Nationality | |
| Starting class | |
| Voiced by | |
| Appearance(s) | |
| | | | |
| --- | --- | --- | --- |
| " | ...They are impressive, though, aren't they? My whiskers? Ha ha! I've not shaved since my very first battle. And have I ever lost? No! Not even once! Ergo, my moustache makes me invincible. It's science, my boy, science! | " | — Cervantes |
Cervantes (Japanese: セルバンテス Cervantes) is a Valmese general and the boss of Chapter 16 of Fire Emblem Awakening. He also serves as a mini-boss in Chapter 20. Cervantes is a man especially proud of his facial hair, considering it a good-luck charm.
Cervantes is first seen leading a band charged with blocking the only route to the top of the Mila Tree. Having been warned by Excellus about the arrival of Chrom and the Shepherds, he sets about to defend the area. Cervantes is defeated here, but eventually makes his way back to Valm Castle where he, Excellus, and Walhart make a last stand against the Shepherds, only to be defeated again.
Fighting Cervantes in Chapter 20 is optional; his defeat is not required in order to clear that chapter.
Stats
Chapter 16
Chapter 20
Role
Cervantes is one of the characters added to the game in the Princess and Prince update, and was made available to players in the seventy-second Grand Hero Battle, which initially ran from October 18, 2022 through October 26, 2022. Only one variation of Cervantes is currently available in Heroes, based on his Awakening incarnation.
Starting stats
Initial Stats Level 40 Stats

Note: This unit requires the usage of Trait Fruit to access any flaws and assets.
Skill set
Skill set
Skill
Rarity
SP cost
Iron Lance
Innate
Steel Lance
Innate
Defier's Lance
★★★
200 SP
Defier's Lance+
★★★★★
300 SP
Glowing Ember
★★★
xxx SP
Ignis
★★★★
xxx SP

A

Atk/Def Ideal 1
★★★
60 SP

A

Atk/Def Ideal 2
★★★★
120 SP

A

Atk/Def Ideal 3
★★★★★
240 SP

B

Wary Fighter 1
★★★
60 SP

B

Wary Fighter 2
★★★
120 SP

B

Wary Fighter 3
★★★★
240 SP
Quotes
Battle quote
| | | | |
| --- | --- | --- | --- |
| " | My whiskers are safe against you lot--victory is inevitable! | " | — Cervantes, as the boss in Chapter 16 |
"
Cervantes: ...Eh wot?! It cannot be! Say'ri—my mortal enemy...
Say'ri: General Cervantes... Your reputation—and your gut—precedes you.
Cervantes: But we have met in battle before, girl! Have you forgotten?! Not long ago, you and I, locked in deadly combat. I was sure we had won the day until you appeared...
Say'ri: ...Your beard again? Can you talk of nothing else, you imperial pig?!
Cervantes: Ap-PEARED! I said "appeared"! Just...never mind!
"

— Cervantes fighting Say'ri in Chapter 16
"
Chrom: Fiend! You invade kingdoms and bully them into submission... Why? What does it achieve?
Cervantes: Do you even need ask, whelp? Emperor Walhart is destined to rule this world, plain and simple.
Chrom: Yes, but to what end?
Cervantes: Irrelevant! Walhart's mind is beyond the grasp of common men.
Chrom: So you don't even know what you're fighting for?
Cervantes: I tend to my own beard, boy. A soldier does not question orders. But he gives his loyalty—and maybe his life—in the service of greater men.
Chrom: Great men? Is living only to conquer so great an ambition?
Cervantes: What could be greater! Once I had dreams myself of commanding a nation... But Walhart? Aye, he dreams bigger. He would rule the entire world! Mine is nothing compared to the moxie of the Conqueror. I am but a single tiny hair on the beard of a flea in his great moustache! Have you not tasted the thrill of being part of something bigger than yourself?
Chrom: Not at the price of inflicting cruelty and suffering, no.
Cervantes: Hmph. Then we have nothing more to discuss. Prepare to learn the meaning of the word "beard." ...Fear, I mean fear!
"

— Cervantes fighting Chrom in Chapter 16
| | | | |
| --- | --- | --- | --- |
| " | Let's have it then, rebellious scum! Like a flimsy belt around the waist of defeat, you shall buckle here! | " | — Cervantes, as an enemy in Chapter 20 |
Death quote
| | | | |
| --- | --- | --- | --- |
| " | Nngah! But...how can this be? My invincible moustache! Blasted science...you have...played me for a...fool... | " | — Cervantes's defeat quote in Chapter 16 |
| | | | |
| --- | --- | --- | --- |
| " | I...am finished...Nngh...But I have no regrets...I die in the shadow of...greatness... | " | — Cervantes's death quote in Chapter 20 |
Heroes quotes
Main article: Cervantes/Quotes (Heroes)
Flavor text
Game
Text
(English)
Text
(Japanese)

Awakening

A Valmese commander who
takes great pride in his "hairs."
ヴァルム帝国の将軍
自慢のヒゲの手入れを怠らない

Heroes

A general backing the Valmese Empire's war
effort, having not lost a single battle since
deciding to let his whiskers go unshaven.
Appears in Fire Emblem Awakening.
ヴァルム帝国を支える将軍の一人。
ひげを伸ばしてからは一度も負けたことがない。
(登場:『ファイアーエムブレム 覚醒』)
Etymology and other languages
Names, etymology and in other regions
Language
Name
Definition, etymology, and notes
English

Cervantes

A Spanish surname, whose most famous bearer was the 16th-century author Miguel de Cervantes.

Japanese

セルバンテス

Cervantes

Spanish

Cervantes

--

French

Cervantes

--

German

Cervantes

--

Italian

Cervantes

--

Portuguese

Cervantes

--

Traditional Chinese

塞凡提斯

Cervantes
Gallery
Heroes artwork
References