Site News
Warning: This wiki contains spoilers. Read at your own risk!


Social media: If you would like, please join our Discord server, and/or follow us on Twitter or Tumblr!

Engage info: As the game has only recently released, we lack much key information. Please help add any info that you can.
Vander
From Fire Emblem Wiki, your source on Fire Emblem information. By fans, for fans.
---
This article's subject is about a recently released game or expansion. As such, key information is likely to be missing. Please help out and add the information that you can.
---
---
This page has been marked as a stub. Please help improve the page by adding information.
---
Vander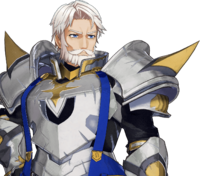 Portrait render of Vander.
---
A Steward of the Dragon, long in the service of the Divine Dragon. He is a straight-laced, rigid gentleman.
| | |
| --- | --- |
| Gender | Male |
| Race | Human |
| Age | 45 |
| Birthday | November 26th |
| Height | 190 cm (6'3") |
| Nationality | |
| Starting class | |
| Voiced by | |
| Appearance(s) | |
Vander (Japanese: ヴァンドレ Vandre) is a playable character in Fire Emblem Engage.
Biography
Vander is a 32nd generation Dragon Guardian, tasked with watching over Alear in their slumber.[1]
Role
Vander is a playable character.
Starting stats and growth rates
For EXP calculation purposes, Vander is considered to have gained 15 levels in a base class before reclassing to Paladin.
| | |
| --- | --- |
| | Recruitment: Chapter 1, automatically from the start. |
Analysis
This character analysis section may not be accurate to every player's experience.
Vander is a prepromoted, highly powerful early-game unit. He has high movement; solid bulk compared to other early-game units, who are typically defeated in two hits; and his offense is good enough to deal significant damage, but not so good as to one-shot (unless he crits), allowing him to reliably set up kills for other units. This spread of stats enables Vander to bait enemies while allowing other units gain experience; he makes the first five or six chapter much easier, at which point other units start to surpass him. Vander can typically still contribute enough to earn a deployment slot until Chapter 8.
Vander has two obstacles to effectively setting up kills. Firstly, his hit rates can be poor; this can be easily rectified with a hit bonus engrave on an axe, or by inheriting Hit +10 from Sigurd—most other units would benefit more from saving SP for better skills, but as Vander's long-term usefulness is limited, he is better served by a weaker, more immediately beneficial skill. Secondly, his personal skill, Alabaster Duty, makes him more likely to crit when next to Alear, which reduces how reliably Vander can set up kills for other units; though it is only a minor detriment if Vander kills a few units, continually doing so will inhibit other units' growths.
Vander has little long-term potential. While his growths are not bad, his high internal level limits his experience gain until the point were many other units have already surpassed him. Vander provides the most long-term benefit through non-combat utility—such as using staves—though there are many other units more capable at providing such utility.
Personality and character
Vander is serious and strict, and puts his role as guardian first.[2]
Endings
Holy Veteran Vander
After the Divine Dragon Monarch took the throne, Vander ceded his role as steward, choosing to live as a knight on the Somniel.
The new monarch and his/her friends visited Vander often. He always met the group with a smile, as he took great joy in remembering their journey.
Divine Dragon Alear & Holy Veteran Vander
Alear became the new Divine Dragon Monarch. His/Her bonds with the rulers of each nation resulted in lasting peace.
Though Vander ceded his post as steward after the war, his loyal, if rigid, way of watching over the Divine Dragon Monarch did not change for the rest of his days.
Quotes
---
This section has been marked as a stub. Please help improve the page by adding information.
---
Battle quotes
"
Corrupted Luemra: It's been a little while, Vander.
Vander: Queen Lumera, I cannot believe we have a chance to speak once more. I apologize for failing in my duty as your protector. And I pray you'll forgive me for defeating you here.
Corrupted Lumera: Vander, you are my child's knight—you must fill that role as best you can. Attack me with all your might.
Vander: ...I wish we could returned to that day, before all of this. If we could go back there, to that courtyard, I would... No. Even if I might take that selfish moment, my duty stands. I must stop you here, today. Prepare yourself, Queen Lumera!
"

— Vander fighting Corrupted Lumera in Chapter 25.
| | | | |
| --- | --- | --- | --- |
| " | Divine One... Should I fall here, know I am proud to die as your guardian knight. | " | — Vander in Chapter 26. |
Critical quotes
Defeat quotes
| | | | |
| --- | --- | --- | --- |
| " | If I die, I could not face Queen Lumera in the hereafter. My fight is over... | " | — Vander's defeat quote in Classic Mode. |
| | | | |
| --- | --- | --- | --- |
| " | I am but a hindrance to the Divine Dragon in this shape. For now, I must fall back. | " | — Vander's retreat quote in a Training Skirmish. |
Flavor text
Game
Text
(English)
Text
(Japanese)

Engage

A Steward of the Dragon, long in the
service of the Divine Dragon. He is a
straight-laced, rigid gentleman.

代々神竜に仕える、竜の守り人。
真面目で厳格な堅物の紳士。
Etymology and other languages
Names, etymology and in other regions
Language
Name
Definition, etymology, and notes
English

Vander

Japanese

ヴァンドレ

Officially romanized as Vandre.

Spanish

Vander

--

French

Vander

--

German

Vander

--

Italian

Vander

--

Korean

반드레

Vandre

Simplified Chinese

凡德雷

Vandre

Traditional Chinese

凡德雷

Vandre
Gallery
Official artwork
Artwork of Vander with other characters from Engage.
Screenshots
References
↑ 1.0 1.1 "ヴァンドレ(CV:上田燿司さん)は、聖地リトスで神竜を守る、第三十二代「竜の守り人」。" — Fire Emblem JP on Twitter, Twitter, Published: September 16, 2022, Retrieved: September 16, 2022
↑ "守り人の使命を第一とする、とても真面目で厳格な性格です。" — Fire Emblem JP on Twitter, Twitter, Published: September 16, 2022, Retrieved: September 16, 2022
| | |
| --- | --- |
| | This article is part of Project Characters, a project focused on writing articles for every character present in the Fire Emblem series. |