Site News
Warning: This wiki contains spoilers. Read at your own risk!


Social media: If you would like, please join our Discord server, and/or follow us on Twitter or Tumblr!
War Dragon
From Fire Emblem Wiki, your source on Fire Emblem information. By fans, for fans.

| | | | |
| --- | --- | --- | --- |
| " | War Dragons... Dragons meant only for battle. | " | — Roy |
War Dragons (Japanese: 戦闘竜 War Dragon) are artificial manakete that appear in Fire Emblem: The Binding Blade. They are alike to true manakete in every way, however, they "know nothing but battle",[1] implying that they may not be intelligent or that they lack emotion.
Overview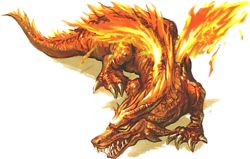 Characteristics
War dragons are somewhat similar to morphs in a general sense. They are artificial beings made to serve a purpose, in this instance they were made to wage battle. In their current single appearance they are born from Idunn. As stated, war dragons don't seem to have any emotional or general thought capability, being made for battle and rarely speaking. However this may be affected by the War Dragon's use as expendable soldiers in deadly wars.
They are able to transform into dragon form through the use of a firestone. The only war dragons that appear seem to be made in the image of fire dragons.
History
Humanity initiated a war with dragonkind, which became known as the Scouring. After humanity created several regalia weapons, the Binding Blade, Durandal, Armads, Forblaze, Aureola, Mulagir, Maltet, the Staff of the Saint, Apocalypse, and Eckesachs,[2] the world and the very laws of nature became broken and unstable, causing the Ending Winter.[3] This event caused the dragon tribes to be unable to maintain dragon form, and were thus forced to place their powers in dragonstones.[4] After this humanity gained a great advantage over dragonkind in the war,[5] adding on to the humans already present advantage of being able to reproduce more quickly.
During this great loss the warring dragons kidnapped a member of the divine dragon tribe, which had refused to participate, Idunn, and broke her mind and spirit so she would serve them.[6] This created what is known as the Demon Dragon. The Demon Dragon Idunn then created countless war dragons to turn the tide of the war, however, in the end, this plan failed and humans banished dragons from the realm. Most of the dragons are implied to have vanished through the Dragon's Gate.
When Zephiel awoke Idunn with the Fire Emblem in The Binding Blade Idunn resumed production of war dragons to serve Bern. Most were probably destroyed in the war, production of war dragons ceased with the war, as Idunn was either killed, or spared by Roy and sent to Arcadia for healing.
In gameplay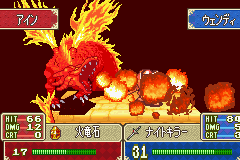 War dragons exclusively take the class of manakete, and are weak to dragon slaying weapons, like the wyrmslayer or Durandal.
War dragons appear throughout Binding Blade sparingly in the service of Bern, featuring as a powerful single enemy, relative to surrounding troops. The first war dragon encountered by Roy is the boss Ein in Chapter 12. One was present in the Bern invasion of Arcadia, as well as during Roy's assault on the Shrine of Seals.
Notable War Dragons
Character
Description
Appears in

Ein
A mysterious figure sent from Bern to assist in the Western Isles.

The Binding Blade
Etymology and other languages
Names, etymology and in other regions
Language
Name
Definition, etymology and notes
English

War Dragon

Used in the "Unattained Dream" Lost Lore event in Fire Emblem Heroes.

English
(unofficial)

War Dragon

Japanese

戦闘竜

War Dragon

Spanish

Dragón bélico

War dragon; used in Heroes.

French

Dragon de guerre

Dragon of war; used in Heroes.

German

Kriegsdrache

War Dragon; used in Heroes.

Italian

Drago bellico

War dragon; used in Heroes.

Portuguese

Dragrão bélico

War dragon; used in Heroes.

Traditional Chinese

戰鬥龍

Battle dragon; used in Heroes.
Gallery
References
See also