Site News
Warning: This wiki contains spoilers. Read at your own risk!


Social media: If you would like, please join our Discord server, and/or follow us on Twitter or Tumblr!

Engage info: As the game has only recently released, we lack much key information. Please help add any info that you can.
Manakete
From Fire Emblem Wiki, your source on Fire Emblem information. By fans, for fans.
Unit type(s)

Dragon (Shadow Dragon & the Blade of Light, The Binding Blade, The Sacred Stones, Awakening)
Infantry (Mystery of the Emblem)
Manakete (The Binding Blade)
Flying (The Sacred Stones)

Weapon(s)
Skill(s)

Odd Rhythm, Wyrmsbane (Awakening)
Manaketes (Japanese: マムクート Mamkute), also referred to as the dragonkin (Japanese: 竜人族 Dragon-Human Tribe) are a legendary humanoid species recurring in the Fire Emblem series. Manaketes are a form taken by dragons to conserve their strength and survive in a world which no longer permits their full existence. All Manaketes draw their power from their dragonstones, which they use to temporarily transform back into their dragon bodies, usually for combat purposes. Although in some cultures in the series the Manakete race is regarded as legendary and worthy of worship, in others they have a long history of bitter conflict with humanity.
History
In Archanea/Ylisse
In antiquity, Archanea was the epicenter of an advanced dragon civilization prior to the rise of humanity, until a mysterious wave of deteriorating health struck them, rendering them infertile and slowly driving them mad. In response, the dragonkin learned that the only way to survive the condition was to take the forms of humans, and so sought to convince all dragons to do so. While many (including almost all earth dragons) refused to accept this and eventually devolved into mindless beasts, others accepted the word of the dragon elders and took human forms, thus becoming Manaketes.[1] [2] By sealing their powers into Dragonstones, Manaketes retained the ability to temporarily become dragons, but never for long owing to the risks posed to their health.
In the following millennia as humans became the dominant power over the Archanean continent, Manaketes became the target of racism from humans in an exercise of their new-found power over the land. In their weak humanoid forms, the Manaketes were easily abused and mistreated, and were condemned to living in poverty. This ultimately led to the rise of the Manakete ruler Medeus and his Dolhr Empire, which sought to exact vengeance upon humanity for their crimes against the Manaketes and to retake Archanea as the Manaketes' land.[3] Although he succeeded in ruling the world for two periods of time adding up to several decades, Medeus was thrice thwarted and killed: first by Anri, then twice more by his descendant, the Hero-King Marth. One Manakete ally to Marth, Bantu, believed that his role was to broker a lasting peace and understanding between the two races.
It is uncertain what became of Manaketes in the post-Marth world. In the era of Chrom of Ylisse, Manaketes continued to exist, but little is known of what social presence they may or may not have held, other than that they are regarded as rare and mythical entities.[4]
In Elibe
At the height of the Scouring, the dragons of Elibe were, similar to their Archanean counterparts, forced to assume a less powerful form with the onset of the Ending Winter. The immense power of the weapons wielded by the Eight Legends distorted the laws of nature to the point where dragons could no longer exist in their present forms, forcing them to become Manaketes, as the human form required the least energy to maintain.[5] In the Scouring's aftermath, the vast majority of surviving dragons fled Elibe through the Dragon's Gate on Valor; most of those who remained took up residence in Arcadia, while one more – Jahn – hid in the Dragon Temple for the following centuries to heal wounds sustained in the Scouring.
In Magvel
Only two Manaketes are seen to still be living in Magvel during the course of The Sacred Stones. These two Manaketes, Morva and his adopted daughter Myrrh, are said by the people of the village of Caer Pelyn to act as watchful guardians over humans. In the original conflict with the Demon King Fomortiis in Magvel's antiquity, Morva's power was a crucial factor in ensuring the Five Heroes were able to use the Sacred Stones to defeat Fomortiis and seal him away.[6]
For the following eight centuries, Morva remained in Darkling Woods, the last resting place of Fomortiis, to protect the world from his ongoing influence. Although Morva's role in combating Fomortiis is not acknowledged in retellings of the tale by the majority of Magvel's population, the village of Caer Pelyn holds Morva, and Myrrh by extension, in reverence for their contributions.[7]
While Myrrh and Morva are the only living Manaketes seen in Magvel, the presence of reanimated dragon corpses suggests more lived there at one time. Myrrh also mentions being orphaned during the original war with the Demon King;[8] this, the reference to Morva leading an entire tribe, along with the presence of the reanimated corpses suggests that Manaketes were significantly wiped out at some point, or simply rarely interact with humans. However, Lyon mentions that there are only two known dragonstones in existence[9]. Myrrh initially expresses some doubts to protecting humanity like her father,[10] possibly suggesting other Manaketes avoid interaction with humans. Unlike the other known Manakete populations, the Caer Pelyn culture appears to regard the word "Manakete" as a disrespectful slur against the dragonkin, and the community instead insists on always referring to Myrrh and Morva as the "Great Dragon", although it is never clarified where Myrrh and Morva personally stand on this matter.[11]
Characteristics
Physical appearance
The most prominent physical characteristic of Manaketes compared to humans is their ears, which are longer and pointier than their human counterparts (the extent of which varies from game to game). Some Manaketes have relatively small draconian wings protruding from their backs, and some such as Myrrh seem to be able to hide or extend them at will. Male Manaketes are universally seen wearing hooded cloaks, occasionally holding canes. Female Manaketes instead tend toward lighter clothing, often featuring scarves, ribbons and pastel colors; some female Manaketes, most prominently Naga's kin, wear ornate head-dresses resembling a spread pair of dragon wings.
The lifespan of Manaketes vastly exceeds that of humans, extending well into periods of thousands of years. An age of a thousand years is still childhood for a Manakete,[12] and as demonstrated by Tiki, an age of three thousand years is young adulthood.
Manaketes are able to reproduce with humans. The resulting offspring may inherit the pointy ears of their Manakete parent, and often lives longer than the average human, but shorter than a pure Manakete.[13] Sophia, Nah, and Corrin are examples of half-human, half-Manakete hybrids. However, Corrin is implied to have a normal lifespan, as they develop the same way as normal humans.
Pure-blooded Manaketes have larger jaws than half-Manakete hybrids in their dragon state. As a Manakete ages, his or her dragon form's claws and fangs sharpen. Their dragon hides toughen the more they are struck in battle.[14] However, even the toughest Manakete scales can be easily cleaved by Wyrmslayers.[15] Despite the durability of Manakete scales, they are surprisingly light and even have been used in clothing.[16]
Behavior
Manaketes, being dragons in another form, are significantly more advanced than humanity, possessing on average far greater intellect.[17] In Archanea, at least, magic originated from the Manaketes and is derived from their power, with the most powerful human weapons embedded with dragonstones. Jahn claims that Manaketes as a whole lack the same emotional depth as humans, having no interest in matters such as revenge,[18] though this does not appear to be entirely true even in The Binding Blade, given Fae's behavior. However, in Elibe at least, an untransformed Manakete is defenseless and significantly weaker than a human.[19]
Despite their obvious superiority, in many cases Manaketes are actively sympathetic toward and interested in humans, especially divine dragons as famously exemplified by Naga and Forseti. The extensive lifespan of Manaketes, however, poses a problem: any attempt by Manaketes to forge bonds of friendship with humans is doomed to a sad end as the lifespan of a human is an insignificant fraction of that of dragons.[20]
Like their base dragon forms, Manaketes have a low birth rate compared to humans; in Archanea, the birth rate declined even further than before when the illness struck.[17]
Class data
In the gameplay of the Fire Emblem series, Manaketes wield dragonstone items in order to fight. Without their dragonstones they typically possess low stats in general, but with a dragonstone equipped they gain significant statistical bonuses allowing even the weakest Manakete unit to comfortably participate in battle. In most games, dragonstones turn Manaketes into dragons only during battle; however, in Mystery of the Emblem, Manaketes use dragonstones to transform into one of several dragon varieties both on the field and in battle for five turns, giving them access to a breath weapon matching the dragon type.
Manaketes have no class change options whatsoever. In Shadow Dragon, New Mystery of the Emblem, and Awakening, they are classified as a special class to compensate for this, giving them a maximum level of 30 instead of 20.
With the exception of Bantu, all playable Manaketes are female and usually young girls.
Base stats
---
This section is missing stats, calculations, or growth rates which may be currently unknown. If this information is available, please help improve the page by adding it.
---
Max stats
Miscellaneous stats
Class growth rates
See
class growth rate
for more details on the mechanics of class growths in each game.
Class skills
Class change
Shadow Dragon and the Blade of Light
Mystery of the Emblem
The Binding Blade
The Sacred Stones
Shadow Dragon, New Mystery of the Emblem
Awakening
Warriors
Playable Manaketes
Notable enemy Manaketes
Enemy Units
Name
Game
Mannu

Shadow Dragon & the Blade of Light

,

Shadow Dragon

Khozen

Shadow Dragon & the Blade of Light

,

Mystery of the Emblem

Book 1,

Shadow Dragon

Morzas

Shadow Dragon & the Blade of Light

,

Mystery of the Emblem

Book 1,

Shadow Dragon

Tiki

Shadow Dragon & the Blade of Light

,

Mystery of the Emblem

Book 1,

Shadow Dragon

,

Awakening

(as Einherjar, Lost Bloodlines 2 & 3)
Xemcel

Shadow Dragon & the Blade of Light

,

Mystery of the Emblem

Book 1,

Shadow Dragon

Medeus

Shadow Dragon & the Blade of Light

,

Mystery of the Emblem

Book 1,

Shadow Dragon

Ein

The Binding Blade

Jahn

The Binding Blade

Brzak
Fire Emblem: Archanea Saga,

New Mystery of the Emblem

Enemy Manakete units in the

Fire Emblem

series.
Flavor text
---
This section has been marked as a stub. Please help improve the page by adding information.
---
Game
Text
(English)
Text
(Japanese)

Shadow Dragon & the Blade of Light

One of the fabled race said to be
able to take the forms of dragons.
They wielded great power and
ruled the world.

ドラゴンに へんしんするといわれる でんせつの
しゅぞくで かつては そのきょうだいなちからで
せかいを せいふくしたと つたえられる。

The Binding Blade


(class roll)

Mysterious unhumans who can turn into

dragons with the use of their stones.

*

普通とは明らかに違う雰囲気をもつ者たち
一説には『人ならぬもの』とも言われる

The Binding Blade


(help)

"Unhumans" who have an

eerie air about them.

*

普通とは違う雰囲気をもつ者
『人ならぬもの』とも言われる

The Sacred Stones


(class roll)

Dragonkin who live in Darkling Woods.
Dragonstones can transform them.

闇の樹海をすみかとする 竜人族
竜石の力によって 竜へと姿を変える

The Sacred Stones


(help)

Mysterious tribesman who can turn
into dragons. Equip: Dragonstone.

竜の姿になり 強力なブレスで攻撃
装備『竜石』

Shadow Dragon

A fabled race said to be able to take dragon
form. Once, they ruled the world.

竜に変身すると言われる伝説の種族。
かつては世界を征服したと伝えられる。

New Mystery of the Emblem

A fabled race said to be able to take dragon

form. Once, they ruled the world.

*

竜に変身すると言われる伝説の種族。
かつては世界を征服したと伝えられる。

Awakening

A legendary race with awesome
power while in dragon form.

竜に変身する伝説の種族。
強大な力を持つが変身前は非力。

Warriors

Manaketes can turn into dragons. They
have high attack and defense but low
magic defense. Attacks effective against
dragons deal bonus damage to them.

They can use physical attacks as well as
magic, and their physical attacks have a
long range. Exercise caution if you're
fighting one up close!

??
Trivia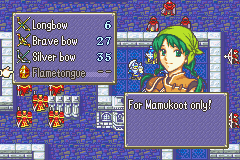 Though the official English translation is "Manakete," the item screen description (not the R button description) for the dragonstone Flametongue in

The Blazing Blade

has the placeholder translation "For Mamukoot only!" The description cannot normally be seen, however, as the item can only be obtained by hacking.
In

Shadow Dragon & the Blade of Light

, if a class change item is used on a Manakete, its defense will be raised by the amount of defense that the equipped dragonstone gives, and the item will not be used up.
The names "Mamkute" and "Manakete" are trademarked by Intelligent Systems, the developers of the Fire Emblem series.
Etymology and other languages
Names, etymology and in other regions
Language
Name
Definition, etymology, and notes
English

Manakete

According to a NPC in Fire Emblem: Shadow Dragon, the word most likely rhymes with "parakeet".[21] Additionally, in Awakening, Shadow Dragon & the Blade of Light, and the book Legacy of Archanea, "Manakete" is not treated as a proper noun; other materials capitalize it.

Japanese

マムクート

Officially romanized as Mamkute. Romanized instead as Mamukute in Tokyo Mirage Sessions ♯FE.

Spanish

Manakete

As above.

French

Manakete

As above.

German

Manakete

As above.

Italian

Manakete

As above.
Gallery
References
See also
Individual dragon species: