Site News
Warning: This wiki contains spoilers. Read at your own risk!


Social media: If you would like, please join our Discord server, and/or follow us on Twitter or Tumblr!

Engage info: As the game has only recently released, we lack much key information. Please help add any info that you can.
Red Dragon
From Fire Emblem Wiki, your source on Fire Emblem information. By fans, for fans.
Not to be confused with Red Dragoon, a chapter from Archanea Saga.
---
This page has been marked as a stub. Please help improve the page by adding information.
---
Unit type(s)

Laguz (Path of Radiance)
Dragon (all titles)

Weapon(s)
Skill(s)
The Red Dragon (Japanese: 赤竜 Red Dragon) class is a laguz class belonging to the red dragon laguz from Goldoa in Fire Emblem: Path of Radiance and Fire Emblem: Radiant Dawn. The two playable red dragons are Ena and Gareth. They attack with Breath, but they can only use this if they are in laguz form. They have the skills Shove and Ire.
History
Characteristics
---
This section has been marked as a stub. Please help improve the page by adding information.
---
Physical appearance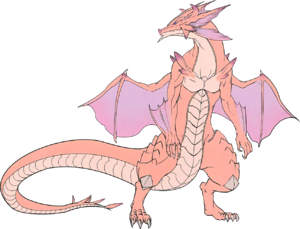 Like the rest of the dragon castes a red dragon's humanoid form features none of the typical laguz traits, wings, feline/canine ears, or tails, though they do have an orange or bronze hue of the skin. Their human form's skin color is generally the only hint that they are dragons, though they can pass for beorc regardless.
Red dragons in dragon form are of a fairly large size, though they are dwarfed by black dragons. Most red dragons, as their name indicates, are red. There is one known exception, Ena. Her scales are of a much pinker hue, though she is not a fullblooded red dragon, having a white dragon relative, her grandfather Nasir.
Behavior
Powers
Red dragons, in contrast to their white counterparts, excel in strength and physical bulk.
Life cycle and reproduction
Red dragons age similarly to the other dragon castes, being very long-lived, and capable of living past one-thousand years.
Notable red dragons
Character
Description
Appears in

Ena
A dragon laguz from Goldoa. She once served Daein on behalf of her missing fiance, Rajaion. Her calm and analytical mind makes her a natural tactician.

Path of Radiance

,

Radiant Dawn


Gareth
A red dragon laguz from Goldoa. He is a powerful and reliable vassal assigned to watch over Prince Kurthnaga.

Path of Radiance

,

Radiant Dawn
Stats
Base stats
Max stats
Miscellaneous stats
Class growth rates
See
class growth rate
for more details on the mechanics of class growths in each game.
Class skills
Class change
Path of Radiance
Radiant Dawn
Playable red dragons
Flavor text
Game
Text
(English)
Text
(Japanese)

Path of Radiance


(untransformed)
Demihumans who can transform into
dragons. They refuse to fight in their
human form.
竜のすがたに
変身できるものたち
この姿での戦いを好みません

Path of Radiance


(transformed)
Demihumans of the dragon tribe in red dragon
form. Their physical strength eclipses that
of all other races.
万物の霊長
赤竜に姿をかえた竜鱗族です
他の種族をしのぐ強さをもちます

Radiant Dawn


(class roll)

Demihumans who transform into
red dragons. They counterattack with
fists in their human form.
赤竜に化身して戦うラグズ
人型の時には拳で反撃する

Radiant Dawn


(help, untransformed)

Laguz who fight while in red
dragon form. They can only
punch to counter in human form.
赤竜に化身して戦うラグズ
人型の時には拳で反撃する

Radiant Dawn


(help; Ena, untransformed)

Ena, of white and red dragon
blood. She can only kick to counter in human form.
赤鱗と白鱗の血を持つ娘イナ
赤竜に化身して戦うラグズ
人型の時には蹴り技で反撃する

Radiant Dawn


(help, transformed)

A dragon-tribe laguz in red dragon
form who possesses immense
strength and stout defenses.
竜鱗族/赤鱗が化身した姿
恐るべき攻撃力と鉄壁の防御を持つ
Etymology and other languages
Transformed
Names, etymology and in other regions
Language
Name
Definition, etymology, and notes
English

Red Dragon

Japanese

• 赤竜
• 赤竜

• Red Dragon. This name is used in Path of Radiance.
• Red Dragon. In Radiant Dawn, all Japanese class names are spelled primarily in kanji (i.e. 赤竜), with a foreign-language name in katakana applied as furigana (i.e. レッドドラゴン) and used as the basis for the romanized name in the class roll.

Spanish

Dragón rojo

Red Dragon. Abbreviated to Drag. rojo in gameplay due to space restrictions.

French

Dragon rouge

Red Dragon

German

Roter Drache

Red Dragon

Italian

Drago rosso

Red Dragon
Untransformed (Path of Radiance)
Names, etymology and in other regions
Language
Name
Definition, etymology, and notes
English

Dragon Tribe

--

Japanese

竜鱗族

Dragon scale tribe
Untransformed (Radiant Dawn)
Names, etymology and in other regions
Language
Name
Definition, etymology, and notes
Japanese

竜鱗族/赤鱗

Dragon Tribe (lit. "dragon scale tribe") / Red (lit. "red scales")
Gallery
| | |
| --- | --- |
| | This article is part of Project Classes, a project focused in writing articles for every class present in the Fire Emblem series. |