Site News
Warning: This wiki contains spoilers. Read at your own risk!


Social media: If you would like, please join our Discord server, and/or follow us on Twitter or Tumblr!

Engage info: As the game has only recently released, we lack much key information. Please help add any info that you can.
God
From Fire Emblem Wiki, your source on Fire Emblem information. By fans, for fans.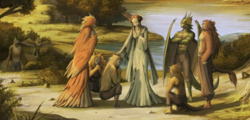 | | | | |
| --- | --- | --- | --- |
| " | It's true, we don't have much use for gods. But, well… You show us what we should aspire to. We need inspiration. You give us a reason to grow. To become more than we are. And if we don't have that, Yune, we're nothing more than statues. | " | — Ike, to Yune |
A god or deity (Japanese: 神 god), feminine goddess (Japanese: 女神 goddess) is an exceptionally powerful supernatural being. Gods are regarded by humans and other races as divine and supreme entities, and are very often the subject of religious orders and worship from humans. The majority of Fire Emblem series games feature at least one god or character considered to be a god.
Characteristics
There are virtually no rules as to what a god must be like, with gods in Fire Emblem ranging from the humanoid to the monstrous and grotesque. The abilities, appearance, and powers of each god vary greatly from individual to individual. Typically, as most religions presented in the Fire Emblem series are pantheistic, each god has their own domain over which they have absolute control, rather than omnipotent rule over all domains of nature. They often bear extreme magical powers, including the ability of creation, or the ability to revive the dead.[1][2]
Relationships with other races
Usually, the relationship held between gods and mortals is that of religion, where the god is the object of worship from human societies. Many individual nations or societies have a religion or form of worship specific to them, but all have in common the reverence of gods as supreme beings responsible for the well-being of the world. The magical disciplines of light magic and staff usage are both derived from faith in and worship of the gods,[3] and the vast majority of wielders of light magic in particular are ordained members of the clergy, to the point where Micaiah using light magic while not being a priest is notably rare and unusual.[4]
For their part, however, gods very rarely intervene directly in mortal affairs, and even more rarely directly appear before them. Some gods, such as Ashera, even express clear detachment from and disinterest in the lives of humans. At some point in the history of Valentia, however, both Mila and Duma physically manifested themselves among humans and directly shaped their chosen nations' viewpoints as a result. Ashunera is also said to have lived among the first sentient creatures of Tellius, the Zunanma, in ancient history, and it wasn't until the Great Flood that she, as her split selves Ashera and Yune, retreated from interacting with other races.
List of gods
Major gods
These gods are explicitly named and play a significant role in the stories of their respective games.
Minor gods
These gods are mentioned in passing during the game, or mentioned in supplementary material. These gods typically have no particular relevance to the game in question, although they may be connected with an available item.
Unnamed gods
In some cases, religions and cults exist while their gods are not identified by name throughout the course of the game.
According to Yoder, the faith of Saint Elimine is pantheistic and cites multiple gods, with one notable parable told by its priests centering around Elimine helping an owl and an eagle find the "land of the gods". None of these gods are named, as the bulk of known information about the religion centers on Elimine herself, but are frequently mentioned in general by various Elimine bishops as "the gods".
Beings worshipped as gods
Throughout the series several powerful beings, often Manaketes, are revered as gods by humans, though they themselves are not gods.
Naga, a powerful divine dragon. Blood bonded with the crusader Heim at the Miracle of Dahna. Naga is worshipped as a deity in both Archanea and Jugdral, with few knowing of Naga's true nature as a dragon, with further worship in later years in Ylisse and Valm actively acknowledging Naga as a dragon as part of the worship.
Duma, the Valentian "fell god" whose teachings emphasize power above all else, the brother of Mila. In Gaiden, he was not stated to be a dragon.
Mila, the Valentian "Earth Mother" whose teachings emphasize peace above all else, the sister of Duma. In Gaiden, she was not stated to be a dragon.
Loptous, an earth dragon who hates humanity, made a blood pact with Gair. The central object of worship of the Loptrian religion founded by Gair.
Salamander, a dragon who made a blood pact with a crusader.
Nine other dragons that are worshiped as gods in Jugdral, however their names are never given.
The Twelve Crusaders are occasionally regarded as gods by certain people in Jugdral, although for the most part, the "god" term remains reserved for the twelve dragons.
Grima, a draconic being created by an alchemist named Forneus. Worshiped by the Grimleal, apparently made a blood pact with a member of the cult in the past.
The First Dragons are revered as gods in Hoshido and Nohr.
Anankos, a silent dragon, was worshiped by the people of Valla before he destroyed it after his fall to madness.
Gallery
References
See also