Site News
Warning: This wiki contains spoilers. Read at your own risk!


Discord and Twitter: If you would like, please join our Discord server, and/or follow us on Twitter at @FEWikiOfficial!

Cross-Wiki Week 2022: From September 23–30, make contributions to NIWA wikis that you normally don't edit, or Halopedia, for a chance to win a Nintendo eShop gift card! See here for more details.
Fire Mage
From Fire Emblem Wiki, your source on Fire Emblem information. By fans, for fans.
Fire Mage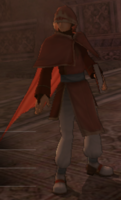 An enemy Fire Mage in Radiant Dawn.
---
Mages who wield fire-based magic. Their spells are especially potent against beast laguz.
| | |
| --- | --- |
| Unit type(s) | Infantry |
| Weapon(s) | |
| Skill(s) | |
The Fire Mage (Japanese: ファイアマージ Fire Mage) is a basic magical class which was introduced in Fire Emblem: Genealogy of the Holy War, appearing only in it and Fire Emblem: Radiant Dawn. The class is one of three element-specialized versions of the Mage class of other Fire Emblem series games, along with the Thunder Mage and Wind Mage, and as its name suggests it specializes in fire magic and is unable to wield any other magic type.
The Fire Mage plays near identically to standard Mages as a purely offensive magical class, differing only in being restricted to fire magic. Fire Mages have high magical power and speed, allowing them to somewhat reliably follow-up attack enemies, and in particular making them notably adept at killing slow, heavily-armored Knights. However, Fire Mages have low HP and defense, making them highly susceptible to being killed or severely damged in one shot by most physical units.
Unlike the Thunder and Wind Mages, there has never been a playable Fire Mage, so the class's class change options are unknown. In Radiant Dawn, it does have a clear hypothetical promoted form in the Fire Sage, which in turn promotes to the Arch Sage. It does not appear to have a defined promoted form at all in Genealogy.
Stats
Base stats
Max stats
Class growth rates
See
class growth rate
for more details on the mechanics of class growths in each game.
Class skills
Class change
Genealogy of the Holy War
Radiant Dawn
Notable enemy Fire Mages
Flavor text
Game
Text
(English)
Text
(Japanese)

Radiant Dawn


(class roll)
Mages whose fire magic is most
effective against laguz. There are
also thunder and wind mages.
炎属性の魔法を得意とする者
繰り出す火炎で獣に大ダメージを与える
他に雷魔道士・風魔道士がいる

Radiant Dawn


(help)
Mages who wield fire-based magic.
Their spells are especially potent
against beast laguz.
??
Etymology and other languages
Names, etymology and in other regions
Language
Name
Definition, etymology and notes
English

Fire Mage

A mage is a magician, often used in the context of one who uses magic for combat.

Japanese

• ファイアマージ
• 炎魔道士

• Fire Mage. This name is used in Genealogy of the Holy War.
• Officially romanized as Fire Mage. In Radiant Dawn, all Japanese class names are spelled primarily in kanji (i.e. 炎魔道士), with a foreign-language name in katakana applied as furigana (i.e. ファイアーマージ) and used as the basis for the romanized name in the class roll.

Spanish

Mago Fuego

Fire Mage

French

Mage feu

Fire mage

German

Feuermagier

Firemage

Italian

Mago fuoco

Fire mage
Gallery
References
See also
| | |
| --- | --- |
| | This article is part of Project Classes, a project focused in writing articles for every class present in the Fire Emblem series. |