Site News
Warning: This wiki contains spoilers. Read at your own risk!


Discord and Twitter: If you would like, please join our Discord server, and/or follow us on Twitter at @FEWikiOfficial!
Light Priestess
From Fire Emblem Wiki, your source on Fire Emblem information. By fans, for fans.
Light Priestess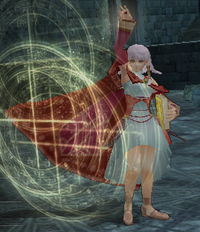 Micaiah as a Light Priestess in Radiant Dawn.
---
Micaiah, priestess of Yune. Mistress of powerful light magic and staves. She possesses the skill Corona.
| | |
| --- | --- |
| Unit type(s) | Infantry |
| Weapon(s) | |
| Skill(s) | |
The Light Priestess (Japanese: 巫女 Shaman), is a magic-wielding class which was introduced in Fire Emblem: Genealogy of the Holy War, where it is a base class exclusive to Deirdre and Julia. For Julia, it is capable of promoting to the Sage class. It later reappeared in Fire Emblem: Radiant Dawn where it is instead a third-tier advanced, Lord-like class exclusive to Micaiah, one of the game's main protagonists, acting as her final class and the ultimate form of her initial Light Mage class.
Light Priestesses wield light magic and staves, and are exclusive to a major playable character in all its appearances. While very frail, they possess high magic and resistance, giving them good healing proficiency as well as the ability to defend themselves.
Stats
Base stats
Max stats
Class growth rates
Click
here
for more details on the mechanics of class growths in each game.
Class skills
Class change
Genealogy of the Holy War
| Base class | Promotion method | Advanced class |
| --- | --- | --- |
| Light Priestess | Choosing the option "Class change" in the home castle after reaching Level 20 (Julia only). | Sage |
Radiant Dawn
Playable Light Priestesses
Notable enemy Light Priestesses
Flavor text
Game
Text
(English)
Text
(Japanese)

Radiant Dawn


(class roll)

Micaiah, priestess of Yune. She
uses staves and potent light magic.
She possesses the skill Corona.
??

Radiant Dawn


(help)

Micaiah, priestess of Yune. Mistress
of powerful light magic and staves.
She possesses the skill Corona.
負の女神ユンヌの巫女ミカヤ
高位の光魔法と聖なる杖を扱える
奥義【暁光】の使い手
Trivia
Etymology and other languages
Names, etymology and in other regions
Language
Name
Definition, etymology and notes
English

Light Priestess

A priestess is a woman in religious service. The "Light" prefix presumably refers to the fact it exclusively uses Light magic tomes as its weapon in both its appearances, and matches Light Mage and Light Sage.

English
(unofficial)

Priestess

This name is used in the "Project Naga" patch for Genealogy of the Holy War.

Japanese

• シャーマン
• 巫女
• 巫女

• Officially romanized as Shaman; the lone katakana rendering is used in Genealogy of the Holy War.
• Used in dialogue in Genealogy of the Holy War[1]. The kanji refers to the miko (巫女), priestesses of Japan's Shinto religion who work at shrines. "Shaman" has historically been a somewhat common translation of miko, hence the katakana equivalent used as the class name.
• Officially romanized as Shaman. In Radiant Dawn, all Japanese class names are spelled primarily in kanji (i.e. 巫女), with a foreign-language name in katakana applied as furigana (i.e. シャーマン) and used as the basis for the romanized name in the class roll.

Spanish

Sacerdotisa Luz

Light Priestess

French

Prêtresse jour

Daylight priestess

German

Lichtpriesterin

Light priestess

Italian

Sacerdotessa luce

Light priestess
Gallery
References
See also
| | |
| --- | --- |
| | This article is part of Project Classes, a project focused in writing articles for every class present in the Fire Emblem series. |