Site News
Warning: This wiki contains spoilers. Read at your own risk!


Social media: If you would like, please join our Discord server, and/or follow us on Twitter or Tumblr!

Engage info: As the game has only recently released, we lack much key information. Please help add any info that you can.
Wolfskin
From Fire Emblem Wiki, your source on Fire Emblem information. By fans, for fans.
Wolfskin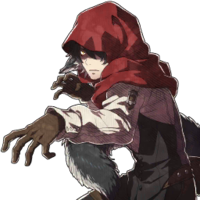 The generic Wolfskin portrait in Fates.
---
Nohrian. A human/beast hybrid said to feed on humans. High Str and Spd.
| | |
| --- | --- |
| Unit type(s) | Beast |
| Weapon(s) | |
| Skill(s) | |
The Wolfskin (Japanese: ガルー Garou) is a basic, Nohr-aligned class which was introduced in Fire Emblem Fates. It is a non-human shapeshifting class which uses beaststones to take the form of a bipedal wolf-like beast in battle.
Wolfskins promote to the Wolfssegner class, and their Hoshidan counterpart is the Kitsune. Enemy Wolfskins, along with their promoted form and their Hoshidan counterparts, are among the few playable classes whose generic enemy members are not capturable.
Stats
Base stats
Maximum stats
Class growth rates
See
class growth rate
for more details on the mechanics of class growths in each game.
Class skills
Class change
Fates
Base class
Promotion method
Advanced class

Wolfskin
Using a

Master Seal

after reaching Level 10.

Wolfssegner
Playable Wolfskins
Flavor text
Game
Text
(English)
Text
(Japanese)

Fates

Nohrian. A human/beast hybrid said to
feed on humans. High Str and Spd.

暗夜の兵種。人を食らうと伝えられる人狼。
力と速さに優れている。
Trivia
Etymology and other languages
Names, etymology and in other regions
Language
Name
Definition, etymology, and notes
English

Wolfskin

A portmanteau of either "wolf" and "kin", meaning "related to wolves"; or of "wolf" and "skin", suggesting that the creature wears the skin of a wolf without actually being a proper wolf.

Japanese

ガルー

Officially romanized as Garou. This name is used in Fates's gameplay. Garou is a French suffix which in modern usage is equivalent to the English "were-" prefix, meaning "human" and, when used in conjunction with an animal term, indicating a human who changes shape into that animal; for example, loup-garou is the French word for werewolf.
In dialogue, wolfskins are often referred to with the kanji term 人狼 jinrō "werewolf".

Spanish

Ulfhedin

Derived from the Old Norse úlfr, "wolf", and heðinn, "cloak". Úlfheðinn is also a synonym for the Norse berserkers.

French

Ulfhedin

As in Spanish.

German

Ulfhedin

As in Spanish.

Italian

Ulfhedin

As in Spanish.

Portuguese

Wolfskin

Mentioned in Heroes.

Korean

늑대 인간

Werewolf; lit. "wolf human"

Traditional Chinese

加魯

Garou; mentioned in Heroes. In dialogue, 狼人 "werewolf" is typically used.
Gallery
The generic Wolfskin portrait in Fates.
References
See also
| | |
| --- | --- |
| | This article is part of Project Classes, a project focused in writing articles for every class present in the Fire Emblem series. |