Site News
Warning: This wiki contains spoilers. Read at your own risk!


Social media: If you would like, please join our Discord server, and/or follow us on Twitter (X) or Tumblr!
Taguel
From Fire Emblem Wiki, your source on Fire Emblem information. By fans, for fans.
Taguel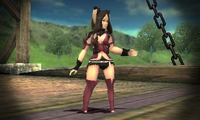 Panne in her normal Taguel state in Awakening.
---
A dying race with great power while in beast form.
| | |
| --- | --- |
| Unit type(s) | Beast |
| Weapon(s) | |
| Skill(s) | |
The Taguel (Japanese: タグエル Taguel) are a race and special class introduced in Fire Emblem Awakening. Similar in nature to the manakete race, taguel typically inhabit a weaker human-like body and temporarily transform into a giant beast in battle using the power of their beaststones. The taguel race has been long persecuted and abused by humans and driven to the brink of extinction, and by the time of Awakening the last living taguel is Panne.
History
The exact origins of the Taguel are unknown as they were not present on Archanea during Marth's time, though they are speculated to be descended from the Laguz of Tellius.[1] At an uncertain point before Chrom's time, the taguel lived in a powerful and peaceful tribal civilization.[2] When humans rose to become the dominant species of the world, taguel hunting became a popular sport, and enslavement of the taguel or keeping of them as pets also reigned rampant. The first positive change came with the foundation of the Halidom of Ylisse and the rise of its first exalt, who sought to put an end to his kin's cruelty toward the taguel, famously declaring the taguel to be equal to humans. While the actions backing these words took time to arise and was ultimately unsuccessful, his gesture restored to the taguel their dignity and independence, and in exchange all taguel believe they owe any Ylissean exalt, past or present, their aid should it be needed.[3]
Despite this positive step, the hunting of taguel nonetheless continued, ultimately driving the species to the brink of extinction. With the destruction of her warren as an infant in a hunt, the rabbit taguel Panne became the only known survivor of the taguel race. She would later ally with Chrom of Ylisse, marry a human and give birth to a hybrid son, Yarne, who himself became an ally to Chrom's daughter Lucina.
Characteristics
Physical appearance
In their humanoid forms, the rabbit taguel are distinguished by their large, low-drooping rabbit ears, and their thick body hair in unusual places such as their necks; all of their hair is brown, save a small tuft on Yarne's head. Both Panne and Yarne wear their hair long and weave it around their ears. They appear to favor wearing a small collection of scraps of armor protecting more vital areas, so as to allow themselves to transform without destroying a bulkier set of armor. Like manaketes, a taguel's transformed state is achieved using a beaststone; a transformed rabbit taguel is significantly larger than the average human, and is exceptionally strong and fast. They primarily fight by striking with their forelegs, and are capable of rearing up on their hind legs.
Taguel in their untransformed state are agile, and are capable of climbing sheer cliffs with relative ease and dexterity.[4] Their hearing is also exceptional, to the point where even the smallest noise is clearly audible and their ability to eavesdrop on conversations is drowned out by countless other noises.[5] They also possess the innate ability to talk with animals.[6]
While the only taguel encountered in the course of Awakening are of the rabbit variety, Panne states that others do or did exist in distant lands who can transform into other animals, including cats, lions, wolves and a number of bird species, such as herons and falcons.[7][8][9]
Behavior
Taguel - as far as can be told from Panne - are a highly prideful race and, as a result of centuries of abuse, possess a strong dislike of and distrust in humans. Taguel derive their sense of pride from their independence, self-reliance and sense of identity; to do what they feel is the right thing is, for a taguel, to live an honorable life in which they can take pride.[10] Taguel associate in tribal social groups, which the rabbits at least refer to as "warrens"; juvenile rabbit taguel are referred to as "kits".
Taguel consider the moon to be a holy figure, referring to it as both a goddess-like figure as well as a final resting place for the deceased.[11]
Two known foods are part of the taguel diet. Rabbit taguel are very fond of carrots, as with the stereotype that all rabbits like carrots.[12] Taguel also on occasion resort to a rare tree-borne fruit as emergency rations, which is far sweeter than even the sweetest human candies.[13]
Class data
In gameplay, Taguel function identically to Manaketes: they use their beaststone items in order to fight. Without their beaststones they typically possess low stats in general, but with a beaststone equipped they gain significant statistical bonuses allowing even the weakest Taguel unit to comfortably participate in battle. Taguel only assume their transformed state when attacking or being attacked.
All taguel possess a weakness to beast-type bonus damage; they retain this weakness even if reclassed.
Base stats
Max stats
Class growth rates
See
class growth rate
for more details on the mechanics of class growths in each game.
Class skills
Class change
Awakening
Playable Taguel
Flavor text
Game
Text
(English)
Text
(Japanese)

Awakening

A dying race with great power
while in beast form.
獣に変身して戦う戦士。
戦闘力が高いが、変身前は非力。
The Art of Fire Emblem Awakening
A race of beings driven to the brink of extinction after
their habitat was destroyed by humans. Though they
have far greater physical abilities than humans, it's
said they were man's servants and laborers at the
time of the first exalt and were treated sometimes as
pets, and other times even worse than beasts of
burden. When the first exalt saw how they were
treated, he freed them. In their oral traditions, they
still tell of their debt to the exalt in recognition of
what he did for them-a debt for which they are
willing to lay down their lives. They use beaststones
to change into beast forms, which differ from taguel
to taguel. The forms of rabbits, lions, and wolves are
all said to have been used. Another shape-changing
race, the laguz, appeared in Fire Emblem: Path of
Radiance; it is suggested that the taguel may have
descended from those tribes.
??
Trivia
In their transformed state, a taguel's voice is somewhat distorted when they speak in battle.
Etymology and other languages
Names, etymology, and in other regions
Language
Name
Definition, etymology, and notes
English

Taguel

--

Japanese

タグエル

Officially romanized as Taguel.

Spanish

Taguel

--

French

Tagüel

Minor alteration to include a dieresis diacritic.

German

Taguel

--

Italian

Taguel

--

Portuguese

Taguel

Used in Heroes.

Traditional Chinese

塔格艾爾

Taguel; used in Heroes.
Gallery
References
See also
| | |
| --- | --- |
| | This article is part of Project Classes, a project focused in writing articles for every class present in the Fire Emblem series. |