Site News
Warning: This wiki contains spoilers. Read at your own risk!


Social media: If you would like, please join our Discord server, and/or follow us on Twitter (X) or Tumblr!
Lodestar
From Fire Emblem Wiki, your source on Fire Emblem information. By fans, for fans.
Lodestar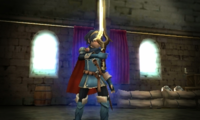 Marth as a Lodestar in Awakening.
---
An otherworldly class. Tales abound of this great hero-king. Uses swords.
The Lodestar (Japanese: スターロード Star Lord) is a special Lord-like class debuting in Fire Emblem Awakening. It is a personal class exclusive to all bonus-character versions of Marth: both SpotPass versions and the downloadable content version in Awakening, and the amiibo version in Fates. In Awakening, it is capable of wielding the Rapier, Noble Rapier and all three Falchion variations, like the game's actual Lord characters; in Fates, it loses access to the Parallel Falchion, which is instead locked to Lucina.
Stats
Base stats
Max stats
Class growth rates
See
class growth rate
for more details on the mechanics of class growths in each game.
Class skills
Class change
Awakening
Fates
Warriors
Playable Lodestars
Notable enemy Lodestars
Flavor text
Game
Text
(English)
Text
(Japanese)

Awakening

The Hero-King from the sagas
said to have saved the world.
サーガに語られる伝説の王。
幾度も世界を救ったという。

Fates

An otherworldly class. Tales abound of
this great hero-king. Uses swords.
異界の兵種。サーガに語られる伝説の王。
剣を振るって戦う。
Trivia
In

Awakening

, the Lodestar shares its battle model and map sprite with Lucina's version of the Lord class, which itself is meant to be dressed as Marth in the first place.
The card game Fire Emblem Cipher and Fire Emblem Warriors both use the Lodestar as Marth's promoted class, since he was unable to to promote in his own games but the mechanics of Cipher and Warriors require that he is able to promote.
Etymology and other languages
Names, etymology, and in other regions
Language
Name
Definition, etymology, and notes
English

Lodestar

Literally speaking, a lodestar is an actual star used as a navigational reference. Metaphorically speaking, a lodestar is a guiding principle, like Marth's influence on the future of Archanea. Additionally, "lodestar" is phonetically similar to an inversion of the syllables of "Star Lord", the class's Japanese name.

Japanese

スターロード

Star Lord. From "Star Lord", an affectionate title given to Marth by the people of Altea; prior to Awakening, the closest English equivalent to this term was "star and savior", the English translation of the term "Star Lord Marth" in Shadow Dragon.

Spanish

Polaris

From Polaris, the brightest star in the constellation Ursa Minor, which was historically used as a literal lodestar in world navigation.

French

Guide

Guide

German

Sternenlord

Starlord

Italian

Lord supremo

Supreme lord

Korean

스타 로드

Star Lord
Gallery
Marth as a Lodestar in Fates.
References
See also
| | |
| --- | --- |
| | This article is part of Project Classes, a project focused in writing articles for every class present in the Fire Emblem series. |