Site News
Warning: This wiki contains spoilers. Read at your own risk!


Social media: If you would like, please join our Discord server, and/or follow us on Twitter or Tumblr!

Engage info: As the game has only recently released, we lack much key information. Please help add any info that you can.
Horse
From Fire Emblem Wiki, your source on Fire Emblem information. By fans, for fans.
Horse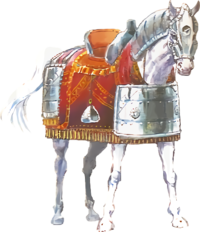 Artwork of a Gold Knight's horse from Gaiden.
---
A Begnion noble's horse. It cannot engage in combat without a rider.
| | |
| --- | --- |
| Unit type(s) | Beast |
| Weapon(s) | None |
| Skill(s) | None |
Horses (Japanese: 馬 horse) are a species of animal widely domesticated by humans, both in the Fire Emblem series and in real life, for use as steeds for a variety of purposes. In Fire Emblem games, horses primarily appear as combat mounts used by a variety of mounted classes, although they also appear as a class of their own in Fire Emblem: Radiant Dawn.
Characteristics
Physical appearance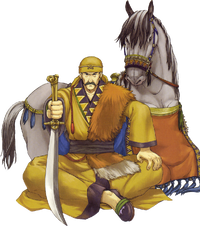 The horses of the Fire Emblem series are identical to their real-world counterparts: they are large, four-legged, hoofed mammals with distinct snouts, covered in a coat of short hair save for their long manes and tails. They come in a variety of hair colors, including brown, black, gray, gold and white; the coloration and appearance of horses also varies by region, as noted by how Gonzalez - a Western Isles native - commented to Dayan, a Sacaen, that his horse is of an unfamiliar color.[1] Horses possess significant strength and stamina, which is the primary reason for their domestication and use by humans.
In Fire Emblem, horses are closely related to pegasi, a species of winged horse-like creatures which are also widely used as steeds by humans. The exact relationship between the two species does not appear to be known in-universe, and it is uncertain whether pegasus evolved from horses by developing wings or vice versa.[2]
Notable horses
There are currently three explicitly named horses in the series, much fewer than wyverns or pegasi.
Horse-mounted classes
Thirty-six classes have used horses as mounts throughout the Fire Emblem series.
Class data
Horses exist as an individual class only in Fire Emblem: Radiant Dawn. The class's sole appearance in the course of the game is in Part III, Chapter 3, where a small number of NPC horses are locked up in pens at the start of the chapter. As part of the chapter's objective, the player is encouraged to have the Greil Mercenaries release the horses to run amok in the Begnion senators' camp, and at the chapter's end the player will receive 100-200 bonus experience points for every horse to survive the chapter.
The horses themselves have negligible stats and are incapable of attacking on their own.
Base stats
Max stats
Miscellaneous stats
Class growth rates
See
class growth rate
for more details on the mechanics of class growths in each game.
Class change
Radiant Dawn
Flavor text
Game
Text
(English)
Text
(Japanese)

Radiant Dawn

A Begnion noble's horse. It cannot
engage in combat without a rider.
ベグニオン貴族所有の軍馬
騎士がいないと戦えない
Trivia
In

Path of Radiance

, horses' forelegs bend the wrong way in battle animations. This appears to be an animation error instead of an in-universe trait of the species.
Etymology and other languages
Names, etymology and in other regions
Language
Name
Definition, etymology, and notes
English

Horse

--

Japanese

• 馬
• 馬

• Horse
• Used for the class in Radiant Dawn. In Radiant Dawn, all Japanese class names are spelled primarily in kanji (i.e. 馬), with a foreign-language name in katakana applied as furigana (i.e. ホース) and used as the basis for the romanized name in the class roll.

Spanish

Caballo

Horse

French

Cheval

Horse

German

Pferd

Horse

Italian

Cavallo

Horse
Gallery
References
↑ "What that horse? Strange color." — Gonzalez, Fire Emblem: The Binding Blade
↑ "Sully: Huh. When you put 'em side by side, there's hardly any difference at all... If not for the wings, pegasi and horses would look exactly the same.
Sumia: They even eat the same food! Maybe they're cousins of one sort or another.
Sully: It's just odd. How the hell did pegasi end up with wings?
Sumia: I've always wondered how the horses lost theirs.
Sully: Har! I never thought of it that way! In either case, they're strange animals. Although I guess you can say that about almost anything." — Sully and Sumia, Fire Emblem Awakening
See also
| | |
| --- | --- |
| | This article is part of Project Classes, a project focused in writing articles for every class present in the Fire Emblem series. |