Site News
Warning: This wiki contains spoilers. Read at your own risk!


Social media: If you would like, please join our Discord server, and/or follow us on Twitter or Tumblr!

Engage info: As the game has only recently released, we lack much key information. Please help add any info that you can.
Aymr
From Fire Emblem Wiki, your source on Fire Emblem information. By fans, for fans.
Aymr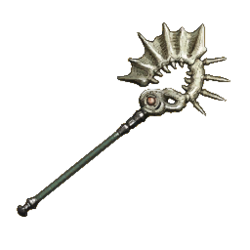 Artwork of the Aymr in Warriors: Three Hopes.
---
A Crest Stone weapon designed to Edelgard's specifications allowing her to use Raging Storm.
| | |
| --- | --- |
| Type | |
| Wielder(s) | |
| First game | |
Aymr (pronounced /⁠əˈmɪɹ⁠/[key],[1] Japanese: アイムール Aymur) is a regalia axe that debuted in Fire Emblem: Three Houses. It is a Crest Stone-embedded weapon that is tied to the Crest of Seiros. The Aymr is an oddity among said weapons, and seems to have been created long after all of the Heroes' Relics, given that it is described as being "designed to Edelgard's specifications."
Stats
In the main Fire Emblem series
Game
Icon
Level
Might
Weight
Hit
Crit
Range
Uses
Worth
WEXP
Other effects and notes

Three Houses

E
24
11
60
20
1
20
--
2
Grants units with the Crest of Seiros access to Raging Storm.
If the user does not have a Crest, deals 10 damage to user after combat.

Engage




D
24
11
60
20
1
--
100
--
Deals bonus damage to  dragon units.
If user initiates combat, user makes their strike last.
If user initiates combat and their attack damaged the target, pushes enemy forward one space after combat; if impassable terrain or another unit is directly behind the target, inflicts break on the target after combat.
Cannot make follow-up attacks.
In other Fire Emblem series titles
Locations
Three Houses
Engage
Warriors: Three Hopes
| | |
| --- | --- |
| Event | Chapter 16 , clear the chapter with an S rank |
Heroes
Other appearances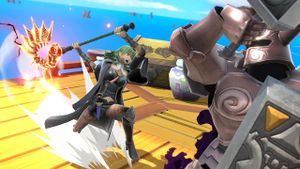 Byleth wields Aymr along with several other Heroes' Relics as a playable character in Super Smash Bros. Ultimate. It is used in their down smash, their down aerial, and their down special. In these attacks, Aymr is tremendously powerful, and even grants super armor in their down special, but suffers from both high start-up and high ending lag.
Flavor text
---
This section has been marked as a stub. Please help improve the page by adding information.
---
Game
Text
(English)
Text
(Japanese)

Three Houses

A Crest Stone weapon designed to Edelgard's
specifications, allowing her to use Raging Storm.

エーデルガルト専用の紋章石改造武器
戦技「狂嵐」を使用可能

Engage


(Byleth variant)

Axe of Emblem Byleth. Smashes
foes. Cannot follow up, or strike first
if initiating combat. Eff: Dragon.

紋章士ベレトの持つ斧
追撃不可/竜特効/自分から攻撃した時
必ず後攻攻撃になるがスマッシュ発生

Engage


(Edelgard variant)

??

??
Trivia
Despite being linked to the Crest of Seiros, the Crest Stone embedded in Aymr is engraved with the Crest of the Beast.
Unlike all other obtainable relic weapons, the Aymr is repaired with Agarthium, as opposed to the other relics which are repaired with Umbral Steel. This further adds to the implication of the weapon's description text which implies Aymr was made at some point between Parts I and II specifically for Edelgard by the Agarthans.
Etymology and other languages
Names, etymology and in other regions
Language
Name
Definition, etymology, and notes
English

Aymr

Alteration of Aymur.

Japanese

アイムール

Aymur; from one of two weapons used by Baal against Yam in the Baal Cycle. It can also be rendered "Ayamari", and its name means "driver".

Spanish

Aymr

--

French

Aymr

--

German

Aymr

--

Italian

Aymr

--

Dutch

Aymr

Used in Super Smash Bros. Ultimate.

Portuguese
(Brazil)

Aymr

--

Russian

Аймр

Aymr; used in Super Smash Bros. Ultimate.

Korean

아이무르

Aymur

Simplified Chinese

艾姆鲁

Aymur

Traditional Chinese

艾姆魯

Aymur
Gallery
References
Fire Emblem: Three Houses
Playable characters

Black Eagles

Bernadetta • Caspar • Dorothea • Edelgard • Ferdinand • Hubert • Linhardt • Petra

Blue Lions

Annette • Ashe • Dedue • Dimitri • Felix • Ingrid • Mercedes • Sylvain

Golden Deer

Claude • Hilda • Ignatz • Leonie • Lorenz • Lysithea • Marianne • Raphael
Other
Alois • AnnaDLC • Byleth • Catherine • Cyril • Flayn • Gilbert • Hanneman • Jeritza • Manuela • Seteth • Shamir

Ashen Wolves

DLC
Balthus • Constance • Hapi • Yuri
Non-playable characters
AbysskeeperDLC • Duke Aegir • Lord Arundel • Count Bergliez • Count Hevring • Count Gloucester • Count Varley • Fleche • Gatekeeper • Duke Gerth • Glenn • Holst • Ionius IX • Jeralt • Judith • Ladislava • Lambert • Margrave Gautier • Monica • Nader • Patricia • Randolph • Rhea • Rodrigue • Rufus • Seiros • Sitri • Sothis • Tomas • Tiana
Bosses
Acheron • AelfricDLC • Alois • Lord Arundel • Bias • Blaiddyd • Caspar • Catherine • Charon • Chilon • Claude • Cornelia • Daphnel • Dedue • Death Knight • Dimitri • Dominic • Baron Dominic • Edelgard • Felix • Ferdinand • Flame Emperor • Flayn • Fraldarius • Gautier • Gloucester • Goneril • Gwendal • Hubert • Ingrid • The Immaculate One • The Immovable • Judith • Kostas • Kronya • Ladislava • Lamine • Linhardt • Lonato • Lorenz • Mercedes • Metodey • Miklan • Myson • Nader • Nemesis • Baron OchsDLC • Odesse • Pallardó • Pittacus • Randolph • Rhea • Riegan • Rodrigue • Seteth • Shamir • Solon • Sylvain • Thales • Wandering Beast • The Wind Caller
Personal weapons and regalia
Aegis Shield • Areadbhar • Asclepius • Athame • Axe of Ukonvasara • Aymr • Blutgang • Caduceus Staff • Circe Staff • Crusher • Failnaught • Fetters of Dromi • Freikugel • The Inexhaustible • Lance of Ruin • Lúin • Ochain Shield • Rafail Gem • Scythe of Sariel • Seiros Shield • Spear of Assal • Sword of Begalta • Sword of Moralta • Sword of Seiros • Sword of the Creator • Tathlum Bow • Thunderbrand • Thyrsus • Vajra-Mushti
Chapters
Part I

Prologue: An Inevitable Encounter • 1: Three Houses • 2: Familiar Scenery • 3: Mutiny in the Mist • 4: The Goddess's Rite of Rebirth • 5: Tower of Black Winds • 6: Rumors of a Reaper • 7: Field of the Eagle and Lion • 8: The Flame in the Darkness • 9: The Cause of Sorrow • 10: Where the Goddess Dwells • 11: Throne of Knowledge • 12: To War / Outset of a Power Struggle
Part II
Silver Snow

13: Reunion at Dawn • 14: A King Without a Kingdom • 15: Valley of Torment • 16: The Rose-Colored River • 17: The Impregnable Fortress • 18: The Chaos of War • 19: Conclusion of the Crossing Roads • 20: The City Without Light • 21: Following a Dream
Azure Moon

13: Reunion at Dawn • 14: The Delusional Prince • 15: Valley of Torment • 16: The Rose-Colored River • 17: Blood of the Eagle and Lion • 18: The King's Triumphant Return • 19: The Golden Deer's Plea • 20: The Impregnable Fortress • 21: Our Chosen Paths • 22: Oath of the Dagger
Verdant Wind

13: Reunion at Dawn • 14: The Alliance Leader's Ambitions • 15: Valley of Torment • 16: The Rose-Colored River • 17: Blood of the Eagle and Lion • 18: The Golden Scheme • 19: The Chaos of War • 20: Conclusion of the Crossing Roads • 21: The City Without Light • 22: Fódlan's New Dawn
Crimson Flower

13: Beyond Escape • 14: The Master Tactician • 15: Tempest of Swords and Shields • 16: Lady of Deceit • 17: Field of Revenge • 18: To the End of a Dream
Paralogues
Part I
Black Market SchemeDLC • A Cursed RelicDLC • Death Toll • Dividing the World • Falling Short of Heaven • The Forgotten • Land of the Golden Deer • An Ocean View • Oil and Water • Rumored Nuptials • The Secret MerchantDLC • Sword and Shield of Seiros • Tales of the Red Canyon • True Chivalry • War for the Weak
Part II
Darkness Beneath the Earth • Dividing the World • Eternal Guardian • The Face Beneath • Foreign Land and Sky • Forgotten Hero • Insurmountable • Legend of the Lake • Retribution • The Secret MerchantDLC • The Silver Maiden • The Sleeping Sand Legend • Weathervanes of Fódlan
Cindered Shadows
(DLC side story)

1: The Fourth House • 2: What Lies Beneath • 3: The Rite of Rising • 4: Danger in the Dark • 5: Betrayal • 6: Return to Me • 7: Wolf Pack
Locations
Fódlan • Adrestia • Faerghus • Garreg Mach Monastery (Abyss) • Leicester • Almyra • Brigid • Dagda • Sreng • Zahras
Groups, objects and concepts
10 Elites • Ashen Wolves • Black Eagles (Black Eagle Strike Force) • Blue Lions • Children of the Goddess • Church of Seiros (Knights of Seiros) • Crests (Crest Stone) • Divine Pulse • Golden Deer • Heroes' Relics • Insurrection of the Seven • Monsters • Those who slither in the dark • Tragedy of Duscur • War of Heroes
Related topics
Music Library • Name chart • Other games (

Warriors: Three Hopes

) • Pre-release information • Unused content • Downloadable content • List of quests • Class mastery