Site News
Warning: This wiki contains spoilers. Read at your own risk!


Discord and Twitter: If you would like, please join our Discord server, and/or follow us on Twitter at @FEWikiOfficial!
Longbow
From Fire Emblem Wiki, your source on Fire Emblem information. By fans, for fans.
Not to be confused with the Long Bow of Fire Emblem: Thracia 776.
Longbow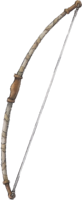 Concept art of the Longbow from Path of Radiance.
---
A yew-hewn bow of above-average size. It can hit enemies at great distances.
The Longbow (Japanese: 長弓 Longbow, or ロングボウ Longbow) is a relatively uncommon bow which was introduced in Fire Emblem: The Binding Blade. It is unique among both bows and most weapons in general for its increased range, having the ability to attack foes as far as three spaces away, something no ordinary bows have been able to do since Gaiden. However, in exchange for its improved range, its accuracy tends to be much worse than bows of ordinary range. Prior to Path of Radiance, all bow-wielding classes were able to wield Longbows, but from Path of Radiance up to Awakening, the use of Longbows has been restricted to the Archer and Sniper classes.
In Radiant Dawn, the Longbow concept is split up into a complete series of three bows of increasing power: the Iron Longbow, the Steel Longbow, and the Silver Longbow.
Stats
In the main Fire Emblem series
Forged stats
In other Fire Emblem series titles
The Longbow appears as one of Eleonora Yumizuru's Carnages in Tokyo Mirage Sessions ♯FE.
Icon
Attack
73

Skills
Unity Cost




S





S

Weak Shot
Skl Boost
Elec-Snipe
Tarunda
Wind-Snipe

†

Archer Force ×1
Gloaming Robe ×1
2-Star Prestige ×1

Weaknesses and Resistances

| | | | | | | | | | |
| --- | --- | --- | --- | --- | --- | --- | --- | --- | --- |
| | -- | | -- | | Wk | | -- | | -- |
| | -- | | Rs | | Wk | | -- | | -- |

No added effect.
Locations
The Binding Blade
The Blazing Blade
The Sacred Stones
Path of Radiance
Shadow Dragon
New Mystery of the Emblem
Awakening
Echoes: Shadows of Valentia
Three Houses
Longbow
Longbow+
Other appearances
Fire Emblem Cipher
The Longbow is present as a skill on one cards in Fire Emblem Cipher: B05-032HN Doe of the Plains, Sue. It is a manual-activation skill which, for a cost of flipping 1 bond card, enables a Sue positioned in the player's Rearguard to ignore her usual range limitations and attack enemies in the opponent's Rearguard until the turn ends.
Flavor text
Trivia
Etymology and other languages
Names, etymology and in other regions
Language
Name
Definition, etymology and notes
English

Longbow

A longbow is a type of medieval European bow. Its most prominent trait is its sheer size: in many cases, a longbow was as tall as its wielder.

Japanese

• 長弓
• ロングボウ

• Longbow. The weapon is known by this name in The Binding Blade, The Blazing Blade, The Sacred Stones, Path of Radiance, and Echoes: Shadows of Valentia.
• Longbow (specifically, the English word written in katakana). The weapon is known by this name in Shadow Dragon, New Mystery of the Emblem, Awakening, Fates, and Three Houses.

Spanish

Arco largo

Long bow. Abbreviated to A largo for space reasons in every appearance prior to Awakening.

French

• Arc long
• Grand-arc

• Long bow; in every game except Awakening.
• Great bow; in Awakening.

German

Langbogen

Longbow

Italian

Arco lungo

Long bow. Abbreviated to Ar. lungo for space reasons in every appearance prior to Awakening.

Dutch

Langboog

Longbow

Korean

롱 보우

Long bow

Simplified Chinese

长弓

Longbow

Traditional Chinese

長弓

Longbow
Gallery
References
See also