Site News
Warning: This wiki contains spoilers. Read at your own risk!


Social media: If you would like, please join our Discord server, and/or follow us on Twitter (X) or Tumblr!
The Goddess's Rite of Rebirth
From Fire Emblem Wiki, your source on Fire Emblem information. By fans, for fans.
The Goddess's Rite of Rebirth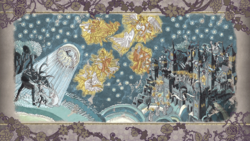 Mural used to introduce the Blue Sea Moon.
| | |
| --- | --- |
| New units | |
| Previous chapter(s) | |
| Next chapter(s) | |
| | | | |
| --- | --- | --- | --- |
| " | I cannot thank you enough for defeating those invaders in the Holy Mausoleum, and especially for protecting the Sword of the Creator. That sword is one of the Heroes' Relics, and the most precious artifact in the church's possession. It is also a weapon of terrifying power. For now...I will entrust the sword to you. Please, use it wisely. | " | — Rhea |
The Goddess's Rite of Rebirth (Japanese: 女神再誕の儀 Rite of the Goddess's Resurrection) is the fourth chapter of Fire Emblem: Three Houses.
Plot
In light of the assassination threat against Rhea, Byleth's mission for the month is to aid in the security detail for the upcoming Rite of Rebirth. Byleth and their students realize that the way they found the assassination plot out was too easy and deduce that it is a distraction for some other objective. They conclude that the true goal is to break into the Holy Mausoleum where the remains of Saint Seiros are allegedly stored. At the end of the month, the class ambushes a group of thieves led by a mysterious Death Knight clad in armor designed to look like the Grim Reaper. Circumventing or overpowering the Death Knight, the party routs the thieves. A mage manages to break open Seiros' coffin, but only finds a sword. Byleth takes the sword and discovers it is a relic that they can wield. Afterwards, Rhea reveals that the sword is the Sword of the Creator, the weapon wielded by the Liberation King Nemesis. She entrusts the blade to Byleth. Elsewhere, the masked individual and an unidentified accomplice discuss the events that occurred in the tomb. The masked individual decides to allow Byleth to keep the Sword of the Creator and wait for more information before acting, and allows their accomplice to take command of the Death Knight.
Calendar - Blue Sea Moon
Blue Sea Moon
Monday
Tuesday
Wednesday
Thursday
Friday
Saturday
Sunday
1
Caspar's Birthday

2
3
4
5
Story Event
6
Free Day (Forced Explore)
Lots of Large Fish
Head Chef Challenge
7
Instruct
8
9
Balthus's Birthday
10
11
12
Saint Cethleann Day
Flayn's Birthday
13
Free Day
14
Instruct
15
16
17
18
19
20
Free Day
21
22
23
24
Claude's Birthday
25
26
Goddess's Rite of Rebirth
Goddess's Rite of Rebirth
27
28
29
30
31
Character data
Item data
Name
Obtainment Method
Gold
Monthly stipend
Steel Sword+
Tournament prize
Owl Feather
Quest reward: Know Your Enemy
Steel Axe
Quest reward: Only the Bold
Poultry (×3)
Quest reward: Only the Bold
Wild Game (×3)
Quest reward: Only the Bold
Elegant Tea Set
Automatically upon starting Tea for Two
Sweet-Apple Blend (×2)
Quest reward: Tea for Two
Concoction
Quest reward: In Hiding
Ancient Coin
Quest reward: In Hiding
Goddess Icon
Quest reward: A Peculiar Trend

*

Dark Seal
Dropped by the Death Knight during Assault at the Rite of Rebirth
Chest Key
Dropped by enemy Dark Mage during Assault at the Rite of Rebirth
Chest Key
Dropped by enemy Archer during Assault at the Rite of Rebirth
Spirit Dust
Western chest in Assault at the Rite of Rebirth
Intermediate Seal
Eastern chest in Assault at the Rite of Rebirth
Sword of the Creator
Automatically upon clearing Assault at the Rite of Rebirth
Strategy
This month's quests unlock tournaments and tea parties.
Tournaments allow your units to participate in a 5-round tournament based on a single weapon with cash and valuable items as prizes. Each fight lasts for four phases of combat, and once time runs out, the player will automatically lose, regardless of how well your units are faring in the match. You also have two chances to heal your unit throughout the tournament, which can be spent at any time between rounds (including consecutively).
Tea parties allow you to bond with a unit, and can now be triggered in place of buying birthday flowers. You can also initiate tea parties by talking to the unit you seek to invite while exploring the monastery. You can offer a unit tea and converse with them; if you give responses they like, your support with them and the charm stat of both you and the other unit will increase.
Also note that there's a particularly brutal (but fortunately optional) cavalry boss coming up this month, who is carrying a rare item that cannot be acquired from other sources: the Dark Seal. If you're a Golden Deer, having Lysithea at B rank in Reason for Dark Spikes Τ would be really helpful. Unfortunately, she only has D+ Reason if borrowed for mission assistance by the other houses. You could always push someone to level 10 to make them a Thief so you can steal the Dark Seal from the boss without having to actually fight them, though you will need to afterwards utilize certain Combat arts to adjust the position of the thief so that they do not get killed by said boss after successfully stealing the Dark Seal. It's also now possible to unlock Byleth's C-support with Dimitri.
Should the player successfully obtain a Dark Seal, they can now use it to promote a unit into a Dark Mage or a Dark Bishop once they reach level 10 and 20, respectively. Unfortunately, one notable downside for promoting a unit into these classes is that they are only available for male units, when almost all of the magically-inclined characters are predominantly female. Aside from Hubert, who is a more common recipient of the Dark Seal and benefits the most from these classes, the only other male characters who have (at minimum) a decent affinity towards magic-based classes are Linhardt, Lorenz, Hanneman, and maybe Felix, Sylvain, and Ignatz. Otherwise, if the player does not seek to promote anyone into any of the Dark Seal-based classes, it is best to ignore the boss and progress onward with the story.
Etymology and other languages
Names, etymology, and in other regions
Language
Name
Definition, etymology, and notes
English

The Goddess's Rite of Rebirth

--

Japanese

女神再誕の儀

Rite of the Goddess's Resurrection

Spanish

La Ceremonia del Renacer

The Ceremony of Rebirth

French

La cérémonie de renaissance de la Déesse

The Goddess's Rite of Rebirth

German

Die Wiedergeburtszeremonie

The Rebirth Ceremony

Italian

Il Rito della Rinascita della Dea

The Rite of the Goddess's Rebirth

Korean

여신재림 의식

Goddess rebirth ceremony

Simplified Chinese

女神再生仪式

Goddess rebirth ceremony

Traditional Chinese

女神再生儀式

Goddess rebirth ceremony
Gallery
---
This section has been marked as a stub. Please help improve the page by adding information.
---
References
Fire Emblem: Three Houses
Playable characters

Black Eagles

Bernadetta • Caspar • Dorothea • Edelgard • Ferdinand • Hubert • Linhardt • Petra

Blue Lions

Annette • Ashe • Dedue • Dimitri • Felix • Ingrid • Mercedes • Sylvain

Golden Deer

Claude • Hilda • Ignatz • Leonie • Lorenz • Lysithea • Marianne • Raphael
Other
Alois • AnnaDLC • Byleth • Catherine • Cyril • Flayn • Gilbert • Hanneman • Jeritza • Manuela • Seteth • Shamir

Ashen Wolves

DLC
Balthus • Constance • Hapi • Yuri
Non-playable characters
AbysskeeperDLC • Duke Aegir • Fleche • Gatekeeper • Duke Gerth • Ionius IX • Jeralt • Judith • Ladislava • Nader • Randolph • Rhea • Rodrigue • Sothis
Bosses
Acheron • AelfricDLC • Alois • Lord Arundel • Bias • Blaiddyd • Caspar • Catherine • Charon • Chilon • Claude • Cornelia • Daphnel • Dedue • Death Knight • Dimitri • Dominic • Baron Dominic • Edelgard • Felix • Ferdinand • Flame Emperor • Flayn • Fraldarius • Gautier • Gloucester • Goneril • Gwendal • Hubert • Ingrid • The Immaculate One • The Immovable • Judith • Kostas • Kronya • Ladislava • Lamine • Linhardt • Lonato • Lorenz • Mercedes • Metodey • Miklan • Myson • Nader • Nemesis • Baron OchsDLC • Odesse • Pallardó • Pittacus • Randolph • Rhea • Riegan • Rodrigue • Seteth • Shamir • Solon • Sylvain • Thales • Wandering Beast • The Wind Caller
Background characters
Lord Arundel • Count Bergliez • Cornelia • Margrave Gautier • Glenn • Count Gloucester • Count Hevring • Holst • Lambert • Monica • Patricia • Rufus • Seiros • Sitri • Tomas • Tiana • Count Varley
Personal weapons and regalia
Aegis Shield • Areadbhar • Asclepius • Athame • Axe of Ukonvasara • Aymr • Blutgang • Caduceus Staff • Circe Staff • Crusher • Failnaught • Fetters of Dromi • Freikugel • The Inexhaustible • Lance of Ruin • Lúin • Ochain Shield • Rafail Gem • Scythe of Sariel • Seiros Shield • Spear of Assal • Sword of Begalta • Sword of Moralta • Sword of Seiros • Sword of the Creator • Tathlum Bow • Thunderbrand • Thyrsus • Vajra-Mushti
Chapters
Part I

P: An Inevitable Encounter • 1: Three Houses • 2: Familiar Scenery • 3: Mutiny in the Mist • 4: The Goddess's Rite of Rebirth • 5: Tower of Black Winds • 6: Rumors of a Reaper • 7: Field of the Eagle and Lion • 8: The Flame in the Darkness • 9: The Cause of Sorrow • 10: Where the Goddess Dwells • 11: Throne of Knowledge • 12: To War / Outset of a Power Struggle
Part II
Silver Snow

13: Reunion at Dawn • 14: A King Without a Kingdom • 15: Valley of Torment • 16: The Rose-Colored River • 17: The Impregnable Fortress • 18: The Chaos of War • 19: Conclusion of the Crossing Roads • 20: The City Without Light • 21: Following a Dream
Azure Moon

13: Reunion at Dawn • 14: The Delusional Prince • 15: Valley of Torment • 16: The Rose-Colored River • 17: Blood of the Eagle and Lion • 18: The King's Triumphant Return • 19: The Golden Deer's Plea • 20: The Impregnable Fortress • 21: Our Chosen Paths • 22: Oath of the Dagger
Verdant Wind

13: Reunion at Dawn • 14: The Alliance Leader's Ambitions • 15: Valley of Torment • 16: The Rose-Colored River • 17: Blood of the Eagle and Lion • 18: The Golden Scheme • 19: The Chaos of War • 20: Conclusion of the Crossing Roads • 21: The City Without Light • 22: Fódlan's New Dawn
Crimson Flower

13: Beyond Escape • 14: The Master Tactician • 15: Tempest of Swords and Shields • 16: Lady of Deceit • 17: Field of Revenge • 18: To the End of a Dream
Paralogues
Part I
Black Market SchemeDLC • A Cursed RelicDLC • Death Toll • Dividing the World • Falling Short of Heaven • The Forgotten • Land of the Golden Deer • An Ocean View • Oil and Water • Rumored Nuptials • The Secret MerchantDLC • Sword and Shield of Seiros • Tales of the Red Canyon • True Chivalry • War for the Weak
Part II
Darkness Beneath the Earth • Dividing the World • Eternal Guardian • The Face Beneath • Foreign Land and Sky • Forgotten Hero • Insurmountable • Legend of the Lake • Retribution • The Secret MerchantDLC • The Silver Maiden • The Sleeping Sand Legend • Weathervanes of Fódlan
Cindered Shadows
(DLC side story)

1: The Fourth House • 2: What Lies Beneath • 3: The Rite of Rising • 4: Danger in the Dark • 5: Betrayal • 6: Return to Me • 7: Wolf Pack
Locations
Fódlan • Adrestia • Faerghus • Garreg Mach Monastery (Abyss) • Leicester • Almyra • Brigid • Dagda • Sreng • Zahras
Groups, objects and concepts
10 Elites • Ashen Wolves • Black Eagles (Black Eagle Strike Force) • Blue Lions • Children of the Goddess • Church of Seiros (Knights of Seiros) • Crests (Crest Stone) • Divine Pulse • Golden Deer • Heroes' Relics • Insurrection of the Seven • Monsters • Those who slither in the dark • Tragedy of Duscur • War of Heroes
Related topics
Music Library • Name chart • Other games (

Warriors: Three Hopes

) • Pre-release information • Unused content • Downloadable content • List of quests • Class mastery