Site News
Warning: This wiki contains spoilers. Read at your own risk!


Social media: If you would like, please join our Discord server, and/or follow us on Twitter or Tumblr!

Engage info: As the game has only recently released, we lack much key information. Please help add any info that you can.
Almyra
From Fire Emblem Wiki, your source on Fire Emblem information. By fans, for fans.
Almyra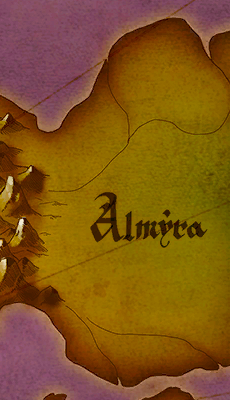 Almyra as seen in Fódlan's map.
| | |
| --- | --- |
| Capital | Unknown |
| Government | Monarchy |
| Continent | Unknown |
Almyra (pronounced /⁠ɑlˈmaɪɹə⁠/[key]; Japanese: パルミラ Palmyra) is a kingdom located at the far east of Fódlan, bordering with the Leicester Alliance. The kingdom's lands contain mountains, deserts and fertile prairies. It boasts a culture that promotes warfare and conserves a strong tradition towards horsemanship.[1]
History
While not much is known about Almyra's past, it has long since held a contested relationship with Fódlan due to their people's love for battle. In Imperial Year 961, the Almyran army crossed Fódlan's Throat and invaded Alliance territory, which was barely driven off with help from the Adrestian Empire. Somewhere around 980, the Officers Academy was founded at Garreg Mach Monastery with the intention of preparing the people of Fódlan against future Almyran invasions. In 1101, Fódlan's Locket was constructed in Fódlan's Throat as a joint effort between the Adrestian Empire, Holy Kingdom of Faerghus, and Leicester Alliance to defend against future Almyran invasions, with House Goneril of Leicester being given the responsibility of guarding it.
In 1160, Tiana, daughter of Duke Riegan, fell in love with the king of Almyra and eventually abandoned Leicester in pursue of her beloved, both eventually bringing a child into life named Khalid. In 1177, House Goneril captured an orphan named Cyril during one of the Alliance's skirmishes against Almyra and turned him into a servant; in 1178, during one of Archbishop Rhea's visits to House Goneril, she noticed Cyril and offered him work at Garreg Mach Monastery, a chance Cyril took. In 1179, Khalid traveled from Almyra into the Leicester Alliance, adopted the name of "Claude von Riegan" and proclaimed himself as the legitimate heir to House Riegan. Afterwards, he enrolled into Garreg Mach Monastery in the Golden Deer house, studying and fighting alongside his peers. Late in 1180, newly-crowned Adrestian emperor Edelgard von Hresvelg declared war on the Church of Seiros, triggering a bloody five-year long conflict within Fódlan. Almyra's role in the war, if any, would be determined by the actions of a mercenary named Byleth.
On the Verdant Wind route, where Byleth taught the Golden Deer, Claude spent five years surreptitiously setting up Almyra's intervention in the war on the Alliance's side as a part of his long-held dream to forge a new peace between Almyra and Fódlan. His opportunity came during the siege of the imperial Fort Merceus. Famed Almyran general Nader led his troops into battle and helped Claude conquer the fort. However, he was driven off when a cult known only as "those who slither in the dark" annihilated Merceus with strange weapons Nader dubbed "javelins of light". Nevertheless, the Alliance emerged victorious in the war, and Claude returned to Almyra to take the throne and fulfill his dream of peace.
On the Crimson Flower route, where Byleth taught the Black Eagles and sided with the Empire, Claude called in Almyran reinforcements led by Nader to fight in the battle of Derdriu. However, Nader was driven off, the Alliance was defeated, and Claude was exiled or executed at the player's discretion. Nader later triggered another skirmish at Fódlan's Locket, but was personally defeated by Edelgard.
Characters from Almyra
Etymology and other languages
Names, etymology and in other regions
Language
Name
Definition, etymology, and notes
English

Almyra

Alteration of Palmyra.

Japanese

パルミラ

Palmyra; from the ancient city of Palmyra, located in present day Syria.

Spanish

Almyra

As above.

French

Almyra

As above.

German

Almyra

As above.

Italian

Almyra

As above.

Portuguese

Almyra

Used in Heroes.

Korean

팔미라

Palmyra

Simplified Chinese

帕迈拉

Palmyra

Traditional Chinese

帕邁拉

Palmyra
Gallery
References
↑ "A great kingdom to the east of Fódlan. Its territory borders that of the Leicester Alliance, with the precipitous mountain range known as Fódlan's Throat acting as the deciding line. Its people maintain a strong legacy of horsemanship and relish in the thrill of battle. This vast kingdom is rich in fertile prairies, deserts and mountain ranges." — Traveler's Journal, Issue 1 in the Library of Garreg Mach Monastery, Fire Emblem: Three Houses
Fire Emblem: Three Houses
Playable characters

Black Eagles

Bernadetta • Caspar • Dorothea • Edelgard • Ferdinand • Hubert • Linhardt • Petra

Blue Lions

Annette • Ashe • Dedue • Dimitri • Felix • Ingrid • Mercedes • Sylvain

Golden Deer

Claude • Hilda • Ignatz • Leonie • Lorenz • Lysithea • Marianne • Raphael
Other
Alois • AnnaDLC • Byleth • Catherine • Cyril • Flayn • Gilbert • Hanneman • Jeritza • Manuela • Seteth • Shamir

Ashen Wolves

DLC
Balthus • Constance • Hapi • Yuri
Non-playable characters
AbysskeeperDLC • Duke Aegir • Lord Arundel • Count Bergliez • Count Hevring • Count Gloucester • Count Varley • Fleche • Gatekeeper • Duke Gerth • Glenn • Holst • Ionius IX • Jeralt • Judith • Ladislava • Lambert • Margrave Gautier • Monica • Nader • Patricia • Randolph • Rhea • Rodrigue • Rufus • Seiros • Sitri • Sothis • Tomas • Tiana
Bosses
Acheron • AelfricDLC • Alois • Lord Arundel • Bias • Blaiddyd • Caspar • Catherine • Charon • Chilon • Claude • Cornelia • Daphnel • Dedue • Death Knight • Dimitri • Dominic • Baron Dominic • Edelgard • Felix • Ferdinand • Flame Emperor • Flayn • Fraldarius • Gautier • Gloucester • Goneril • Gwendal • Hubert • Ingrid • The Immaculate One • The Immovable • Judith • Kostas • Kronya • Ladislava • Lamine • Linhardt • Lonato • Lorenz • Mercedes • Metodey • Miklan • Myson • Nader • Nemesis • Baron OchsDLC • Odesse • Pallardó • Pittacus • Randolph • Rhea • Riegan • Rodrigue • Seteth • Shamir • Solon • Sylvain • Thales • Wandering Beast • The Wind Caller
Personal weapons and regalia
Aegis Shield • Areadbhar • Asclepius • Athame • Axe of Ukonvasara • Aymr • Blutgang • Caduceus Staff • Circe Staff • Crusher • Failnaught • Fetters of Dromi • Freikugel • The Inexhaustible • Lance of Ruin • Lúin • Ochain Shield • Rafail Gem • Scythe of Sariel • Seiros Shield • Spear of Assal • Sword of Begalta • Sword of Moralta • Sword of Seiros • Sword of the Creator • Tathlum Bow • Thunderbrand • Thyrsus • Vajra-Mushti
Chapters
Part I

Prologue: An Inevitable Encounter • 1: Three Houses • 2: Familiar Scenery • 3: Mutiny in the Mist • 4: The Goddess's Rite of Rebirth • 5: Tower of Black Winds • 6: Rumors of a Reaper • 7: Field of the Eagle and Lion • 8: The Flame in the Darkness • 9: The Cause of Sorrow • 10: Where the Goddess Dwells • 11: Throne of Knowledge • 12: To War / Outset of a Power Struggle
Part II
Silver Snow

13: Reunion at Dawn • 14: A King Without a Kingdom • 15: Valley of Torment • 16: The Rose-Colored River • 17: The Impregnable Fortress • 18: The Chaos of War • 19: Conclusion of the Crossing Roads • 20: The City Without Light • 21: Following a Dream
Azure Moon

13: Reunion at Dawn • 14: The Delusional Prince • 15: Valley of Torment • 16: The Rose-Colored River • 17: Blood of the Eagle and Lion • 18: The King's Triumphant Return • 19: The Golden Deer's Plea • 20: The Impregnable Fortress • 21: Our Chosen Paths • 22: Oath of the Dagger
Verdant Wind

13: Reunion at Dawn • 14: The Alliance Leader's Ambitions • 15: Valley of Torment • 16: The Rose-Colored River • 17: Blood of the Eagle and Lion • 18: The Golden Scheme • 19: The Chaos of War • 20: Conclusion of the Crossing Roads • 21: The City Without Light • 22: Fódlan's New Dawn
Crimson Flower

13: Beyond Escape • 14: The Master Tactician • 15: Tempest of Swords and Shields • 16: Lady of Deceit • 17: Field of Revenge • 18: To the End of a Dream
Paralogues
Part I
Black Market SchemeDLC • A Cursed RelicDLC • Death Toll • Dividing the World • Falling Short of Heaven • The Forgotten • Land of the Golden Deer • An Ocean View • Oil and Water • Rumored Nuptials • The Secret MerchantDLC • Sword and Shield of Seiros • Tales of the Red Canyon • True Chivalry • War for the Weak
Part II
Darkness Beneath the Earth • Dividing the World • Eternal Guardian • The Face Beneath • Foreign Land and Sky • Forgotten Hero • Insurmountable • Legend of the Lake • Retribution • The Secret MerchantDLC • The Silver Maiden • The Sleeping Sand Legend • Weathervanes of Fódlan
Cindered Shadows
(DLC side story)

1: The Fourth House • 2: What Lies Beneath • 3: The Rite of Rising • 4: Danger in the Dark • 5: Betrayal • 6: Return to Me • 7: Wolf Pack
Locations
Fódlan • Adrestia • Faerghus • Garreg Mach Monastery (Abyss) • Leicester • Almyra • Brigid • Dagda • Sreng • Zahras
Groups, objects and concepts
10 Elites • Ashen Wolves • Black Eagles (Black Eagle Strike Force) • Blue Lions • Children of the Goddess • Church of Seiros (Knights of Seiros) • Crests (Crest Stone) • Divine Pulse • Golden Deer • Heroes' Relics • Insurrection of the Seven • Monsters • Those who slither in the dark • Tragedy of Duscur • War of Heroes
Related topics
Music Library • Name chart • Other games (

Warriors: Three Hopes

) • Pre-release information • Unused content • Downloadable content • List of quests • Class mastery