Site News
Warning: This wiki contains spoilers. Read at your own risk!


Social media: If you would like, please join our Discord server, and/or follow us on Twitter or Tumblr!

Engage info: As the game has only recently released, we lack much key information. Please help add any info that you can.
A Cursed Relic
From Fire Emblem Wiki, your source on Fire Emblem information. By fans, for fans.
A Cursed Relic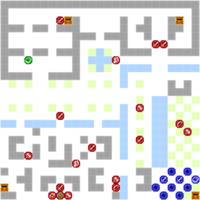 | | |
| --- | --- |
| Location | Empire Territory |
| Boss(es) | |
A Cursed Relic (Japanese: 呪われし遺産 Cursed Heritage) is a downloadable content paralogue chapter in Fire Emblem: Three Houses. It is available from Chapter 8 to Chapter 11. In order to attempt this paralogue, the player must have recruited Constance or Yuri and neither one must have fallen in battle previously. In this chapter, Constance travels to Empire territory to negotiate the transfer of the Fetters of Dromi to the Church of Seiros.
Plot
Main article: A Cursed Relic/Script
Byleth and Yuri find a completely elated Constance. She explains that she has been ordered to travel to House Gerth of the Adrestian Empire. Constance holds a grudge against House Gerth due to the fact that her family, House Nuvelle, was destroyed in the war against Dagda and Brigid while Gerth retained its prosperity; she hopes for the chance to give Duke Gerth a tongue-lashing. Her mission is to obtain a Hero's Relic in Gerth's possession and return it to the Church of Seiros, which feels that the Relic should belong to them. Yuri further reveals that most of the Relics were returned to the descendants of the 10 Elites ages ago and speculates on how the Relic ended up in Gerth's possession. The group sets out for Imperial territory.
When the party arrives in the Empire, they discover that Duke Gerth is under attack by a pack of brigands and members of "those who slither in the dark" led by Myson. The group drives off the enemies and rescues the Duke. Afterwards, Duke Gerth gives the group the Fetters of Dromi in order to repay them for saving him and repay a debt he owes to House Nuvelle. When the party returns to Garreg Mach Monastery, Yuri reveals that he bears the Crest of Aubin required to use the Fetters of Dromi and convinces Byleth to let him make use of the Relic.
Beginning log
The church has asked Constance to retrieve a mysterious Relic from Duke Gerth, the Empire's Minister of Foreign Affairs. You and Yuri accompany her to the negotiations.
Chapter data
Character data
Black Eagles


Blue Lions

Golden Deer

Other characters may be available if the paralogue is attempted later.
This paralogue only requires Constance or Yuri to be in Byleth's class. If one of them is not a member of their class, they will be temporarily controllable for this map with the following stats.
Constance, Normal Constance, Hard Constance, Maddening Yuri, Normal Yuri, Hard Yuri, Maddening
Skill Levels

| | | | | | | | | | | | |
| --- | --- | --- | --- | --- | --- | --- | --- | --- | --- | --- | --- |
| | | | | | | | | | | | |
| E | E | E | E | E | C | E | D | E | E | E | |
Item data
Enemy data
Reinforcements
When the level 10 Thief fights Duke Gerth or is defeated by him, the Thief will transform into an Experimental Demonic Beast. Other "Thief" enemies will also transform into Experimental Demonic Beasts if they move adjacent to Duke Gerth; the Experimental Demonic Beasts do not act on the turn they transform.
After a player unit ends their turn within two spaces of Duke Gerth, or upon defeating Myson
NPC data
Boss data
Main article: Myson
Skill Levels

| | | | | | | | | | | | |
| --- | --- | --- | --- | --- | --- | --- | --- | --- | --- | --- | --- |
| | | | | | | | | | | | |
| E | E | E | E | E | A | E | E | E | E | E | |
Strategy
This section details unofficial strategies that may help with completion of the chapter. This may not work for everybody.
Maddening strategy (can be completed on a normal play through without needing New Game+):
Recommended abilities: Warp (Lysithea, Lindhardt, Manuela, Hapi), Stride and Impregnable Wall gambits, Silence (Yuri, Marianne, Manuela), Restore, Physic (having a secondary unit with this ability besides your healer can come in handy – Hapi, Dorothea)
Recommended equipment: Evasion Ring, Accuracy Ring
Recommended personnel: Byleth (default), Yuri (default), Constance (default), tank x1, Dancer x1, Flier x1, healer x1, high speed/avoid unit x1 (Assassin), long-range mage x1 (Valkyrie, Lysithea w/ Thyrsus staff), Canto unit x1
It's not recommended to attempt this paralogue until late in Part One (February). Your units should all be above level 20 and in Advanced or Special classes so they have the necessary strength, speed, and defense to handle the enemies.
Your starting position is the biggest issue with Duke Gerth very far away. He can handle a few enemies so don't fret if he starts fighting. Immediately use the Stride gambit on your tank and high movement and avoid personnel. Use the Warp ability to warp your tank to fight the two axe and sword wielders in the middle part of the map (the section where there is a Thicket space every other middle spot). Kill or use gambits on the mage, archer, and axe wielder closest to your group. Move the rest of your team east around the edifice towards Gerth and the boss. Ignore the two archers and axe wielder to the north for now.
Be aware that once Myson is defeated a large amount of reinforcements will appear around the edges of the map. It's important to make sure Gerth is safe before you defeat Myson to prevent Gerth from being killed. Keep your Restore unit near your group even using items like the March Ring or having your Dancer give them another turn to keep them within range of your personnel. A few of the enemies have gambits and rather than lose one because they're immobilized, use your Restore ability and get them back in the fight.
At the end of round two, Gerth will kill an enemy thief with ease and the enemy will turn into a Demonic Beast. Myson and his group may also start approaching your team and Gerth at the end of the round also. If you want to delay the reinforcements, consider using gambits on Myson to immobilize him and hold off on defeating him.
During the enemy turn after Myson is defeated, the reinforcements will move in. This is where most players get tripped up due to the sheer amount of enemies you're dealing with. Make sure Gerth is across the bridges (you can use Rescue or movement combat arts to bring him closer) then uses the three bridges as bottlenecks to whittle down the number of enemies you're dealing with. This is where long-range mages and fliers with Canto can come in handy as you'll be able to safely eliminate enemies from a distance. Also, the Demonic Beasts will be unable to cross the bridges due to their size, which means you can wait to deal with them until all the approaching enemies are eliminated. If some your personnel aren't strong enough to bottleneck the bridges, use the Impregnable Wall gambit for a few turns until you have cleared out the enemies. Abilities like Silence come in handy here as well and don't be afraid to use a Dancer and double up on some these tactics during a single turn. Once you've eliminated the approaching enemies, you're safe to clear out the map at your leisure.
Etymology and other languages
Names, etymology and in other regions
Language
Name
Definition, etymology, and notes
English

A Cursed Relic

--

Japanese

呪われし遺産

Cursed Heritage

Spanish

La reliquia maldita

The cursed relic

French

La relique maudite

The cursed relic

German

Ein verfluchtes Relikt

A cursed Relic

Italian

La reliquia maledetta

The cursed relic

Korean

저주받은 유산

Cursed heritage

Simplified Chinese

被诅咒的遗产

Cursed heritage

Traditional Chinese

被詛咒的遺產

Cursed heritage
Gallery
References
Fire Emblem: Three Houses
Playable characters

Black Eagles

Bernadetta • Caspar • Dorothea • Edelgard • Ferdinand • Hubert • Linhardt • Petra

Blue Lions

Annette • Ashe • Dedue • Dimitri • Felix • Ingrid • Mercedes • Sylvain

Golden Deer

Claude • Hilda • Ignatz • Leonie • Lorenz • Lysithea • Marianne • Raphael
Other
Alois • AnnaDLC • Byleth • Catherine • Cyril • Flayn • Gilbert • Hanneman • Jeritza • Manuela • Seteth • Shamir

Ashen Wolves

DLC
Balthus • Constance • Hapi • Yuri
Non-playable characters
AbysskeeperDLC • Duke Aegir • Lord Arundel • Count Bergliez • Count Hevring • Count Gloucester • Count Varley • Fleche • Gatekeeper • Duke Gerth • Glenn • Holst • Ionius IX • Jeralt • Judith • Ladislava • Lambert • Margrave Gautier • Monica • Nader • Patricia • Randolph • Rhea • Rodrigue • Rufus • Seiros • Sitri • Sothis • Tomas • Tiana
Bosses
Acheron • AelfricDLC • Alois • Lord Arundel • Bias • Blaiddyd • Caspar • Catherine • Charon • Chilon • Claude • Cornelia • Daphnel • Dedue • Death Knight • Dimitri • Dominic • Baron Dominic • Edelgard • Felix • Ferdinand • Flame Emperor • Flayn • Fraldarius • Gautier • Gloucester • Goneril • Gwendal • Hubert • Ingrid • The Immaculate One • The Immovable • Judith • Kostas • Kronya • Ladislava • Lamine • Linhardt • Lonato • Lorenz • Mercedes • Metodey • Miklan • Myson • Nader • Nemesis • Baron OchsDLC • Odesse • Pallardó • Pittacus • Randolph • Rhea • Riegan • Rodrigue • Seteth • Shamir • Solon • Sylvain • Thales • Wandering Beast • The Wind Caller
Personal weapons and regalia
Aegis Shield • Areadbhar • Asclepius • Athame • Axe of Ukonvasara • Aymr • Blutgang • Caduceus Staff • Circe Staff • Crusher • Failnaught • Fetters of Dromi • Freikugel • The Inexhaustible • Lance of Ruin • Lúin • Ochain Shield • Rafail Gem • Scythe of Sariel • Seiros Shield • Spear of Assal • Sword of Begalta • Sword of Moralta • Sword of Seiros • Sword of the Creator • Tathlum Bow • Thunderbrand • Thyrsus • Vajra-Mushti
Chapters
Part I

Prologue: An Inevitable Encounter • 1: Three Houses • 2: Familiar Scenery • 3: Mutiny in the Mist • 4: The Goddess's Rite of Rebirth • 5: Tower of Black Winds • 6: Rumors of a Reaper • 7: Field of the Eagle and Lion • 8: The Flame in the Darkness • 9: The Cause of Sorrow • 10: Where the Goddess Dwells • 11: Throne of Knowledge • 12: To War / Outset of a Power Struggle
Part II
Silver Snow

13: Reunion at Dawn • 14: A King Without a Kingdom • 15: Valley of Torment • 16: The Rose-Colored River • 17: The Impregnable Fortress • 18: The Chaos of War • 19: Conclusion of the Crossing Roads • 20: The City Without Light • 21: Following a Dream
Azure Moon

13: Reunion at Dawn • 14: The Delusional Prince • 15: Valley of Torment • 16: The Rose-Colored River • 17: Blood of the Eagle and Lion • 18: The King's Triumphant Return • 19: The Golden Deer's Plea • 20: The Impregnable Fortress • 21: Our Chosen Paths • 22: Oath of the Dagger
Verdant Wind

13: Reunion at Dawn • 14: The Alliance Leader's Ambitions • 15: Valley of Torment • 16: The Rose-Colored River • 17: Blood of the Eagle and Lion • 18: The Golden Scheme • 19: The Chaos of War • 20: Conclusion of the Crossing Roads • 21: The City Without Light • 22: Fódlan's New Dawn
Crimson Flower

13: Beyond Escape • 14: The Master Tactician • 15: Tempest of Swords and Shields • 16: Lady of Deceit • 17: Field of Revenge • 18: To the End of a Dream
Paralogues
Part I
Black Market SchemeDLC • A Cursed RelicDLC • Death Toll • Dividing the World • Falling Short of Heaven • The Forgotten • Land of the Golden Deer • An Ocean View • Oil and Water • Rumored Nuptials • The Secret MerchantDLC • Sword and Shield of Seiros • Tales of the Red Canyon • True Chivalry • War for the Weak
Part II
Darkness Beneath the Earth • Dividing the World • Eternal Guardian • The Face Beneath • Foreign Land and Sky • Forgotten Hero • Insurmountable • Legend of the Lake • Retribution • The Secret MerchantDLC • The Silver Maiden • The Sleeping Sand Legend • Weathervanes of Fódlan
Cindered Shadows
(DLC side story)

1: The Fourth House • 2: What Lies Beneath • 3: The Rite of Rising • 4: Danger in the Dark • 5: Betrayal • 6: Return to Me • 7: Wolf Pack
Locations
Fódlan • Adrestia • Faerghus • Garreg Mach Monastery (Abyss) • Leicester • Almyra • Brigid • Dagda • Sreng • Zahras
Groups, objects and concepts
10 Elites • Ashen Wolves • Black Eagles (Black Eagle Strike Force) • Blue Lions • Children of the Goddess • Church of Seiros (Knights of Seiros) • Crests (Crest Stone) • Divine Pulse • Golden Deer • Heroes' Relics • Insurrection of the Seven • Monsters • Those who slither in the dark • Tragedy of Duscur • War of Heroes
Related topics
Music Library • Name chart • Other games (

Warriors: Three Hopes

) • Pre-release information • Unused content • Downloadable content • List of quests • Class mastery