Site News
Warning: This wiki contains spoilers. Read at your own risk!


Social media: If you would like, please join our Discord server, and/or follow us on Twitter (X) or Tumblr!

Cross-Wiki Week 2023: From September 23 to October 1, make contributions to NIWA wikis and participating affiliates that you normally don't edit for a chance to win a Nintendo eShop gift card! See here for more details.
Lambert
From Fire Emblem Wiki, your source on Fire Emblem information. By fans, for fans.
Lambert Egitte Blaiddyd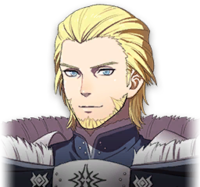 Artwork of King Lambert from Three Houses.
| | |
| --- | --- |
| Gender | Male |
| Race | Human |
| Family | |
| Nationality | |
| Title(s) | King of Faerghus |
| Voiced by | |
| Appearance(s) | |
King Lambert Egitte Blaiddyd[2] (pronounced /⁠ˈlæmbɚt ˈbleɪθɪd⁠/[key]; Japanese: ランベール=エジット=ブレーダッド Lambert Egitte Blaiddyd) is a non-playable character mentioned in Fire Emblem: Three Houses. He was the king of the Holy Kingdom of Faerghus and the father of Dimitri.
Biography
Lambert Egitte Blaiddyd was the head of House Blaiddyd and the King of the Holy Kingdom of Faerghus. During his youth he studied in Garreg Mach Monastery and became close friends with Rodrigue from House Fraldarius, creating a long-lasting friendship that lasted up until his last days. In spite of having been younger than his brother Rufus, he ascended the throne thanks to bearing the Crest of Blaiddyd, which his brother lacked. In 1162, he and his first wife had a child together named Dimitri. His wife perished soon after in 1165 due to a plague that affected the Kingdom at the time. Said illness was eventually cured by an Adrestian scholar named Cornelia, who was granted the title of Court mage in Faerghus as a reward for her deeds.
In 1168, Lambert and Rodrigue, the latter being now head of House Fraldarius, led an invasion against the people of Sreng, successfully annexing the southern half of their territory into the kingdom. Afterwards, House Gautier was put in charge of protecting the territory against upcoming invasions.
In 1171, the Insurrection of the Seven occurred in Adrestia, during which Patricia, consort of Emperor Ionius IX, her brother Volkhard von Arundel, and her daughter Edelgard fled Adrestia in their own separate ways and ultimately arrived in Faerghus. Lambert met Anselma sometime after and quickly fell in love with her, choosing to make her his wife. Due to the delicate political climate of Adrestia at the time, her presence in the Kingdom was concealed and she was made to adopt the alias of "Patricia", something only Lambert, Rodrigue, Cornelia and Dimitri knew about. Meanwhile, Volkhard took up residence in a villa in Fhirdiad where both he and Edelgard lived for a while, which was frequently visited by both Lambert and Dimitri up until 1174 when Arundel chose to go back to Adrestia along with his niece.
Over time, Lambert became a controversial figure in the Kingdom[3] due to pushing deforms that were deemed too radical with the nobility.[4] In 1176, Lambert traveled to Duscur alongside his second wife, his son and Rodrigue's first son Glenn with the intention of improving relationships between both territories, a decision Rodrigue felt uneasy about as it would risk everyone's life should the worst come to happen. Once they arrived, in an event that later came to be known as the Tragedy of Duscur, Lambert and co. were suddenly attacked by the Faerghus nobility opposed to Lambert's reforms, people from Duscur uneasy with Lambert's presence and members of those who slither in the dark, who assisted the whole ordeal thanks to a previous deal Cornelia had made with Patricia with the condition the latter would be able to be reunited with her daughter again. Lambert lost his life during the ensuing slaughter.
Role
Lambert is an NPC seen during flashbacks in the Blue Lions route.
Etymology and other languages
Names, etymology, and in other regions
Language
Name
Definition, etymology, and notes
English

Lambert Egitte Blaiddyd

Known by just Lambert in menus, his full name is unused. "Lambert" is a French name derived from Germanic landa "land" and beraht "bright".[5] Blaiddyd is a location in Fódlan, but its name is from Bladud (Welsh: Blaiddyd), a king of the Britons in legend.

Japanese

ランベール=エジット=ブレーダッド

Lambert Egitte Blaiddyd

Spanish

Lambert Egitte Blaiddyd

--

French

Lambert Egitte Blaiddyd

--

German

Lambert Egitte Blaiddyd

--

Italian

Lambert Egitte Blaiddyd

--

Portuguese

Lambert

Used in the Choose Your Legends polls in Fire Emblem Heroes.

Korean

람베르 에지트 블레다드

Lambert Egitte Blaiddyd

Simplified Chinese

蓝贝尔·艾吉特·布雷达德

Lambert Egitte Blaiddyd

Traditional Chinese

藍貝爾‧艾吉特‧布雷達德

Lambert Egitte Blaiddyd
Gallery
References
| | |
| --- | --- |
| | This article is part of Project Characters, a project focused on writing articles for every character present in the Fire Emblem series. |
Fire Emblem: Three Houses
Playable characters

Black Eagles

Bernadetta • Caspar • Dorothea • Edelgard • Ferdinand • Hubert • Linhardt • Petra

Blue Lions

Annette • Ashe • Dedue • Dimitri • Felix • Ingrid • Mercedes • Sylvain

Golden Deer

Claude • Hilda • Ignatz • Leonie • Lorenz • Lysithea • Marianne • Raphael
Other
Alois • AnnaDLC • Byleth • Catherine • Cyril • Flayn • Gilbert • Hanneman • Jeritza • Manuela • Seteth • Shamir

Ashen Wolves

DLC
Balthus • Constance • Hapi • Yuri
Non-playable characters
AbysskeeperDLC • Duke Aegir • Fleche • Gatekeeper • Duke Gerth • Ionius IX • Jeralt • Judith • Ladislava • Nader • Randolph • Rhea • Rodrigue • Sothis
Bosses
Acheron • AelfricDLC • Alois • Lord Arundel • Bias • Blaiddyd • Caspar • Catherine • Charon • Chilon • Claude • Cornelia • Daphnel • Dedue • Death Knight • Dimitri • Dominic • Baron Dominic • Edelgard • Felix • Ferdinand • Flame Emperor • Flayn • Fraldarius • Gautier • Gloucester • Goneril • Gwendal • Hubert • Ingrid • The Immaculate One • The Immovable • Judith • Kostas • Kronya • Ladislava • Lamine • Linhardt • Lonato • Lorenz • Mercedes • Metodey • Miklan • Myson • Nader • Nemesis • Baron OchsDLC • Odesse • Pallardó • Pittacus • Randolph • Rhea • Riegan • Rodrigue • Seteth • Shamir • Solon • Sylvain • Thales • Wandering Beast • The Wind Caller
Background characters
Lord Arundel • Count Bergliez • Cornelia • Margrave Gautier • Glenn • Count Gloucester • Count Hevring • Holst • Lambert • Monica • Patricia • Rufus • Seiros • Sitri • Tomas • Tiana • Count Varley
Personal weapons and regalia
Aegis Shield • Areadbhar • Asclepius • Athame • Axe of Ukonvasara • Aymr • Blutgang • Caduceus Staff • Circe Staff • Crusher • Failnaught • Fetters of Dromi • Freikugel • The Inexhaustible • Lance of Ruin • Lúin • Ochain Shield • Rafail Gem • Scythe of Sariel • Seiros Shield • Spear of Assal • Sword of Begalta • Sword of Moralta • Sword of Seiros • Sword of the Creator • Tathlum Bow • Thunderbrand • Thyrsus • Vajra-Mushti
Chapters
Part I

P: An Inevitable Encounter • 1: Three Houses • 2: Familiar Scenery • 3: Mutiny in the Mist • 4: The Goddess's Rite of Rebirth • 5: Tower of Black Winds • 6: Rumors of a Reaper • 7: Field of the Eagle and Lion • 8: The Flame in the Darkness • 9: The Cause of Sorrow • 10: Where the Goddess Dwells • 11: Throne of Knowledge • 12: To War / Outset of a Power Struggle
Part II
Silver Snow

13: Reunion at Dawn • 14: A King Without a Kingdom • 15: Valley of Torment • 16: The Rose-Colored River • 17: The Impregnable Fortress • 18: The Chaos of War • 19: Conclusion of the Crossing Roads • 20: The City Without Light • 21: Following a Dream
Azure Moon

13: Reunion at Dawn • 14: The Delusional Prince • 15: Valley of Torment • 16: The Rose-Colored River • 17: Blood of the Eagle and Lion • 18: The King's Triumphant Return • 19: The Golden Deer's Plea • 20: The Impregnable Fortress • 21: Our Chosen Paths • 22: Oath of the Dagger
Verdant Wind

13: Reunion at Dawn • 14: The Alliance Leader's Ambitions • 15: Valley of Torment • 16: The Rose-Colored River • 17: Blood of the Eagle and Lion • 18: The Golden Scheme • 19: The Chaos of War • 20: Conclusion of the Crossing Roads • 21: The City Without Light • 22: Fódlan's New Dawn
Crimson Flower

13: Beyond Escape • 14: The Master Tactician • 15: Tempest of Swords and Shields • 16: Lady of Deceit • 17: Field of Revenge • 18: To the End of a Dream
Paralogues
Part I
Black Market SchemeDLC • A Cursed RelicDLC • Death Toll • Dividing the World • Falling Short of Heaven • The Forgotten • Land of the Golden Deer • An Ocean View • Oil and Water • Rumored Nuptials • The Secret MerchantDLC • Sword and Shield of Seiros • Tales of the Red Canyon • True Chivalry • War for the Weak
Part II
Darkness Beneath the Earth • Dividing the World • Eternal Guardian • The Face Beneath • Foreign Land and Sky • Forgotten Hero • Insurmountable • Legend of the Lake • Retribution • The Secret MerchantDLC • The Silver Maiden • The Sleeping Sand Legend • Weathervanes of Fódlan
Cindered Shadows
(DLC side story)

1: The Fourth House • 2: What Lies Beneath • 3: The Rite of Rising • 4: Danger in the Dark • 5: Betrayal • 6: Return to Me • 7: Wolf Pack
Locations
Fódlan • Adrestia • Faerghus • Garreg Mach Monastery (Abyss) • Leicester • Almyra • Brigid • Dagda • Sreng • Zahras
Groups, objects and concepts
10 Elites • Ashen Wolves • Black Eagles (Black Eagle Strike Force) • Blue Lions • Children of the Goddess • Church of Seiros (Knights of Seiros) • Crests (Crest Stone) • Divine Pulse • Golden Deer • Heroes' Relics • Insurrection of the Seven • Monsters • Those who slither in the dark • Tragedy of Duscur • War of Heroes
Related topics
Music Library • Name chart • Other games (

Warriors: Three Hopes

) • Pre-release information • Unused content • Downloadable content • List of quests • Class mastery