Site News
Warning: This wiki contains spoilers. Read at your own risk!


Social media: If you would like, please join our Discord server, and/or follow us on Twitter or Tumblr!

Engage info: As the game has only recently released, we lack much key information. Please help add any info that you can.
Field of Revenge
From Fire Emblem Wiki, your source on Fire Emblem information. By fans, for fans.
Field of Revenge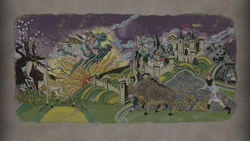 Mural used to introduce Field of Revenge.
| | |
| --- | --- |
| Previous chapter(s) | |
| Next chapter(s) | |
| | | | |
| --- | --- | --- | --- |
| " | I can always rely on you. Just watch, my friend... We will prevail. I will not fail to get revenge for all who have fallen. | " | — Dimitri |
Field of Revenge (Japanese: 復讐の野 Field of Revenge) is the seventeenth chapter of Fire Emblem: Three Houses in Crimson Flower.
Plot
Main article: Field of Revenge/Script
Dimitri and Rhea discuss the current state of the war with Adrestia, and Dimitri decides to personally intercept the Imperial forces at the Tailtean Plains since Fhirdiad cannot stand up to a prolonged siege. The two vow to allow each other to kill their hated enemies: Edelgard for Dimitri and Byleth for Rhea. Rhea again swears to take her mother back from Byleth. Meanwhile, Edelgard and Hubert correctly deduce the Kingdom's battle plan. Edelgard recounts how Seiros defeated Nemesis 1000 years prior to found the Church of Seiros and Loog defeated the Emperor of Adrestia in his time 400 years prior to found the Kingdom of Faerghus on those very plains. Hubert suggests Edelgard stay off the front lines, but Edelgard refuses to back down.
The day before the final battle, Byleth pays a final visit to Jeralt's grave. Recalling his last words and his desire for Byleth to give their mother's ring to the one they love, Byleth can decide to propose to anyone they have an A-support with, gender permitting. Afterwards, at the Tailtean Plains, Rhea reveals herself to be Seiros and Dimitri vows to avenge those who have fallen at Edelgard's hands. The Imperials encounter the Kingdom army preparing to engage them, and Edelgard laments how far Dimitri has fallen in the five years since their time at the Officers Academy. The two armies engage in battle, and despite Dedue transforming several volunteers and himself into Demonic Beasts and being reinforced by Rhea, Adrestia emerges victorious and Dimitri either dies in Dedue's arms or blames the Tragedy of Duscur on Edelgard before being executed by her. Rhea orders the remaining Knights of Seiros to retreat to Fhirdiad. Edelgard blames Dimitri's hatred of her on Lord Arundel and vows to finish the fight with Byleth at her side.
Calendar - Great Tree Moon
Great Tree Moon
Monday
Tuesday
Wednesday
Thursday
Friday
Saturday
Sunday
1

2
3
Story Event
4
5
Free Day
Spice Festival
Choir Festival
6
Instruct
7
8
9
10
11
12
Free Day
Rare Monster Sighting
Lots of Large Fish
13
Instruct
14
15
16
17
Hubert's Birthday
18
19
Free Day
Bitter Eats
20
Instruct
21
22
23
24
25
26
Free Day
Rare Monster Sighting
27
28
Pick S-Support
29
Conquer Fhirdiad
30
Ferdinand's Birthday
Character data
Characters
New Units
Available Characters






























Item data
Strategy
Main article: Field of Revenge/Combat at Tailtean Plains
Note that this is your last chance to explore the monastery before the end of the game and the last chance to rack up support points with anyone you want to marry.
Trivia
This is the only main story chapter that uses the Tailtean Plains as a battle location.
Etymology and other languages
Names, etymology and in other regions
Language
Name
Definition, etymology, and notes
English

Field of Revenge

--

Japanese

復讐の野

Field of Revenge

Spanish

Campo de venganza

Field of vengeance

French

La plaine de la vengeance

The plain of vengeance

German

Feld der Rache

Field of Revenge

Italian

Vendetta in campo aperto

Revenge in an open field

Korean

복수의 평원

Plains of revenge

Simplified Chinese

复仇的平原

Field of vengeance

Traditional Chinese

復仇的平原

Field of vengeance
Gallery
---
This section has been marked as a stub. Please help improve the page by adding information.
---
References
Fire Emblem: Three Houses
Playable characters

Black Eagles

Bernadetta • Caspar • Dorothea • Edelgard • Ferdinand • Hubert • Linhardt • Petra

Blue Lions

Annette • Ashe • Dedue • Dimitri • Felix • Ingrid • Mercedes • Sylvain

Golden Deer

Claude • Hilda • Ignatz • Leonie • Lorenz • Lysithea • Marianne • Raphael
Other
Alois • AnnaDLC • Byleth • Catherine • Cyril • Flayn • Gilbert • Hanneman • Jeritza • Manuela • Seteth • Shamir

Ashen Wolves

DLC
Balthus • Constance • Hapi • Yuri
Non-playable characters
AbysskeeperDLC • Duke Aegir • Lord Arundel • Count Bergliez • Count Hevring • Count Gloucester • Count Varley • Fleche • Gatekeeper • Duke Gerth • Glenn • Holst • Ionius IX • Jeralt • Judith • Ladislava • Lambert • Margrave Gautier • Monica • Nader • Patricia • Randolph • Rhea • Rodrigue • Rufus • Seiros • Sitri • Sothis • Tomas • Tiana
Bosses
Acheron • AelfricDLC • Alois • Lord Arundel • Bias • Blaiddyd • Caspar • Catherine • Charon • Chilon • Claude • Cornelia • Daphnel • Dedue • Death Knight • Dimitri • Dominic • Baron Dominic • Edelgard • Felix • Ferdinand • Flame Emperor • Flayn • Fraldarius • Gautier • Gloucester • Goneril • Gwendal • Hubert • Ingrid • The Immaculate One • The Immovable • Judith • Kostas • Kronya • Ladislava • Lamine • Linhardt • Lonato • Lorenz • Mercedes • Metodey • Miklan • Myson • Nader • Nemesis • Baron OchsDLC • Odesse • Pallardó • Pittacus • Randolph • Rhea • Riegan • Rodrigue • Seteth • Shamir • Solon • Sylvain • Thales • Wandering Beast • The Wind Caller
Personal weapons and regalia
Aegis Shield • Areadbhar • Asclepius • Athame • Axe of Ukonvasara • Aymr • Blutgang • Caduceus Staff • Circe Staff • Crusher • Failnaught • Fetters of Dromi • Freikugel • The Inexhaustible • Lance of Ruin • Lúin • Ochain Shield • Rafail Gem • Scythe of Sariel • Seiros Shield • Spear of Assal • Sword of Begalta • Sword of Moralta • Sword of Seiros • Sword of the Creator • Tathlum Bow • Thunderbrand • Thyrsus • Vajra-Mushti
Chapters
Part I

Prologue: An Inevitable Encounter • 1: Three Houses • 2: Familiar Scenery • 3: Mutiny in the Mist • 4: The Goddess's Rite of Rebirth • 5: Tower of Black Winds • 6: Rumors of a Reaper • 7: Field of the Eagle and Lion • 8: The Flame in the Darkness • 9: The Cause of Sorrow • 10: Where the Goddess Dwells • 11: Throne of Knowledge • 12: To War / Outset of a Power Struggle
Part II
Silver Snow

13: Reunion at Dawn • 14: A King Without a Kingdom • 15: Valley of Torment • 16: The Rose-Colored River • 17: The Impregnable Fortress • 18: The Chaos of War • 19: Conclusion of the Crossing Roads • 20: The City Without Light • 21: Following a Dream
Azure Moon

13: Reunion at Dawn • 14: The Delusional Prince • 15: Valley of Torment • 16: The Rose-Colored River • 17: Blood of the Eagle and Lion • 18: The King's Triumphant Return • 19: The Golden Deer's Plea • 20: The Impregnable Fortress • 21: Our Chosen Paths • 22: Oath of the Dagger
Verdant Wind

13: Reunion at Dawn • 14: The Alliance Leader's Ambitions • 15: Valley of Torment • 16: The Rose-Colored River • 17: Blood of the Eagle and Lion • 18: The Golden Scheme • 19: The Chaos of War • 20: Conclusion of the Crossing Roads • 21: The City Without Light • 22: Fódlan's New Dawn
Crimson Flower

13: Beyond Escape • 14: The Master Tactician • 15: Tempest of Swords and Shields • 16: Lady of Deceit • 17: Field of Revenge • 18: To the End of a Dream
Paralogues
Part I
Black Market SchemeDLC • A Cursed RelicDLC • Death Toll • Dividing the World • Falling Short of Heaven • The Forgotten • Land of the Golden Deer • An Ocean View • Oil and Water • Rumored Nuptials • The Secret MerchantDLC • Sword and Shield of Seiros • Tales of the Red Canyon • True Chivalry • War for the Weak
Part II
Darkness Beneath the Earth • Dividing the World • Eternal Guardian • The Face Beneath • Foreign Land and Sky • Forgotten Hero • Insurmountable • Legend of the Lake • Retribution • The Secret MerchantDLC • The Silver Maiden • The Sleeping Sand Legend • Weathervanes of Fódlan
Cindered Shadows
(DLC side story)

1: The Fourth House • 2: What Lies Beneath • 3: The Rite of Rising • 4: Danger in the Dark • 5: Betrayal • 6: Return to Me • 7: Wolf Pack
Locations
Fódlan • Adrestia • Faerghus • Garreg Mach Monastery (Abyss) • Leicester • Almyra • Brigid • Dagda • Sreng • Zahras
Groups, objects and concepts
10 Elites • Ashen Wolves • Black Eagles (Black Eagle Strike Force) • Blue Lions • Children of the Goddess • Church of Seiros (Knights of Seiros) • Crests (Crest Stone) • Divine Pulse • Golden Deer • Heroes' Relics • Insurrection of the Seven • Monsters • Those who slither in the dark • Tragedy of Duscur • War of Heroes
Related topics
Music Library • Name chart • Other games (

Warriors: Three Hopes

) • Pre-release information • Unused content • Downloadable content • List of quests • Class mastery