Site News
Warning: This wiki contains spoilers. Read at your own risk!


Discord and Twitter: If you would like, please join our Discord server, and/or follow us on Twitter at @FEWikiOfficial!

Cross-Wiki Week 2022: From September 23–30, make contributions to NIWA wikis that you normally don't edit, or Halopedia, for a chance to win a Nintendo eShop gift card! See here for more details.
Ashen Wolves
From Fire Emblem Wiki, your source on Fire Emblem information. By fans, for fans.
---
This page has been marked as a stub. Please help improve the page by adding information.
---
Ashen Wolves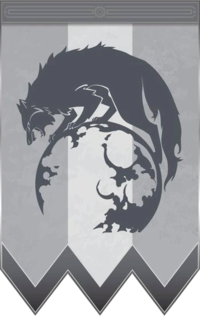 Flag of the Ashen Wolves.
| | |
| --- | --- |
| Leader | |
| Size | Unknown |
| Headquarters | |
| Group type | Academic House |
| Purpose | Grouping students and people ostracized on the surface. |
| Appearance(s) | |
The Ashen Wolf House (Japanese: 灰狼の学級 Ash Wolf Class, Wolfklasse) is a secret fourth house in-name only located in Abyss, right beneath Garreg Mach Monastery in Fire Emblem: Three Houses. This house is comprised of students hiding from the surface world for their own reasons.
History
---
This section has been marked as a stub. Please help improve the page by adding information.
---
The Ashen Wolf House was first formed by Aelfric approximately 15 years before the events of the Cindered Shadows side story, as a group dedicated to protecting those who stumbled into Abyss, the underground city beneath Garreg Mach Monastery. Despite its name, it is not recognised by the academy as a house, and unlike the other houses is not affiliated with any specific nation of Fódlan.
In Cindered Shadows, the Ashen Wolves are first encountered by Byleth, Edelgard, Dimitri, Claude, Linhardt, Ashe, and Hilda after they follow a suspicious individual into a passage that leads to Abyss. After a fight, they explain that mercenaries have been raiding Abyss recently, and ask for assistance from Byleth and the other students in protecting it. They soon meet with Aelfric, who speculates that the mercenaries are after the Chalice of Beginnings so they can conduct the Rite of Rising, an ancient ceremony which was once conducted by the Four Apostles in an attempt to revive the goddess. After retrieving the Chalice, it is revealed that Aelfric was the mastermind behind the raids on Abyss, and he planned to use the Ashen Wolf House to gather those with the blood of the Four Apostles so he could revive Byleth's mother, Sitri. When the Rite of Rising fails, Aelfric and Sitri's corpse are fused into a monster known as the Umbral Beast, which is subsequently slain by the Ashen Wolves together with Byleth and the other students. In recognition of their deeds, the Ashen Wolf House is disbanded by Rhea, and its four members return to the surface world.
In the main story, the Ashen Wolves can be found in Abyss, and may be recruited after certain chapters of Cindered Shadows have been completed. If any members of the Ashen Wolves are not recruited before the timeskip, they disappear from Abyss and do not make an appearance later on. The events of Cindered Shadows seemingly take place in a separate timeline from the main story, as the Ashen Wolf House is not disbanded and Byleth and Aelfric do not recognise one another during his cameo in Chapter 7 of the main story; as such, it is unknown whether the members of the Ashen Wolf House were intentionally gathered by Aelfric in the main story's continuity.
Members
Class of 1180
Etymology and other languages
Names, etymology and in other regions
Language
Name
Definition, etymology and notes
English

Ashen Wolves

Also called the "Ashen Wolf House".

Japanese

灰狼の学級

Ash Wolf Class; Wolfklasse is applied to it as furigana. Wolf is German for "wolf", and Klasse is German for "class".

Spanish

Lobo Plateado

Silver Wolves

French

Loups de cendre

Ashen Wolves

German

Silberwölfe

Silver Wolves

Italian

Lupi Cinerei

Ashen Wolves

Portuguese

Casa Lobo Gris

Gray Wolf house; used in Heroes.[1]

Korean

잿빛늑대반

Gray wolf class

Simplified Chinese

灰狼学级

Ash wolf class

Traditional Chinese

灰狼學級

Ash wolf class
Gallery
References
↑ "

Sou Yuri, da casa Lobo Gris. O que esta criatura bela e irrelevante pode fazer por você?

" — Yuri: Ashen Valiant when summoned, Fire Emblem Heroes
Fire Emblem: Three Houses
Playable characters

Black Eagles

Bernadetta • Caspar • Dorothea • Edelgard • Ferdinand • Hubert • Linhardt • Petra

Blue Lions

Annette • Ashe • Dedue • Dimitri • Felix • Ingrid • Mercedes • Sylvain

Golden Deer

Claude • Hilda • Ignatz • Leonie • Lorenz • Lysithea • Marianne • Raphael
Other
Alois • Anna

*

• Byleth • Catherine • Cyril • Flayn • Gilbert • Hanneman • Jeritza

*

• Manuela • Seteth • Shamir

Ashen Wolves

*

Balthus • Constance • Hapi • Yuri
Non-playable characters
Abysskeeper

*

• Duke Aegir • Lord Arundel • Count Bergliez • Count Hevring • Count Gloucester • Count Varley • Fleche • Gatekeeper • Duke Gerth • Glenn • Holst • Ionius IX • Jeralt • Judith • Ladislava • Lambert • Margrave Gautier • Monica • Nader • Patricia • Randolph • Rhea • Rodrigue • Rufus • Seiros • Sitri • Sothis • Tomas • Tiana
Bosses
Acheron • Aelfric

*

• Alois • Lord Arundel • Bias • Blaiddyd • Caspar • Catherine • Charon • Chilon • Claude • Cornelia • Daphnel • Dedue • Death Knight • Dimitri • Dominic • Baron Dominic • Edelgard • Felix • Ferdinand • Flame Emperor • Flayn • Fraldarius • Gautier • Gloucester • Goneril • Gwendal • Hubert • Ingrid • The Immaculate One • The Immovable • Judith • Kostas • Kronya • Ladislava • Lamine • Linhardt • Lonato • Lorenz • Mercedes • Metodey • Miklan • Myson • Nader • Nemesis • Baron Ochs

*

• Odesse • Pallardó • Pittacus • Randolph • Rhea • Riegan • Rodrigue • Seteth • Shamir • Solon • Sylvain • Thales • Wandering Beast • The Wind Caller
Personal weapons and regalia
Aegis Shield • Areadbhar • Asclepius • Athame • Axe of Ukonvasara • Aymr • Blutgang • Caduceus Staff • Circe Staff • Crusher • Failnaught • Fetters of Dromi • Freikugel • The Inexhaustible • Lance of Ruin • Lúin • Ochain Shield • Rafail Gem • Scythe of Sariel • Seiros Shield • Spear of Assal • Sword of Begalta • Sword of Moralta • Sword of Seiros • Sword of the Creator • Tathlum Bow • Thunderbrand • Thyrsus • Vajra-Mushti
Chapters
Part I

Prologue: An Inevitable Encounter • 1: Three Houses • 2: Familiar Scenery • 3: Mutiny in the Mist • 4: The Goddess's Rite of Rebirth • 5: Tower of Black Winds • 6: Rumors of a Reaper • 7: Field of the Eagle and Lion • 8: The Flame in the Darkness • 9: The Cause of Sorrow • 10: Where the Goddess Dwells • 11: Throne of Knowledge • 12: To War / Outset of a Power Struggle
Part II
Silver Snow

13: Reunion at Dawn • 14: A King Without a Kingdom • 15: Valley of Torment • 16: The Rose-Colored River • 17: The Impregnable Fortress • 18: The Chaos of War • 19: Conclusion of the Crossing Roads • 20: The City Without Light • 21: Following a Dream
Azure Moon

13: Reunion at Dawn • 14: The Delusional Prince • 15: Valley of Torment • 16: The Rose-Colored River • 17: Blood of the Eagle and Lion • 18: The King's Triumphant Return • 19: The Golden Deer's Plea • 20: The Impregnable Fortress • 21: Our Chosen Paths • 22: Oath of the Dagger
Verdant Wind

13: Reunion at Dawn • 14: The Alliance Leader's Ambitions • 15: Valley of Torment • 16: The Rose-Colored River • 17: Blood of the Eagle and Lion • 18: The Golden Scheme • 19: The Chaos of War • 20: Conclusion of the Crossing Roads • 21: The City Without Light • 22: Fódlan's New Dawn
Crimson Flower

13: Beyond Escape • 14: The Master Tactician • 15: Tempest of Swords and Shields • 16: Lady of Deceit • 17: Field of Revenge • 18: To the End of a Dream
Paralogues
Part I
Black Market Scheme

*

• A Cursed Relic

*

• Death Toll • Dividing the World • Falling Short of Heaven • The Forgotten • Land of the Golden Deer • An Ocean View • Oil and Water • Rumored Nuptials • The Secret Merchant

*

• Sword and Shield of Seiros • Tales of the Red Canyon • True Chivalry • War for the Weak
Part II
Darkness Beneath the Earth • Dividing the World • Eternal Guardian • The Face Beneath • Foreign Land and Sky • Forgotten Hero • Insurmountable • Legend of the Lake • Retribution • The Secret Merchant

*

• The Silver Maiden • The Sleeping Sand Legend • Weathervanes of Fódlan
Cindered Shadows
(DLC side story)

1: The Fourth House • 2: What Lies Beneath • 3: The Rite of Rising • 4: Danger in the Dark • 5: Betrayal • 6: Return to Me • 7: Wolf Pack
Locations
Fódlan (Abyss • Adrestia • Faerghus • Garreg Mach Monastery • Leicester) • Almyra • Brigid • Dagda • Sreng • Zahras
Groups, objects and concepts
10 Elites • Ashen Wolves • Black Eagles • Blue Lions • Children of the Goddess • Church of Seiros (Knights of Seiros) • Crests (Crest Stone) • Divine Pulse • Golden Deer • Heroes' Relics • Insurrection of the Seven • Monsters • Those who slither in the dark • Tragedy of Duscur • War of Heroes
Related topics
Music Library • Name chart • Other games (Fire Emblem Warriors: Three Hopes) • Pre-release information • Unused content • Downloadable content • List of quests • Class mastery