Site News
Warning: This wiki contains spoilers. Read at your own risk!


Social media: If you would like, please join our Discord server, and/or follow us on Twitter or Tumblr!

Engage info: As the game has only recently released, we lack much key information. Please help add any info that you can.
The Golden Deer's Plea
From Fire Emblem Wiki, your source on Fire Emblem information. By fans, for fans.
The Golden Deer's Plea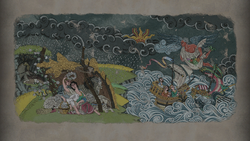 Mural used to introduce The Golden Deer's Plea.
| | |
| --- | --- |
| Previous chapter(s) | |
| Next chapter(s) | |
| | | | |
| --- | --- | --- | --- |
| " | They'll come. You can count on it. If anyone can bring him back, it's Teach. Teach will talk, and he'll listen. But more than anything, I've seen their skill and abilities... I believe in them. | " | — Claude |
The Golden Deer's Plea (Japanese: 金鹿の願い Golden Deer's wish) is the nineteenth chapter of Fire Emblem: Three Houses in the Azure Moon route.
Plot
Main article: The Golden Deer's Plea/Script
Dimitri reveals that Adrestian forces commanded by Lord Arundel have launched a full invasion of Leicester to take advantage of the damage caused in the Battle at Gronder. He speculates that Arundel may have been involved in the Tragedy of Duscur. Between the logistical problems of abandoning Leicester and the moral problems of leaving a friend to dry, Dimitri elects to reinforce Claude at the Alliance capital of Derdriu. At the end of the month, the Faerghus army marches to Leicester. Meanwhile, in Derdriu, despite his subordinates' concerns that Dimitri might abandon them, Claude maintains that the Kingdom will come to their aid; his faith proves well-founded when Kingdom reinforcements arrive. Dimitri deduces that Claude baited the Imperials into overextending themselves so that he could crush them in a pincer attack.
Dimitri takes advantage of the opening Claude gave him to wipe out the Imperial forces and mortally wound Arundel. He demands answers regarding the Tragedy, but Arundel remains tight-lipped and only expresses the hope that he and Edelgard kill each other off before expiring. Claude reunites with Byleth and Dimitri and reveals that he had to send his request for aid before Dimitri even took Fhirdiad in order for reinforcements to arrive on time. He unexpectedly gifts Dimitri his Relic bow Failnaught and reveals that he has disbanded the Alliance and ceded his right to govern its territories to Dimitri. Claude further reveals that he intends to depart Fódlan to pursue his own dreams. He finally reveals that Rhea is being held captive in Enbarr. Afterwards, Dimitri recounts his family history with Edelgard to the former Blue Lions. He resolves to try parleying with Edelgard in the hopes of bringing a peaceful end to the war before more lives are lost.
Meanwhile, in Enbarr, Hubert reports Arundel's demise to Edelgard; neither of them mourn him. Edelgard orders Imperial troops to fall back to Arianrhod in the west and Merceus in the east, assigning the Death Knight to guard the latter. Hubert expresses his concerns about Edelgard's planned final trump card, but is dismissed.
Calendar - Garland Moon
Garland Moon
Monday
Tuesday
Wednesday
Thursday
Friday
Saturday
Sunday
1
Story Event

2
3
4
5
Sylvain's Birthday
6
7
Free Day
Lots of Large Fish
8
Instruct
9
Anna's Birthday
10
11
12
13
Lorenz's Birthday
14
Free Day
Rare Monster Sighting
Head Chef Challenge
15
Instruct
16
17
18
19
20
21
Free Day
Blessing of the Land
22
Instruct
23
24
25
26
27
28
Free Day
Rare Monster Sighting
Sweet-Tooth Week
29
30
Rescue Derdriu

Character data
Characters
New Units
Returning Characters
Item data
Strategy
Main article: The Golden Deer's Plea/Saving Derdriu
This is the last month the paralogue The Face Beneath can be done, so get working on it if it's available and hasn't been done.
Etymology and other languages
Names, etymology and in other regions
Language
Name
Definition, etymology, and notes
English

The Golden Deer's Plea

--

Japanese

金鹿の願い

Golden Deer's wish

Spanish

La súplica del Ciervo Dorado

The Golden Deer's plea

French

La supplique du Cerf d'or

The petition of the Golden Deer

German

Die Bitte des Goldenen Hirsches

The Request of the Golden Deer

Italian

La richiesta del Cervo Dorato

The request of the Golden Deer

Korean

금사슴의 소원

The golden deer's wish

Simplified Chinese

金鹿的请求

The golden deer's request

Traditional Chinese

金鹿的請求

The golden deer's request
Gallery
---
This section has been marked as a stub. Please help improve the page by adding information.
---
References
Fire Emblem: Three Houses
Playable characters

Black Eagles

Bernadetta • Caspar • Dorothea • Edelgard • Ferdinand • Hubert • Linhardt • Petra

Blue Lions

Annette • Ashe • Dedue • Dimitri • Felix • Ingrid • Mercedes • Sylvain

Golden Deer

Claude • Hilda • Ignatz • Leonie • Lorenz • Lysithea • Marianne • Raphael
Other
Alois • AnnaDLC • Byleth • Catherine • Cyril • Flayn • Gilbert • Hanneman • Jeritza • Manuela • Seteth • Shamir

Ashen Wolves

DLC
Balthus • Constance • Hapi • Yuri
Non-playable characters
AbysskeeperDLC • Duke Aegir • Lord Arundel • Count Bergliez • Count Hevring • Count Gloucester • Count Varley • Fleche • Gatekeeper • Duke Gerth • Glenn • Holst • Ionius IX • Jeralt • Judith • Ladislava • Lambert • Margrave Gautier • Monica • Nader • Patricia • Randolph • Rhea • Rodrigue • Rufus • Seiros • Sitri • Sothis • Tomas • Tiana
Bosses
Acheron • AelfricDLC • Alois • Lord Arundel • Bias • Blaiddyd • Caspar • Catherine • Charon • Chilon • Claude • Cornelia • Daphnel • Dedue • Death Knight • Dimitri • Dominic • Baron Dominic • Edelgard • Felix • Ferdinand • Flame Emperor • Flayn • Fraldarius • Gautier • Gloucester • Goneril • Gwendal • Hubert • Ingrid • The Immaculate One • The Immovable • Judith • Kostas • Kronya • Ladislava • Lamine • Linhardt • Lonato • Lorenz • Mercedes • Metodey • Miklan • Myson • Nader • Nemesis • Baron OchsDLC • Odesse • Pallardó • Pittacus • Randolph • Rhea • Riegan • Rodrigue • Seteth • Shamir • Solon • Sylvain • Thales • Wandering Beast • The Wind Caller
Personal weapons and regalia
Aegis Shield • Areadbhar • Asclepius • Athame • Axe of Ukonvasara • Aymr • Blutgang • Caduceus Staff • Circe Staff • Crusher • Failnaught • Fetters of Dromi • Freikugel • The Inexhaustible • Lance of Ruin • Lúin • Ochain Shield • Rafail Gem • Scythe of Sariel • Seiros Shield • Spear of Assal • Sword of Begalta • Sword of Moralta • Sword of Seiros • Sword of the Creator • Tathlum Bow • Thunderbrand • Thyrsus • Vajra-Mushti
Chapters
Part I

Prologue: An Inevitable Encounter • 1: Three Houses • 2: Familiar Scenery • 3: Mutiny in the Mist • 4: The Goddess's Rite of Rebirth • 5: Tower of Black Winds • 6: Rumors of a Reaper • 7: Field of the Eagle and Lion • 8: The Flame in the Darkness • 9: The Cause of Sorrow • 10: Where the Goddess Dwells • 11: Throne of Knowledge • 12: To War / Outset of a Power Struggle
Part II
Silver Snow

13: Reunion at Dawn • 14: A King Without a Kingdom • 15: Valley of Torment • 16: The Rose-Colored River • 17: The Impregnable Fortress • 18: The Chaos of War • 19: Conclusion of the Crossing Roads • 20: The City Without Light • 21: Following a Dream
Azure Moon

13: Reunion at Dawn • 14: The Delusional Prince • 15: Valley of Torment • 16: The Rose-Colored River • 17: Blood of the Eagle and Lion • 18: The King's Triumphant Return • 19: The Golden Deer's Plea • 20: The Impregnable Fortress • 21: Our Chosen Paths • 22: Oath of the Dagger
Verdant Wind

13: Reunion at Dawn • 14: The Alliance Leader's Ambitions • 15: Valley of Torment • 16: The Rose-Colored River • 17: Blood of the Eagle and Lion • 18: The Golden Scheme • 19: The Chaos of War • 20: Conclusion of the Crossing Roads • 21: The City Without Light • 22: Fódlan's New Dawn
Crimson Flower

13: Beyond Escape • 14: The Master Tactician • 15: Tempest of Swords and Shields • 16: Lady of Deceit • 17: Field of Revenge • 18: To the End of a Dream
Paralogues
Part I
Black Market SchemeDLC • A Cursed RelicDLC • Death Toll • Dividing the World • Falling Short of Heaven • The Forgotten • Land of the Golden Deer • An Ocean View • Oil and Water • Rumored Nuptials • The Secret MerchantDLC • Sword and Shield of Seiros • Tales of the Red Canyon • True Chivalry • War for the Weak
Part II
Darkness Beneath the Earth • Dividing the World • Eternal Guardian • The Face Beneath • Foreign Land and Sky • Forgotten Hero • Insurmountable • Legend of the Lake • Retribution • The Secret MerchantDLC • The Silver Maiden • The Sleeping Sand Legend • Weathervanes of Fódlan
Cindered Shadows
(DLC side story)

1: The Fourth House • 2: What Lies Beneath • 3: The Rite of Rising • 4: Danger in the Dark • 5: Betrayal • 6: Return to Me • 7: Wolf Pack
Locations
Fódlan • Adrestia • Faerghus • Garreg Mach Monastery (Abyss) • Leicester • Almyra • Brigid • Dagda • Sreng • Zahras
Groups, objects and concepts
10 Elites • Ashen Wolves • Black Eagles • Blue Lions • Children of the Goddess • Church of Seiros (Knights of Seiros) • Crests (Crest Stone) • Divine Pulse • Golden Deer • Heroes' Relics • Insurrection of the Seven • Monsters • Those who slither in the dark • Tragedy of Duscur • War of Heroes
Related topics
Music Library • Name chart • Other games (

Warriors: Three Hopes

) • Pre-release information • Unused content • Downloadable content • List of quests • Class mastery