Site News
Warning: This wiki contains spoilers. Read at your own risk!


Discord and Twitter: If you would like, please join our Discord server, and/or follow us on Twitter at @FEWikiOfficial!
Spear of Assal
From Fire Emblem Wiki, your source on Fire Emblem information. By fans, for fans.
Spear of Assal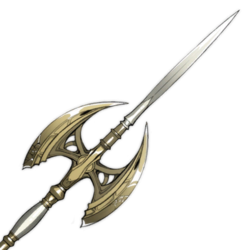 Artwork of the Spear of Assal from Three Houses.
---
Sacred weapon (Crest of Cichol) that restores HP every turn. (Effect increased with Crest.)
The Spear of Assal (Japanese: アッサルの槍 Spear of Assal) is a regalia lance that debuted in Fire Emblem: Three Houses. It is a sacred relic that is tied to the Crest of Cichol.
Stats
In the main Fire Emblem series
In other Fire Emblem series titles
Game
Icon

Level

Might

Weight

Hit

Crit

Range

Uses

Worth

Exp

Other effects and notes

Heroes

5★
16
--
--
--
1
--
400 SP
--
Boosts user's Speed by +3 at all times.
If user is within two spaces of an ally, boosts user's Attack and Speed by +4 each and neutralizes target's bonuses to Attack and Speed. Grants Attack and Speed +4 each to all allies within two spaces during combat.
Locations
Three Houses
Heroes
Flavor text
Game
Text
(English)
Text
(Japanese)

Three Houses

Sacred weapon (Crest of Cichol) that restores HP
every turn. (Effect increased with Crest.)
神聖武器(キッホルの紋章)
毎ターンHP回復(紋章で効果上昇
Etymology and other languages
Names, etymology and in other regions
Language
Name
Definition, etymology and notes
English

Spear of Assal

The Spear of Assal, Gae Assail in Irish, was one name for the spear wielded by the god Lugh in Irish mythology.

Japanese

アッサルの槍

Spear of Assal

Spanish

Lanza de Assal

Lance of Assal

French

Lance d'Assal

Lance of Assal

German

Assal-Lanze

Assal Lance

Italian

Lancia di Assal

Lance of Assal

Portuguese
(Brazil)

Lança de Assal

Lance of Assal

Korean

아살의 창

Spear of Assal

Simplified Chinese

阿萨勒之枪

Spear of Assal

Traditional Chinese

阿薩勒之槍

Spear of Assal
Gallery
Fire Emblem: Three Houses
Playable characters

Black Eagles

Bernadetta • Caspar • Dorothea • Edelgard • Ferdinand • Hubert • Linhardt • Petra

Blue Lions

Annette • Ashe • Dedue • Dimitri • Felix • Ingrid • Mercedes • Sylvain

Golden Deer

Claude • Hilda • Ignatz • Leonie • Lorenz • Lysithea • Marianne • Raphael
Other
Alois • Anna

*

• Byleth • Catherine • Cyril • Flayn • Gilbert • Hanneman • Jeritza

*

• Manuela • Seteth • Shamir

Ashen Wolves

*

Balthus • Constance • Hapi • Yuri
Non-playable characters
Abysskeeper

*

• Duke Aegir • Lord Arundel • Count Bergliez • Fleche • Gatekeeper • Duke Gerth • Glenn • Holst • Ionius IX • Jeralt • Judith • Ladislava • Lambert • Monica • Nader • Patricia • Randolph • Rhea • Rodrigue • Rufus • Seiros • Sitri • Sothis • Tomas • Tiana
Bosses
Acheron • Aelfric

*

• Alois • Lord Arundel • Bias • Blaiddyd • Caspar • Catherine • Charon • Chilon • Claude • Cornelia • Daphnel • Dedue • Death Knight • Dimitri • Dominic • Baron Dominic • Edelgard • Felix • Ferdinand • Flame Emperor • Flayn • Fraldarius • Gautier • Gloucester • Goneril • Gwendal • Hubert • Ingrid • The Immaculate One • The Immovable • Judith • Kostas • Kronya • Ladislava • Lamine • Linhardt • Lonato • Lorenz • Mercedes • Metodey • Miklan • Myson • Nader • Nemesis • Baron Ochs

*

• Odesse • Pallardó • Pittacus • Randolph • Rhea • Riegan • Rodrigue • Seteth • Shamir • Solon • Sylvain • Thales • Wandering Beast • The Wind Caller
Personal weapons and regalia
Aegis Shield • Areadbhar • Asclepius • Athame • Axe of Ukonvasara • Aymr • Blutgang • Caduceus Staff • Circe Staff • Crusher • Failnaught • Fetters of Dromi • Freikugel • The Inexhaustible • Lance of Ruin • Lúin • Ochain Shield • Rafail Gem • Scythe of Sariel • Seiros Shield • Spear of Assal • Sword of Begalta • Sword of Moralta • Sword of Seiros • Sword of the Creator • Tathlum Bow • Thunderbrand • Thyrsus • Vajra-Mushti
Chapters
Part I

Prologue: An Inevitable Encounter • 1: Three Houses • 2: Familiar Scenery • 3: Mutiny in the Mist • 4: The Goddess's Rite of Rebirth • 5: Tower of Black Winds • 6: Rumors of a Reaper • 7: Field of the Eagle and Lion • 8: The Flame in the Darkness • 9: The Cause of Sorrow • 10: Where the Goddess Dwells • 11: Throne of Knowledge • 12: To War / Outset of a Power Struggle
Part II
Silver Snow

13: Reunion at Dawn • 14: A King Without a Kingdom • 15: Valley of Torment • 16: The Rose-Colored River • 17: The Impregnable Fortress • 18: The Chaos of War • 19: Conclusion of the Crossing Roads • 20: The City Without Light • 21: Following a Dream
Azure Moon

13: Reunion at Dawn • 14: The Delusional Prince • 15: Valley of Torment • 16: The Rose-Colored River • 17: Blood of the Eagle and Lion • 18: The King's Triumphant Return • 19: The Golden Deer's Plea • 20: The Impregnable Fortress • 21: Our Chosen Paths • 22: Oath of the Dagger
Verdant Wind

13: Reunion at Dawn • 14: The Alliance Leader's Ambitions • 15: Valley of Torment • 16: The Rose-Colored River • 17: Blood of the Eagle and Lion • 18: The Golden Scheme • 19: The Chaos of War • 20: Conclusion of the Crossing Roads • 21: The City Without Light • 22: Fódlan's New Dawn
Crimson Flower

13: Beyond Escape • 14: The Master Tactician • 15: Tempest of Swords and Shields • 16: Lady of Deceit • 17: Field of Revenge • 18: To the End of a Dream
Paralogues
Part I
A Cursed Relic

*

• An Ocean View • Black Market Scheme

*

• Death Toll • Dividing the World • Falling Short of Heaven • The Forgotten • Land of the Golden Deer • Oil and Water • Rumored Nuptials • The Secret Merchant

*

• Sword and Shield of Seiros • Tales of the Red Canyon • True Chivalry • War for the Weak
Part II
Darkness Beneath the Earth • Dividing the World • Eternal Guardian • The Face Beneath • Foreign Land and Sky • Forgotten Hero • Insurmountable • Legend of the Lake • Retribution • The Secret Merchant

*

• The Silver Maiden • The Sleeping Sand Legend • Weathervanes of Fódlan
Cindered Shadows
(DLC side story)

1: The Fourth House • 2: What Lies Beneath • 3: The Rite of Rising • 4: Danger in the Dark • 5: Betrayal • 6: Return to Me • 7: Wolf Pack
Locations
Fódlan (Abyss • Adrestia • Faerghus • Garreg Mach Monastery • Leicester) • Almyra • Brigid • Dagda • Sreng
Groups, objects and concepts
10 Elites • Ashen Wolves • Black Eagles • Blue Lions • Children of the Goddess • Church of Seiros (Knights of Seiros) • Crests (Crest Stone) • Divine Pulse • Golden Deer • Heroes' Relics • Insurrection of the Seven • Monsters • Those who slither in the dark • Tragedy of Duscur • War of Heroes
Related topics
Music Library • Name chart • Other games (Fire Emblem Warriors: Three Hopes) • Pre-release information • Unused content • Downloadable content • List of quests • Class mastery