Site News
Warning: This wiki contains spoilers. Read at your own risk!


Discord and Twitter: If you would like, please join our Discord server, and/or follow us on Twitter at @FEWikiOfficial!

Three Hopes info: As the game has only recently released, we are likely to lack key information. Please help add any info that you can.
Dark Spikes
From Fire Emblem Wiki, your source on Fire Emblem information. By fans, for fans.
| | |
| --- | --- |
| Type(s) | |
| Game(s) | |
Dark Spikes (Japanese: ダークスパイク Dark Spike) is a combat art which was introduced in Fire Emblem Echoes: Shadows of Valentia. It is possessed only by the Creation, who periodically uses it during its fight in the Thabes Labyrinth. When it activates this art, the Creation summons purple spikes from the ground which randomly inflict between 10 and 30 points of damage on all opposing units within a five-space radius at once.
In Three Houses, Dark Spikes is instead a dark spell, and is given the name Dark Spikes Τ (Japanese: ダークスパイクΤ Dark Spike Τ). It is a strong spell that is very effective against cavalry units. In this appearance, the spikes are depicted as appearing within the air, then impaling the target from all sides at once.
Data
In the main Fire Emblem series
| Game | Icon | Level | Might | Weight | Hit | Crit | Range | Uses | Worth | Exp | Other effects and notes |
| --- | --- | --- | --- | --- | --- | --- | --- | --- | --- | --- | --- |
| Three Houses | | B | 13 | 11 | 80 | 0 | 1-2 | 3 | -- | 2 | Deals bonus damage to cavalry units. |
In other Fire Emblem series titles
Game
Icon
Level
Might
Weight
Hit
Crit
Range
Uses
Worth
Exp
Other effects and notes

Heroes

5★
14
--
--
--
2
--
400 SP
--
Deals bonus damage against cavalry targets.
Boosts user's Speed by +3 at all times.
If target's HP is 75% or higher at the start of combat, boosts user's Attack and Speed by +6 each during combat, and if user initiates combat while not at full HP, user makes a guaranteed follow-up strike before target's counterstrike.
Availability
Echoes: Shadows of Valentia
Three Houses
Heroes
Flavor text
Trivia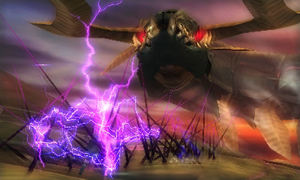 The concept of Dark Spikes is presumably taken from one of the two animations of Expiration, the Creation/Grima's other attack, in

Awakening

, where Grima would attack a target by summoning purple spikes. Grima also does this in the opening cutscene of his chapter, bringing all units' HP down to one (although health is restored prior to the map beginning).
Etymology and other languages
Names, etymology and in other regions
Language
Name
Definition, etymology and notes
English

Dark Spikes

Used in Shadows of Valentia.

Japanese

ダークスパイク

Dark Spike.

Spanish

Púas oscuras

Dark thorns

French

Piques noires

Dark spears

German

Dunkle Spieße

Dark Skewers

Italian

Scaglie nere

Dark flake

Dutch

Schaduwspiezen

Shadowpierce

Simplified Chinese

漆黑刺棘

Dark Thorns

Traditional Chinese

漆黑刺棘

Dark Thorns
Dark Spikes Τ
Names, etymology and in other regions
Language
Name
Definition, etymology and notes
English

Dark Spikes Τ

Used in Three Houses and Heroes. Dark magic in Three Houses is denoted with a Greek letter; in this case, Tau. Spelled with the Latin script 'T' in Heroes.

Japanese

ダークスパイクΤ

Dark Spike Τ

Spanish

Púas oscuras Τ

Dark thorns Τ. Spelled with the Latin script 'T' in Heroes.

French

Piques noires Τ

Dark spears Τ. Spelled with the Latin script 'T' in Heroes.

German

Dunkle Spieße Τ

Dark Skewers Τ

Italian

Scaglie nere Τ

Dark flake Τ. Spelled with the Latin script 'T' in Heroes.

Portuguese
(Brazil)

Pua obscura T

Dark sting T. Spelled with the Latin script 'T'.

Korean

다크스파이크Τ

Dark Spikes Τ; a transliteration of the English word used as the Japanese name.

Simplified Chinese

暗黑冲击 T

Dark Assault T. Spelled with the Latin script 'T' rather than the Greek Tau.

Traditional Chinese

暗黑衝擊Τ

Dark Assault Τ
Gallery
References
See also