Site News
Warning: This wiki contains spoilers. Read at your own risk!


Discord and Twitter: If you would like, please join our Discord server, and/or follow us on Twitter at @FEWikiOfficial!

Cross-Wiki Week 2022: From September 23–30, make contributions to NIWA wikis that you normally don't edit, or Halopedia, for a chance to win a Nintendo eShop gift card! See here for more details.
Cursed Ashiya Sword
From Fire Emblem Wiki, your source on Fire Emblem information. By fans, for fans.
Cursed Ashiya Sword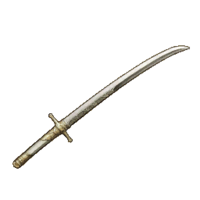 Artwork of the Cursed Ashiya Sword from Warriors: Three Hopes.
---
This blade inflicts 5 damage on its wielder after combat in exchange for its high critical-hit rate.
The Cursed Ashiya Sword (Japanese: 妖刀アシュラ Bewitching sword Ashura) is a rare sword that was introduced in Fire Emblem: Three Houses. It is a high-level sword bearing multiple unusual properties, including below-average hit for a sword, low durability, and damaging its user after combat. In exchange for these downsides, it has high might and an exceptionally high critical rate.
Stats
In the main Fire Emblem series
Forged stats
In other Fire Emblem series titles
Locations
Three Houses
Cursed Ashiya Sword
Cursed Ashiya Sword+
Flavor text
Game
Text
(English)
Text
(Japanese)

Three Houses


(Cursed Ashiya Sword)
This blade inflicts 5 damage on its wielder after
combat in exchange for its high critical-hit rate.
必殺が高い
戦闘後、自分に5ダメージ

Three Houses


(Cursed Ashiya Sword+)
This reinforced Cursed Ashiya Sword injures
its wielder, inflicting 5 damage after combat.
妖刀アシユラを強化したもの
戦闘後、自分に5ダメージ

Warriors: Three Hopes

A forbidding aura emanates from this keenly
honed blade.
殺傷力に優れる
禍々しい妖気を放つ刀
Etymology and other languages
Names, etymology and in other regions
Language
Name
Definition, etymology and notes
English

Cursed Ashiya Sword

--

Japanese

妖刀アシュラ

Bewitching sword Ashura

Spanish

Espada maldita Ashiya

Cursed Ashiya sword

French

Épée d'Ashiya maudite

Cursed Ashiya sword

German

Verflucht Ashiya-Schwert

Cursed Ashiya Sword; abbreviated to Verfl. Ashiya-Schwert.

Italian

Spada stregata Ashiya

Cursed Ashiya sword

Korean

요도 아슈라

Bewitching sword Ashura

Simplified Chinese

妖刀阿修罗

Bewitching sword Ashura

Traditional Chinese

妖刀阿修羅

Bewitching sword Ashura
Gallery
See also