Site News
Warning: This wiki contains spoilers. Read at your own risk!


Social media: If you would like, please join our Discord server, and/or follow us on Twitter or Tumblr!

Engage info: As the game has only recently released, we lack much key information. Please help add any info that you can.
Rusted Sword
From Fire Emblem Wiki, your source on Fire Emblem information. By fans, for fans.
Rusted Sword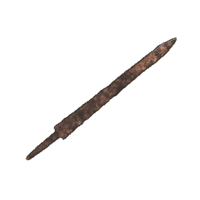 Artwork of the Rusted Sword from Warriors: Three Hopes.
---
A rusty sword. Unusable in this state.
The Rusted Sword (Japanese: 錆びた剣 Rusted Sword) is a sword which was introduced in Fire Emblem Echoes: Shadows of Valentia. A Rusted Sword is stated to be useless in its current state, and as such deals equal might to, has lower accuracy than, and weighs significantly more than the standard Sword in Shadows of Valentia and has identical stats to a Broken Sword in Three Houses.
Like other rusted equipment, it can be repaired at any smithy. The item a particular Rusted Sword becomes is set depending on where it was obtained, and is detailed in the weapon's description in Three Houses; for example, Rusted Swords dropped by Witches will always become Brave Swords when repaired.
Stats
Locations
Echoes: Shadows of Valentia
| | |
| --- | --- |
| Villages | Southern Outpost: War Room |
| Dropped by | At random from: Bonewalkers (0.09% normal, 0.18% strong), Liches (0.18%), Titans (0.45%), Witches (0.01% type-2 specter, 0.04% normal, 0.08% strong), Vestals (0.2%), Gargoyles (0.01% normal, 0.02% strong), Deathgoyles (0.02%), and Garudas (0.05%) |
| Dungeon drops | Fear Mountain Shrine Area 3: Boxes (2.17%) • Fear Mountain Shrine Area 5: Boxes (3.45%, 3.45%) • Fear Mountain Shrine Area 6: Boxes (4%) • Duma Tower Area 3: Boxes (0.62%) • Duma Tower Area 4: Boxes (5%) • Thabes Labyrinth B5/B7: Boxes (3.82%) • Thabes Labyrinth B8 (second half): Pots (2.37%) • Thabes Labyrinth B9: Pots (2.6%, 0.26%), Boxes (3.16%) • Thabes Labyrinth B10: Boxes (3.21%, 0.06%) |
Three Houses
Flavor text
Game
Text
(English)
Text
(Japanese)

Echoes: Shadows of Valentia

A rusty sword.
Unusable in this state.
錆びついた剣
このままでは役に立たない

Three Houses

A rust-coated blade that can be forged into a(n)
(blank).
錬成すると

(blank)

になる

Warriors: Three Hopes

A rust-coated blade that can be repaired by a blacksmith to make

a(n) (blank)

.
鍛冶場で復元すると

(blank)

になる
Etymology and other languages
Names, etymology and in other regions
Language
Name
Definition, etymology, and notes
English

Rusted Sword

--

Japanese

錆びた剣

Rusted Sword

Spanish

Espada oxidada

Rusted Sword

French

Épée rouillée

Rusted Sword

German

Rostschwert

Rusted Sword

Italian

Spada arrugginita

Rusted Sword

Dutch

Roestig zwaard

Rusted Sword

Korean

녹슨 검

Rusted sword

Simplified Chinese

生锈的剑

Rusted sword

Traditional Chinese

生鏽的劍

Rusted sword
Gallery
References
See also