Site News
Warning: This wiki contains spoilers. Read at your own risk!


Discord and Twitter: If you would like, please join our Discord server, and/or follow us on Twitter at @FEWikiOfficial!

Cross-Wiki Week 2022: From September 23–30, make contributions to NIWA wikis that you normally don't edit, or Halopedia, for a chance to win a Nintendo eShop gift card! See here for more details.
Devil Sword
From Fire Emblem Wiki, your source on Fire Emblem information. By fans, for fans.
Devil Sword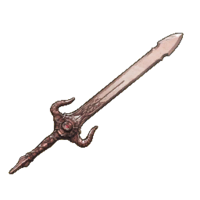 Artwork of the Devil Sword from Warriors: Three Hopes.
---
A mighty but cursed sword known to harm its user.
The Devil Sword (Japanese: デビルソード Devil Sword) is a fairly rare sword-type weapon in the Fire Emblem series. It is a high-risk high-reward weapon, typically with a low weapon level and high damage output, but with the possibility of the user getting damaged instead of the target. Damage done to the user upon backfire is the damage that would have been done to the target had the attack not backfired.
The Devil Sword made its first appearance in Fire Emblem: Shadow Dragon & the Blade of Light. It has appeared less commonly than its more famous axe counterpart, having only appeared in the games set on Archanea and in Three Houses.
Stats
In the main Fire Emblem series
Forged stats
In other Fire Emblem series titles
Locations
Shadow Dragon & the Blade of Light
Mystery of the Emblem
Shadow Dragon
New Mystery of the Emblem
Three Houses
Devil Sword
Devil Sword+
Flavor text
Game
Text
(English)
Text
(Japanese)

Shadow Dragon

A mighty but cursed sword known to harm its user.
威力はあるが使い手に傷を負わせる事もある呪われた剣

New Mystery of the Emblem

A mighty but cursed sword known to harm its user.

*

威力はあるが使い手に傷を負わせる事もある呪われた剣

Three Houses


(Devil Sword)
An unholy sword that inflicts 10 damage on the
wielder after combat.
戦闘後、自分に10ダメージ

Three Houses


(Devil Sword+)
A reinforced devil sword that inflicts 10 damage
on the wielder after combat.
デビルソードを強化したもの
戦闘後、自分に10ダメージ

Warriors: Three Hopes

An unholy sword that damages the wielder and
enemy alike.
敵だけでなく使用者をも傷つける呪われた剣
Etymology and other languages
Names, etymology and in other regions
Language
Name
Definition, etymology and notes
English

Devil Sword

--

Japanese

デビルソード

Devil sword

Spanish

• Espada diablo
• Espada demoníaca

• Devil sword; used in Shadow Dragon, abbreviated as E diablo.
• Demonic sword; used in Three Houses.

French

Epée noire

Black sword

French
(Canada)

Épée noire

Black sword; used in the Shadow Dragon & the Blade of Light physical manual.

German

Teufelschwert

Devil Sword; abbreviated as Teufelschw. in Shadow Dragon.

Italian

Spada demonica

Demonic sword; abbraviated as Sp. demon. in Shadow Dragon.

Korean

데빌 소드

Devil sword

Simplified Chinese

恶魔之剑

Devil sword

Traditional Chinese

惡魔之劍

Devil sword
Gallery
See also