Site News
Warning: This wiki contains spoilers. Read at your own risk!


Social media: If you would like, please join our Discord server, and/or follow us on Twitter or Tumblr!

Engage info: As the game has only recently released, we lack much key information. Please help add any info that you can.
Oil and Water
From Fire Emblem Wiki, your source on Fire Emblem information. By fans, for fans.
Oil and Water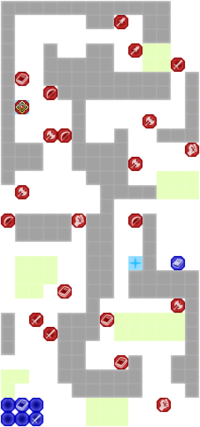 | | |
| --- | --- |
| Location | Mountains |
| Boss(es) | Bandit Leader |
| | | | |
| --- | --- | --- | --- |
| " | Death God Gang? What kind of childish nonsense—Where's the Death Knight? | " | — Manuela |
Oil and Water (Japanese: 氷炭相容れず Ice and charcoal are incompatible) is a paralogue chapter in Fire Emblem: Three Houses. It is available from Chapter 8 to Chapter 11. In order to attempt this paralogue, the player must have recruited Manuela or Hanneman and neither one must have fallen in battle previously. In this chapter, Manuela and Hanneman investigate rumors of the Death Knight lurking nearby.
Plot
Main article: Oil and Water/Script
Manuela laments to Byleth about the wound she received from the Death Knight approximately two months prior. Hanneman notices and approaches, leading the two to a bickering match. He explains that rumors have placed the Death Knight on the western edge of the Sealed Forest, and Manuela runs off to confront him. Hanneman, Byleth, and the students pursue her and find her cornered by a pack of bandits. In the process of rescuing her, they find out that these bandits are part of a group calling themselves the "Death God Gang", hence the rumors. Afterwards, Hanneman berates Manuela for her recklessness. The two make up and head off for a celebratory cup of tea.
Beginning log
Manuela and Hanneman have predictably opposite reactions to a disturbing rumor going around the monastery.
Chapter data
Character data
Black Eagles


Blue Lions

Golden Deer

This paralogue only requires Hanneman or Manuela to be in Byleth's class. If one of them is not a member of their class, they will be temporarily controllable for this map with the following stats.
Hanneman, Normal Hanneman, Hard Hanneman, Maddening Manuela, Normal Manuela, Hard Manuela, Maddening
Skill Levels

| | | | | | | | | | | | |
| --- | --- | --- | --- | --- | --- | --- | --- | --- | --- | --- | --- |
| | | | | | | | | | | | |
| E | E | E | E | E | C | E | D | E | E | E | |
Item data
Enemy data
Boss data
Skill Levels

| | | | | | | | | | | | |
| --- | --- | --- | --- | --- | --- | --- | --- | --- | --- | --- | --- |
| | | | | | | | | | | | |
| E | E | A | E | E | E | E | E | E | E | E | |
Strategy
This section details unofficial strategies that may help with completion of the chapter. This may not work for everybody.
On every difficulty, Manuela is capable of surviving in combat against the Brigands that begin moving towards her, but she will likely be unable to survive against the Pegasus Knights; if Manuela does not move from her starting position, the Pegasus Knights begin to move on turn 5, and will reach and likely defeat her on turn 8. On Normal and potentially on Hard, Manuela may be able to survive against enemies while moving south; it is possible on Maddening if Manuela has Axebreaker, but is unlikely. If Manuela is certified for Pegasus Knight she can avoid most enemies, but that requires increasing Manuela's lance skill, which starts at E.
There are a number of ways to ensure Manuela's safety that do not involve investing into Manuela herself:
A unit with Rescue – particularly Flayn, who starts with C+ faith and learns Rescue at B – can use it on Manuela from the south if they have at least 12 magic; however, there are enemies to the south which must be defeated to ensure Manuela's and the Rescuer's safety.
A flier with Reposition can move Manuela over the cliffs to her west onto the Heal Tile +; there are enemies that may pose a threat to Manuela or the flier, but it allows Manuela more room to move away from the Pegasus Knights.
A flyer with the Alliance Wyvern Co. can use the Impregnable Wall gambit on Manuela, reducing all damage she will deal or take to 0; the Pegasus Knights will prioritize attacking Manuela, even for 1 damage, over attacking and potentially killing the flier. The Alliance Wyvern Co. is only available in the Golden Deer route—or in a New Game + file with data where the battalion was obtained—and no other flying battalion has access to Impregnable Wall.
Additionally, a Physic user, such as Mercedes or Marianne, will be especially helpful.
Alternately, the paralogue will end, and thus Manuela will be in no danger, upon defeating the enemy commander; however, quickly defeating the boss makes obtaining the Experience Gem and Rapier much more difficult. The boss starts 24 tiles away from Byleth's starting location, where they could reach 2-range as a Pegasus Knight boosted by Stride and refreshed by a Dancer, or could reach 1-range as a 7-move flier, on turn 1; units at other starting positions require less movement to reach the boss. The boss does not need to be defeated on turn 1 as Manuela will not die immediately, and taking more time makes it easier to obtain the Experience Gem. However, Manuela can attack the Archer with the Experience Gem from her starting position, or a unit with Warp could send a strong unit with enough move to defeat or aid Manuela in defeating the Archer.
Defeating the boss in one hit requires (on Normal/Hard/Maddening difficulties) 56/61/74 physical attack or 47/50/62 magical attack; defeating him in two hits requires 37/41/50 physical attack or 28/30/38 magical attack, and 7/9/18 attack speed or an alternate means of attacking twice, such as a brave weapon or a combat art such as Point-Blank Volley. Alternately, as the boss lacks the Commander or General abilities, they can be moved and their stats lowered with gambits, and a unit can be left in their range to defeat them with weakened stats on enemy phase, or they could simply be attack by other units. Additionally, the boss can from at least 3-range where he cannot retaliate by means such as Curved Shot or Thoron.
Trivia
"Oil and Water" is the title of the final story event of the Azure Moon route in Three Houses.
Etymology and other languages
Names, etymology and in other regions
Language
Name
Definition, etymology, and notes
English

Oil and Water

An idiom referring to two things that cannot mix or exist harmoniously, referencing Hanneman and Manuela's personality conflicts.

Japanese

氷炭相容れず

Roughly "ice and charcoal are incompatible"; an equivalent idiom.

Spanish

Commo el perro y el gato

Like the dog and the cat; an equivalent idiom.

French

Comme chien et chat

Like dog and cat; an equivalent idiom.

German

Öl und Wasser

Oil and Water

Italian

Come acqua e olio

Like water and oil

Korean

얼음과 숯의 불협화음

Discord of ice and charcol

Simplified Chinese

水火不容

Lit. "as incompatible as fire and water"

Traditional Chinese

水火不容

Lit. "as incompatible as fire and water"
Gallery
References
Fire Emblem: Three Houses
Playable characters

Black Eagles

Bernadetta • Caspar • Dorothea • Edelgard • Ferdinand • Hubert • Linhardt • Petra

Blue Lions

Annette • Ashe • Dedue • Dimitri • Felix • Ingrid • Mercedes • Sylvain

Golden Deer

Claude • Hilda • Ignatz • Leonie • Lorenz • Lysithea • Marianne • Raphael
Other
Alois • AnnaDLC • Byleth • Catherine • Cyril • Flayn • Gilbert • Hanneman • Jeritza • Manuela • Seteth • Shamir

Ashen Wolves

DLC
Balthus • Constance • Hapi • Yuri
Non-playable characters
AbysskeeperDLC • Duke Aegir • Lord Arundel • Count Bergliez • Count Hevring • Count Gloucester • Count Varley • Fleche • Gatekeeper • Duke Gerth • Glenn • Holst • Ionius IX • Jeralt • Judith • Ladislava • Lambert • Margrave Gautier • Monica • Nader • Patricia • Randolph • Rhea • Rodrigue • Rufus • Seiros • Sitri • Sothis • Tomas • Tiana
Bosses
Acheron • AelfricDLC • Alois • Lord Arundel • Bias • Blaiddyd • Caspar • Catherine • Charon • Chilon • Claude • Cornelia • Daphnel • Dedue • Death Knight • Dimitri • Dominic • Baron Dominic • Edelgard • Felix • Ferdinand • Flame Emperor • Flayn • Fraldarius • Gautier • Gloucester • Goneril • Gwendal • Hubert • Ingrid • The Immaculate One • The Immovable • Judith • Kostas • Kronya • Ladislava • Lamine • Linhardt • Lonato • Lorenz • Mercedes • Metodey • Miklan • Myson • Nader • Nemesis • Baron OchsDLC • Odesse • Pallardó • Pittacus • Randolph • Rhea • Riegan • Rodrigue • Seteth • Shamir • Solon • Sylvain • Thales • Wandering Beast • The Wind Caller
Personal weapons and regalia
Aegis Shield • Areadbhar • Asclepius • Athame • Axe of Ukonvasara • Aymr • Blutgang • Caduceus Staff • Circe Staff • Crusher • Failnaught • Fetters of Dromi • Freikugel • The Inexhaustible • Lance of Ruin • Lúin • Ochain Shield • Rafail Gem • Scythe of Sariel • Seiros Shield • Spear of Assal • Sword of Begalta • Sword of Moralta • Sword of Seiros • Sword of the Creator • Tathlum Bow • Thunderbrand • Thyrsus • Vajra-Mushti
Chapters
Part I

Prologue: An Inevitable Encounter • 1: Three Houses • 2: Familiar Scenery • 3: Mutiny in the Mist • 4: The Goddess's Rite of Rebirth • 5: Tower of Black Winds • 6: Rumors of a Reaper • 7: Field of the Eagle and Lion • 8: The Flame in the Darkness • 9: The Cause of Sorrow • 10: Where the Goddess Dwells • 11: Throne of Knowledge • 12: To War / Outset of a Power Struggle
Part II
Silver Snow

13: Reunion at Dawn • 14: A King Without a Kingdom • 15: Valley of Torment • 16: The Rose-Colored River • 17: The Impregnable Fortress • 18: The Chaos of War • 19: Conclusion of the Crossing Roads • 20: The City Without Light • 21: Following a Dream
Azure Moon

13: Reunion at Dawn • 14: The Delusional Prince • 15: Valley of Torment • 16: The Rose-Colored River • 17: Blood of the Eagle and Lion • 18: The King's Triumphant Return • 19: The Golden Deer's Plea • 20: The Impregnable Fortress • 21: Our Chosen Paths • 22: Oath of the Dagger
Verdant Wind

13: Reunion at Dawn • 14: The Alliance Leader's Ambitions • 15: Valley of Torment • 16: The Rose-Colored River • 17: Blood of the Eagle and Lion • 18: The Golden Scheme • 19: The Chaos of War • 20: Conclusion of the Crossing Roads • 21: The City Without Light • 22: Fódlan's New Dawn
Crimson Flower

13: Beyond Escape • 14: The Master Tactician • 15: Tempest of Swords and Shields • 16: Lady of Deceit • 17: Field of Revenge • 18: To the End of a Dream
Paralogues
Part I
Black Market SchemeDLC • A Cursed RelicDLC • Death Toll • Dividing the World • Falling Short of Heaven • The Forgotten • Land of the Golden Deer • An Ocean View • Oil and Water • Rumored Nuptials • The Secret MerchantDLC • Sword and Shield of Seiros • Tales of the Red Canyon • True Chivalry • War for the Weak
Part II
Darkness Beneath the Earth • Dividing the World • Eternal Guardian • The Face Beneath • Foreign Land and Sky • Forgotten Hero • Insurmountable • Legend of the Lake • Retribution • The Secret MerchantDLC • The Silver Maiden • The Sleeping Sand Legend • Weathervanes of Fódlan
Cindered Shadows
(DLC side story)

1: The Fourth House • 2: What Lies Beneath • 3: The Rite of Rising • 4: Danger in the Dark • 5: Betrayal • 6: Return to Me • 7: Wolf Pack
Locations
Fódlan • Adrestia • Faerghus • Garreg Mach Monastery (Abyss) • Leicester • Almyra • Brigid • Dagda • Sreng • Zahras
Groups, objects and concepts
10 Elites • Ashen Wolves • Black Eagles • Blue Lions • Children of the Goddess • Church of Seiros (Knights of Seiros) • Crests (Crest Stone) • Divine Pulse • Golden Deer • Heroes' Relics • Insurrection of the Seven • Monsters • Those who slither in the dark • Tragedy of Duscur • War of Heroes
Related topics
Music Library • Name chart • Other games (

Warriors: Three Hopes

) • Pre-release information • Unused content • Downloadable content • List of quests • Class mastery