Site News
Warning: This wiki contains spoilers. Read at your own risk!


Social media: If you would like, please join our Discord server, and/or follow us on Twitter or Tumblr!

Engage info: As the game has only recently released, we lack much key information. Please help add any info that you can.
Tales of the Red Canyon
From Fire Emblem Wiki, your source on Fire Emblem information. By fans, for fans.
Tales of the Red Canyon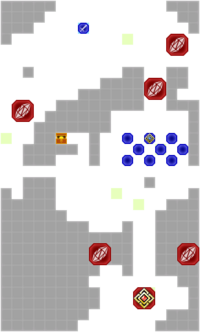 | | |
| --- | --- |
| Location | Zanado, the Red Canyon |
| Boss(es) | |
Tales of the Red Canyon (Japanese: 赤き谷の冒険譚 Adventure of the Red Valley) is a paralogue chapter in Fire Emblem: Three Houses. It is available from Chapter 8 to Chapter 10. In this chapter, Byleth travels to the Red Canyon alone at the request of Sothis, in an attempt to recollect her memory.
Plot
Main article: Tales of the Red Canyon/Script
Sothis recounts that the Red Canyon Zanado triggered some of her hidden memories and bids Byleth travel there to investigate. As Byleth departs, they are noticed by the lord character, who rounds up the other students and follows them. Byleth arrives at Zanado, but is suddenly attacked by a pack of giant animals led by a Demonic Beast. Byleth is rescued by their students, and together they drive off the animals. Afterwards, the lord character berates Byleth for their recklessness, and they agree to pass off the day's events as a training exercise. Sothis apologizes to Byleth for nearly getting them killed, but manages to awaken an improved Divine Pulse in the process.
Beginning log
Sothis has a request for you, Byleth... At her insistence, you travel alone to the Red Canyon, followed by curious students.
Chapter data
Character data
Black Eagles


Blue Lions

Golden Deer

Item data
Enemy data
Reinforcements
At the start of the player phase after the initial Giant Birds and the Wild Demonic Beast begin moving

If there is at least one Giant Wolf remaining

1

/

2

/

3

Giant Bird(s) from the northeast corner of the map

If all Giant Wolves have been defeated

1

/

2

Giant Bird(s) from the northwest corner of the map
1 Giant Wolf from the western border of the map

The above wave repeats three turns after it is triggered.
Boss data
Skill Levels

| | | | | | | | | | | | |
| --- | --- | --- | --- | --- | --- | --- | --- | --- | --- | --- | --- |
| | | | | | | | | | | | |
| E | E | E | E | E | E | E | E | E | E | E | |
Strategy
This section details unofficial strategies that may help with completion of the chapter. This may not work for everybody.
Monsters are aplenty in this map. Bring lots of monster-effective weaponry, your best gambits, your best archers, and Catherine for Thunderbrand (unless you're a Black Eagle). Having Mercedes or Flayn with A Faith for Fortify would also be very helpful. This is a very good opportunity to rack up Wootz Steel to forge up Brave weapons and high-quality ranged weapons, as long as you can consistently inflict armor breaks. Before you do anything, make sure to have a Thief with the March Ring nab the chest which someone has kindly refilled since you were last here. Byleth starts off pinned down in the northwest corner of the map with monsters closing in on them fast. If you have them in a flying class, so much the better; you can have them dart south and link up with the students in short order. If not, your best move is to have the students smash north and regroup with the professor as fast as possible. Once you've regrouped, you're going to have to hold the line against an overwhelming horde. Armor break everyone, kill anything that so much as shows a hint of weakness, heal as much as you can, and bring down the Demonic Beast as soon as possible. It's a hard fight, but the three Divine Pulse charges you earn are more than worth it.
Etymology and other languages
Names, etymology and in other regions
Language
Name
Definition, etymology, and notes
English

Tales of the Red Canyon

--

Japanese

赤き谷の冒険譚

Adventure of the Red Valley

Spanish

El misterio del Cañón Rojo

The mystery of the Red Canyon

French

Les contes du Canyon Rouge

The tales of the Red Canyon

German

Geschichten von Zanado

Stories of Zanado

Italian

Racconti del Canyon Rosso

Tales of the Red Canyon

Korean

붉은 계곡의 모험담

Story of the red valley

Simplified Chinese

赤红谷冒险故事

Crimson valley adventure story

Traditional Chinese

赤紅谷冒險故事

Crimson valley adventure story
Gallery
References
Fire Emblem: Three Houses
Playable characters

Black Eagles

Bernadetta • Caspar • Dorothea • Edelgard • Ferdinand • Hubert • Linhardt • Petra

Blue Lions

Annette • Ashe • Dedue • Dimitri • Felix • Ingrid • Mercedes • Sylvain

Golden Deer

Claude • Hilda • Ignatz • Leonie • Lorenz • Lysithea • Marianne • Raphael
Other
Alois • AnnaDLC • Byleth • Catherine • Cyril • Flayn • Gilbert • Hanneman • Jeritza • Manuela • Seteth • Shamir

Ashen Wolves

DLC
Balthus • Constance • Hapi • Yuri
Non-playable characters
AbysskeeperDLC • Duke Aegir • Lord Arundel • Count Bergliez • Count Hevring • Count Gloucester • Count Varley • Fleche • Gatekeeper • Duke Gerth • Glenn • Holst • Ionius IX • Jeralt • Judith • Ladislava • Lambert • Margrave Gautier • Monica • Nader • Patricia • Randolph • Rhea • Rodrigue • Rufus • Seiros • Sitri • Sothis • Tomas • Tiana
Bosses
Acheron • AelfricDLC • Alois • Lord Arundel • Bias • Blaiddyd • Caspar • Catherine • Charon • Chilon • Claude • Cornelia • Daphnel • Dedue • Death Knight • Dimitri • Dominic • Baron Dominic • Edelgard • Felix • Ferdinand • Flame Emperor • Flayn • Fraldarius • Gautier • Gloucester • Goneril • Gwendal • Hubert • Ingrid • The Immaculate One • The Immovable • Judith • Kostas • Kronya • Ladislava • Lamine • Linhardt • Lonato • Lorenz • Mercedes • Metodey • Miklan • Myson • Nader • Nemesis • Baron OchsDLC • Odesse • Pallardó • Pittacus • Randolph • Rhea • Riegan • Rodrigue • Seteth • Shamir • Solon • Sylvain • Thales • Wandering Beast • The Wind Caller
Personal weapons and regalia
Aegis Shield • Areadbhar • Asclepius • Athame • Axe of Ukonvasara • Aymr • Blutgang • Caduceus Staff • Circe Staff • Crusher • Failnaught • Fetters of Dromi • Freikugel • The Inexhaustible • Lance of Ruin • Lúin • Ochain Shield • Rafail Gem • Scythe of Sariel • Seiros Shield • Spear of Assal • Sword of Begalta • Sword of Moralta • Sword of Seiros • Sword of the Creator • Tathlum Bow • Thunderbrand • Thyrsus • Vajra-Mushti
Chapters
Part I

Prologue: An Inevitable Encounter • 1: Three Houses • 2: Familiar Scenery • 3: Mutiny in the Mist • 4: The Goddess's Rite of Rebirth • 5: Tower of Black Winds • 6: Rumors of a Reaper • 7: Field of the Eagle and Lion • 8: The Flame in the Darkness • 9: The Cause of Sorrow • 10: Where the Goddess Dwells • 11: Throne of Knowledge • 12: To War / Outset of a Power Struggle
Part II
Silver Snow

13: Reunion at Dawn • 14: A King Without a Kingdom • 15: Valley of Torment • 16: The Rose-Colored River • 17: The Impregnable Fortress • 18: The Chaos of War • 19: Conclusion of the Crossing Roads • 20: The City Without Light • 21: Following a Dream
Azure Moon

13: Reunion at Dawn • 14: The Delusional Prince • 15: Valley of Torment • 16: The Rose-Colored River • 17: Blood of the Eagle and Lion • 18: The King's Triumphant Return • 19: The Golden Deer's Plea • 20: The Impregnable Fortress • 21: Our Chosen Paths • 22: Oath of the Dagger
Verdant Wind

13: Reunion at Dawn • 14: The Alliance Leader's Ambitions • 15: Valley of Torment • 16: The Rose-Colored River • 17: Blood of the Eagle and Lion • 18: The Golden Scheme • 19: The Chaos of War • 20: Conclusion of the Crossing Roads • 21: The City Without Light • 22: Fódlan's New Dawn
Crimson Flower

13: Beyond Escape • 14: The Master Tactician • 15: Tempest of Swords and Shields • 16: Lady of Deceit • 17: Field of Revenge • 18: To the End of a Dream
Paralogues
Part I
Black Market SchemeDLC • A Cursed RelicDLC • Death Toll • Dividing the World • Falling Short of Heaven • The Forgotten • Land of the Golden Deer • An Ocean View • Oil and Water • Rumored Nuptials • The Secret MerchantDLC • Sword and Shield of Seiros • Tales of the Red Canyon • True Chivalry • War for the Weak
Part II
Darkness Beneath the Earth • Dividing the World • Eternal Guardian • The Face Beneath • Foreign Land and Sky • Forgotten Hero • Insurmountable • Legend of the Lake • Retribution • The Secret MerchantDLC • The Silver Maiden • The Sleeping Sand Legend • Weathervanes of Fódlan
Cindered Shadows
(DLC side story)

1: The Fourth House • 2: What Lies Beneath • 3: The Rite of Rising • 4: Danger in the Dark • 5: Betrayal • 6: Return to Me • 7: Wolf Pack
Locations
Fódlan • Adrestia • Faerghus • Garreg Mach Monastery (Abyss) • Leicester • Almyra • Brigid • Dagda • Sreng • Zahras
Groups, objects and concepts
10 Elites • Ashen Wolves • Black Eagles (Black Eagle Strike Force) • Blue Lions • Children of the Goddess • Church of Seiros (Knights of Seiros) • Crests (Crest Stone) • Divine Pulse • Golden Deer • Heroes' Relics • Insurrection of the Seven • Monsters • Those who slither in the dark • Tragedy of Duscur • War of Heroes
Related topics
Music Library • Name chart • Other games (

Warriors: Three Hopes

) • Pre-release information • Unused content • Downloadable content • List of quests • Class mastery