Site News
Warning: This wiki contains spoilers. Read at your own risk!


Social media: If you would like, please join our Discord server, and/or follow us on Twitter or Tumblr!

Engage info: As the game has only recently released, we lack much key information. Please help add any info that you can.
Familiar Scenery
From Fire Emblem Wiki, your source on Fire Emblem information. By fans, for fans.
This article is about the chapter of Three Houses. "Familiar Scenery" is also the name of Part 1 of Book III Chapter 7 in Heroes.
Familiar Scenery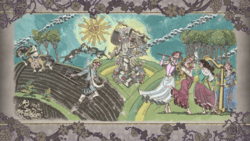 Mural used to introduce the Harpstring Moon.
| | |
| --- | --- |
| New units | Ferdinand, Linhardt, Caspar, Bernadetta, Dorothea, and Petra ; Felix, Ashe, Sylvain, Mercedes, Annette, and Ingrid ; Lorenz, Raphael, Ignatz, Lysithea, Marianne, and Leonie ; Hilda ; Yuri, Balthus, Constance, and Hapi* |
| Previous chapter(s) | |
| Next chapter(s) | |
| | | | |
| --- | --- | --- | --- |
| " | So, we are taking children into battle, are we? I am not certain I will be able to sleep soundly after beholding something like that... | " | — Sothis |
Familiar Scenery (Japanese: 追懐の風景 Remembered Scenery) is the second chapter of Fire Emblem: Three Houses. Its mission is Red Canyon Dominance.
Plot
Seteth explains that the monthly mission is to rout a group of bandits in order to give the students practical experience in combat. After a month of studying and training, on 5/31 the Church locates the bandits in the Red Canyon Zanado and dispatches the students to wipe them out. Despite the students being disturbed by their first kills, Byleth succeeds in their mission and defeats Kostas once again, this time for good. Afterwards, Sothis expresses recognition of the Red Canyon and the feeling that something about it has changed, although she cannot recall what. If Byleth is a member of the Golden Deer, Claude wonders why Zanado is called the "Red" Canyon since none of the scenery is colored red. After Byleth's return, Rhea recounts how the goddess of Fódlan granted a divine revelation to Saint Seiros.
Calendar - Harpstring Moon
Harpstring Moon
Monday
Tuesday
Wednesday
Thursday
Friday
Saturday
Sunday
1
Story Event

2
3
4
5
6
7
8
9
Annette's Birthday
10
11
Free Day (Forced Explore)
Lots of Large Fish
Bonding Bites
12
Instruct
13
14
15
16
17
18
Free Day (Forced Battle)
Raphael's Birthday
19
Instruct
20
21
Saint Macuil Day
22
23
24
25
Free Day (Forced Seminar or Rest)
26
27
Mercedes's Birthday
28
29
30
Story Event
31
Eliminate the Bandits
Character data
Black Eagles


Blue Lions

Golden Deer

Characters
New Units
Available Characters







The player can recruit students from other houses from this chapter until the end of Chapter 12 on the Silver Snow, Azure Moon, and Verdant Wind routes, or Chapter 11 on the Crimson Flower route. Their levels will be scaled up appropriately to their join time, and they will have certifications for individually pre-determined classes.
Item data
Name
Obtainment Method
Gold
Monthly stipend
Jeralt's Mercenaries
Quest reward: Leading the Charge
Church of Seiros Soldiers
Quest reward: Leading the Charge
Seiros Mercenaries
Quest reward: Leading the Charge
Teutates Pike
Quest reward: Creative Cuisines
Morfis Plum (×2)
Quest reward: Creative Cuisines
Duscur Bear
Quest reward: Creative Cuisines
Chickpeas (×4)
Quest reward: A Passion for Music
White Trout (×3)
Quest reward: A Passion for Music
Peach Currant (×4)
Quest reward: A Passion for Music
Leather Shield
Quest reward: Troubling Rumors
Steel Sword
Quest reward: Troubling Rumors
Root Vegetable Seeds (×5)
Quest reward: Troubling Rumors
Chickpeas (×4)
Quest reward: Feline and Canine Friends

*

Poultry (×3)
Quest reward: Feline and Canine Friends

*

White Trout (×3)
Quest reward: Feline and Canine Friends

*

Bullion
Dropped by enemy Soldier in mandatory Practice Battle
Chest Key
Dropped by enemy Fighter in Red Canyon Dominance
Large Bullion
Chest in Red Canyon Dominance
Marketplace data
Marketplace
Armory

Item Shop

Note: In New Game +, the Marketplace becomes available in Chapter 1.
Strategy
Main articles: Familiar Scenery/Practice Battle and Familiar Scenery/Red Canyon Dominance
From now on, you will earn a stipend determined by your professor level at the beginning of each month. This month, you unlock the ability to lecture your students on Mondays. There is an option to auto-instruct, but directly managing your students' progress results in a far stronger squad. It is also worth noting that setting a student's goal to a boon stat exclusively for one week and in tandem with another stat for the other week will net them exactly 60 skill points, enough to raise them from E+ to D. Many students would love to add a D rank ability to their arsenal; Bernadetta, Dedue, and Hilda want D lances for Tempest Lance, Ferdinand, Ashe, and Raphael want D axes for Smash, Petra and Leonie want D bows for Curved Shot, Felix wants D brawling so he can wield Steel Gauntlets, Linhardt, Mercedes, and Lorenz want D reason for their first offensive spells, and Lysithea wants D faith for Heal. You may also recruit students from other houses if your stats are high enough. As a rule of thumb, Dorothea and Ignatz (authority) and Felix (swords) can generally be recruited rather naturally, as if you simply focus on Byleth's strengths like any other unit, you will cater to the stats that they value. If you want anyone else, you're going to need to make a long-term commitment to raise the appropriate skills and raise their support level with gifts and meals and such to sway them to your side. Don't expect to recruit everyone on your first try. Also note that Hubert and Dedue will never abandon their houses due to personal loyalty to their respective lieges and Hilda will not join the Black Eagles until a certain story event in Chapter 11 has resolved itself. True to his skirt-chasing character, Sylvain can be instantly swayed to your party if Byleth is female. His access to the Swift Strikes combat art and ability to obtain the Lance of Ruin as early as the end of Chapter 5 make him a valuable addition to the party. In addition, if you have completed the Cindered Shadows campaign, you may recruit the Ashen Wolves into your party. Balthus, Constance, and Hapi all benefit from waiting one chapter so they can join as a Fighter and two Monks, giving them instant D ranks in Bows (for Balthus) and Faith (for the mages). Yuri and Sylvain don't benefit as much since Myrmidon and Soldier only have one skill rank each, but it will still save you a little money on Beginner Seals.
The 11th is a forced monastery exploration day, the 18th is a forced auxiliary battle, the 25th is a choice between a seminar or a rest, and the 31st is the monthly battle. You can also complete quests to unlock battalions, choir practice, and cooking. Battalions can be attached to any unit, can be used to trigger the Gambit command for a free uncounterable attack, and run off the authority and charm stats. Choir practice lets you build supports with two other units, gives you faith and authority points, gives students in your class faith points, and gives you professor points. Cooking is the successor to tonics from Awakening and Fates, giving you and your allies a small temporary stat boost until the end of the month. On Sundays, you may now hold seminars, do auxiliary battles, and rest. Auxiliary battles are basically skirmishes that allow you to grind, although this costs you your entire day off on Hard and Maddening difficulty. Seminars allow a teacher to lecture your students and improve their skills. If Byleth is not the one holding the seminar, they will always be in attendance. Resting gives your students +50 motivation (enough for two sessions of instruction) and restores 5 durability to the Sword of the Creator once you get it. Make good use of them all.
Etymology and other languages
Names, etymology and in other regions
Language
Name
Definition, etymology, and notes
English

Familiar Scenery

--

Japanese

追懐の風景

Remembered Scenery; alternatively "Scenery of Remembrance".

Spanish

Un paraje conocido

A well-known place

French

Une impression de déjà-vu

A sense of déja-vu

German

Ein Gefühl der Vertrautheit

A Feeling of Familiarity

Italian

Uno scenario familiare

A familiar scenery

Korean

추회의 풍경

Recalled scenery

Simplified Chinese

回忆中的景色

Scenery in memories

Traditional Chinese

回憶中的景色

Scenery in memories
Gallery
---
This section has been marked as a stub. Please help improve the page by adding information.
---
References
Fire Emblem: Three Houses
Playable characters

Black Eagles

Bernadetta • Caspar • Dorothea • Edelgard • Ferdinand • Hubert • Linhardt • Petra

Blue Lions

Annette • Ashe • Dedue • Dimitri • Felix • Ingrid • Mercedes • Sylvain

Golden Deer

Claude • Hilda • Ignatz • Leonie • Lorenz • Lysithea • Marianne • Raphael
Other
Alois • AnnaDLC • Byleth • Catherine • Cyril • Flayn • Gilbert • Hanneman • Jeritza • Manuela • Seteth • Shamir

Ashen Wolves

DLC
Balthus • Constance • Hapi • Yuri
Non-playable characters
AbysskeeperDLC • Duke Aegir • Lord Arundel • Count Bergliez • Count Hevring • Count Gloucester • Count Varley • Fleche • Gatekeeper • Duke Gerth • Glenn • Holst • Ionius IX • Jeralt • Judith • Ladislava • Lambert • Margrave Gautier • Monica • Nader • Patricia • Randolph • Rhea • Rodrigue • Rufus • Seiros • Sitri • Sothis • Tomas • Tiana
Bosses
Acheron • AelfricDLC • Alois • Lord Arundel • Bias • Blaiddyd • Caspar • Catherine • Charon • Chilon • Claude • Cornelia • Daphnel • Dedue • Death Knight • Dimitri • Dominic • Baron Dominic • Edelgard • Felix • Ferdinand • Flame Emperor • Flayn • Fraldarius • Gautier • Gloucester • Goneril • Gwendal • Hubert • Ingrid • The Immaculate One • The Immovable • Judith • Kostas • Kronya • Ladislava • Lamine • Linhardt • Lonato • Lorenz • Mercedes • Metodey • Miklan • Myson • Nader • Nemesis • Baron OchsDLC • Odesse • Pallardó • Pittacus • Randolph • Rhea • Riegan • Rodrigue • Seteth • Shamir • Solon • Sylvain • Thales • Wandering Beast • The Wind Caller
Personal weapons and regalia
Aegis Shield • Areadbhar • Asclepius • Athame • Axe of Ukonvasara • Aymr • Blutgang • Caduceus Staff • Circe Staff • Crusher • Failnaught • Fetters of Dromi • Freikugel • The Inexhaustible • Lance of Ruin • Lúin • Ochain Shield • Rafail Gem • Scythe of Sariel • Seiros Shield • Spear of Assal • Sword of Begalta • Sword of Moralta • Sword of Seiros • Sword of the Creator • Tathlum Bow • Thunderbrand • Thyrsus • Vajra-Mushti
Chapters
Part I

Prologue: An Inevitable Encounter • 1: Three Houses • 2: Familiar Scenery • 3: Mutiny in the Mist • 4: The Goddess's Rite of Rebirth • 5: Tower of Black Winds • 6: Rumors of a Reaper • 7: Field of the Eagle and Lion • 8: The Flame in the Darkness • 9: The Cause of Sorrow • 10: Where the Goddess Dwells • 11: Throne of Knowledge • 12: To War / Outset of a Power Struggle
Part II
Silver Snow

13: Reunion at Dawn • 14: A King Without a Kingdom • 15: Valley of Torment • 16: The Rose-Colored River • 17: The Impregnable Fortress • 18: The Chaos of War • 19: Conclusion of the Crossing Roads • 20: The City Without Light • 21: Following a Dream
Azure Moon

13: Reunion at Dawn • 14: The Delusional Prince • 15: Valley of Torment • 16: The Rose-Colored River • 17: Blood of the Eagle and Lion • 18: The King's Triumphant Return • 19: The Golden Deer's Plea • 20: The Impregnable Fortress • 21: Our Chosen Paths • 22: Oath of the Dagger
Verdant Wind

13: Reunion at Dawn • 14: The Alliance Leader's Ambitions • 15: Valley of Torment • 16: The Rose-Colored River • 17: Blood of the Eagle and Lion • 18: The Golden Scheme • 19: The Chaos of War • 20: Conclusion of the Crossing Roads • 21: The City Without Light • 22: Fódlan's New Dawn
Crimson Flower

13: Beyond Escape • 14: The Master Tactician • 15: Tempest of Swords and Shields • 16: Lady of Deceit • 17: Field of Revenge • 18: To the End of a Dream
Paralogues
Part I
Black Market SchemeDLC • A Cursed RelicDLC • Death Toll • Dividing the World • Falling Short of Heaven • The Forgotten • Land of the Golden Deer • An Ocean View • Oil and Water • Rumored Nuptials • The Secret MerchantDLC • Sword and Shield of Seiros • Tales of the Red Canyon • True Chivalry • War for the Weak
Part II
Darkness Beneath the Earth • Dividing the World • Eternal Guardian • The Face Beneath • Foreign Land and Sky • Forgotten Hero • Insurmountable • Legend of the Lake • Retribution • The Secret MerchantDLC • The Silver Maiden • The Sleeping Sand Legend • Weathervanes of Fódlan
Cindered Shadows
(DLC side story)

1: The Fourth House • 2: What Lies Beneath • 3: The Rite of Rising • 4: Danger in the Dark • 5: Betrayal • 6: Return to Me • 7: Wolf Pack
Locations
Fódlan • Adrestia • Faerghus • Garreg Mach Monastery (Abyss) • Leicester • Almyra • Brigid • Dagda • Sreng • Zahras
Groups, objects and concepts
10 Elites • Ashen Wolves • Black Eagles • Blue Lions • Children of the Goddess • Church of Seiros (Knights of Seiros) • Crests (Crest Stone) • Divine Pulse • Golden Deer • Heroes' Relics • Insurrection of the Seven • Monsters • Those who slither in the dark • Tragedy of Duscur • War of Heroes
Related topics
Music Library • Name chart • Other games (

Warriors: Three Hopes

) • Pre-release information • Unused content • Downloadable content • List of quests • Class mastery