Site News
Warning: This wiki contains spoilers. Read at your own risk!


Discord and Twitter: If you would like, please join our Discord server, and/or follow us on Twitter at @FEWikiOfficial!
Lianna
From Fire Emblem Wiki, your source on Fire Emblem information. By fans, for fans.
Lianna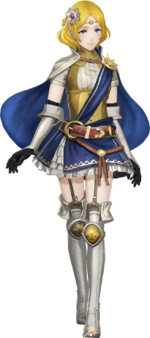 Artwork of Lianna from Warriors.
---
A hero from the world of Fire Emblem Warriors. As princess of Aytolis, she seeks with her twin brother to restore the mysterious Shield of Flames. Though she has all the elegance and humility befitting her royal status, it is Lianna's diligence and talent that truly sets her apart. Lianna is classically trained in the sword techniques of Aytolis and Gristonne, making her adept at catching enemies and fighting with steady attacks.
| | | | |
| --- | --- | --- | --- |
| " | Hey, wait! Rowan! No sparring today! He already promised he'd help me with my studies! Are you listening?! | " | — Lianna to Rowan on their plans with Darios |
Lianna (Japanese: リアン Lian) is a character originating from Fire Emblem Warriors and the princess of Aytolis. She is one of the kingdom's royal twins, being slightly older than her brother Rowan and the less reckless of the two.
Upon starting the game the player chooses which of the twins to make their main character. For the first five chapters of the game the chosen twin is force-deployed and the unchosen twin is an assisting NPC. The choice has no long term ramifications past the initial few chapters where both can be freely chosen by the player.
Role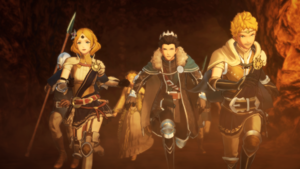 Lianna first appears with Rowan at the start of the game arguing about who is going to take the Aytolisian throne; to Yelena's disappointment. The argument abruptly ends when a soldier walks in and announces that Darios, a friend of the twins, has arrived at the castle. Rowan runs off to meet him with Lianna protesting that Darios had promised to study with her, not spar with him. During the sparring rounds the castle is invaded by mysterious forces, the three are forced to leave Yelena behind but they are able to take the Shield of Flames with them. Yelena tells them to go to the temple as they escape.
Lianna appears in basically every story dialogue scene in the game with her brother Rowan. After convincing the Shepherds to join them and obtaining the first Gleamstone from Chrom, Lianna attempts to contact the Nohrian army while Rowan attempts to contact the clashing Hoshidan army; each army thinks that the other has kidnapped Corrin. Lianna meets up with a lost Elise and offers to help her find her siblings. The two attempt to convince the Nohrians that they are allies and simply want to return Elise to their care, but Camilla, Leo, and Xander all have to be fought before they bother listening to any conversation. She then reunites with Rowan, who had to do the same thing with Sakura and the Hoshidan siblings. After reuniting they locate Corrin, brainwashed by Iago, and free her, Xander, and Ryoma, by defeating Iago. The Gleamstones from Xander, Ryoma, and Corrin are also obtained.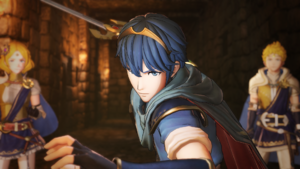 Having gathered their forces, Lianna and Rowan make their way towards Gristonne's Fortified Citadel and fail to take it, having to leave Darios behind in enemy hands. As they retreat they are assisted by Marth, Caeda and Tiki. Lianna and Rowan head for the World Tree to obtain the Divine Dragon's power, the swords Facinna and Enliron. The group returns to the Fortified Citadel, rescue Darios, and complete the Shield of Flames with Marth's Gleamstone. Unfortunately, Darios, now possessed by Velezark, steals the shield and returns to the Aytolis capital to sacrifice Yelena in a ritual.
Lianna and Rowan defeat Darios and rescue Yelena, but they are unable to prevent Velezark from being revived. Velezark then leaves Aytolis, making his way to the World Tree to destroy it. Lianna and Rowan chase after him and defeat him at the World Tree. The heroes are returned to their worlds and Lianna and Rowan return to Aytolis with Yelena. They both opt to take the crown, both becoming the rulers of Aytolis.
Starting stats
| | |
| --- | --- |
| | Recruitment: Prologue, automatically from the start |
Promotion stat gains
| Class | HP | Str | Mag | Skl | Sp | Lck | Def | Res | |
| --- | --- | --- | --- | --- | --- | --- | --- | --- | --- |
| Great Lord | 92 | 17 | 19 | 24 | 23 | 24 | 20 | 23 | |
Personality and character
Like her brother, she is disinterested in ruling Aytolis when she becomes of age. She encourages Rowan to become king instead, while at the same time her brother insists she become ruler, putting the two at an impasse.[2] Lianna's reluctance to assume the throne stems from a lack of self-confidence and a belief that she would make a poor ruler.
Supports
Main article: Lianna/Supports (Warriors)
Other appearances
Fire Emblem Cipher
Lianna is featured on three cards in Fire Emblem Cipher.
Fire Emblem Cipher data for Lianna
Beautiful Sunflower Princess, Lianna
"Let's go, everyone! Now is our chance to destroy the fell dragon!"
Attack: 70
Support: 20
Range: 1
Deploy Cost: 4
Class: Great Lord
Tier: Advanced
Class Change Cost: 3
"Here I go!":

[Activate]

If your Main Character has no insignia, you may make this unit your Main Character. If you do, return the ally that was previously your Main Character back to your hand.
Radiant Facinna:

[Trigger]

When you deploy this unit, you may destroy an enemy with a deployment cost of 2 or less besides the Main Character.
"The light of hope!":

[Trigger]

[] When an ally's skill destroys an enemy, you may pay the cost and if you do: Draw a card.
Card #B11-079SR(+) • Artist: Fuzichoco
Persevering Sacred Sword, Lianna
"I won't be stopped... I'll keep going until we've taken back Aytolis!"
Attack: 60
Support: 20
Range: 1
Deploy Cost: 3
Class: Great Lord
Tier: Advanced
Class Change Cost: 2
"You won't have time to stop me!":

[Trigger]

[Once per turn]

[] After this unit's attack destroys an enemy besides the Main Character, you may pay this skill's cost and if you do: Untap this unit.
Card #B11-080N • Artist: Daisuke Izuka
Princess of Aytolis, Lianna
"

As a rule, I don't play unwinnable games, but... There's no other option!

"
"

I'm so glad I got the chance to meet all of you...

"
Attack: 40
Support: 20
Range: 1
Deploy Cost: 1
Class: Lord
Tier: Base
Class Change Cost: --
Valedictory Princess:

[Trigger]

[Once per turn]

When an enemy is destroyed, this turn, this unit gains +10 attack.
Tandem Emblem:

[Support]

If your defending unit does not have an insignia, then until the end of combat, your defending unit gains +10 attack.
Card #B11-081HN, P11-006PR • Artist: Fuzichoco (B11-081HN), Yoko Maturica (P11-006PR)
Some card information translation provided by Serenes Forest.
For more detailed strategic information on these cards, see their TCG wiki article on Lianna .
Trivia
Etymology and other languages
Names, etymology and in other regions
Language
Name
Definition, etymology and notes
English

Lianna

Norman and French girl name meaning to twine around. Alternate variations include Aileen, Eileen, and Liana.[4]

Japanese

リアン

Lian or Rian.

Spanish

Lianna

As above.

French

Lianna

As above.

German

Lianna

As above.

Italian

Lianna

As above.
Gallery
Official artwork
Other appearances
References
| | |
| --- | --- |
| | This article is part of Project Characters, a project focused on writing articles for every character present in the Fire Emblem series. |