Site News
Warning: This wiki contains spoilers. Read at your own risk!


Social media: If you would like, please join our Discord server, and/or follow us on Twitter (X) or Tumblr!
Land of Gods (Warriors)
From Fire Emblem Wiki, your source on Fire Emblem information. By fans, for fans.
This article is about the History Map from Fire Emblem Warriors; for the chapter from Fates this is based on, see Land of Gods.
---
Land of Gods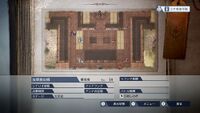 | | |
| --- | --- |
| Location | Izumo: Castle Interior |
| Boss(es) | |
| Previous chapter(s) | |
| Next chapter(s) | |
| | | | |
| --- | --- | --- | --- |
| " | Welcome. You must be the princesses from Hoshido... Excellent! Allow me to introduce you to my lance! | " | — Caeda, really Validar in disguise |
Land of Gods (Japanese: 神々の坐す国 Land Where the Gods Sit) is a History Mode map in Fire Emblem Warriors. It is inspired by Chapter 9 Birthright of Fire Emblem Fates. It is unlocked after clearing Chapter 5 of the main story after purchasing the Fates downloadable content pack.
Plot
Main article: Land of Gods (Warriors)/Script
Corrin and Sakura arrive at Izumo Castle unsure what to do. Caeda then appears, but before Corrin or Sakura can ask her about their brothers, she summons an army to surround them. Corrin asks Caeda what is she playing at, only for Caeda to reveal she is actually Validar. Azura and Hinoka then arrive to help their sisters, saying that they saw through Validar's disguise. Validar takes note but orders his men to kill them all. Nearby, Oboro and Niles also arrive, with Oboro clearly not happy to be teaming up with a Nohrian. Corrin and her allies are able to confront and defeat Validar, to which Corrin demands where the real Caeda is. Leo arrives at that moment and kills Validar, leaving Hinoka awestruck by his power. Afterwards Oboro and Corrin have a chat, with former mistaking Corrin as a Nohrian before realizing she's Takumi's sister and the latter commenting on Oboro's scary face.
Summary
As they search for their siblings, Corrin and Sakura are taken into a castle as guests. When they discover they'd been caught in a trap, a girl with a face like a demon's appears before them.
Chapter data
Character data
Characters
New units
Available characters











Note: This list represents the minimum characters obtained upon unlocking this particular History Mode map. Any character the player has obtained can be used during any mission outside of Deploy Limits. This list also does not include any downloadable content characters the player may have.
Map
Hover your mouse above the units to see their mission and level.
Anna's Mementos
Anna's Mementos
Mission
Objective
Location
Recruitment Battle Lv. 45
Myrmidon
Defeat 1,000 enemies.
South Battery
Defeat 75 enemies with Dual Specials.
Upper Fort
Rendezvous Disruption Lv. 62
Myrmidon
Defeat 1,000 enemies.
East Hold
Take five enemy forts.
West Fort
Shadow Elimination Lv. 77
Space-Time Distortion
Defeat 1,000 enemies.
SW Geyser Fort
Defeat 1,200 enemies.
NE Geyser Fort
Mission data
Icon
Challenge
Lv
Restrictions
Deploy Limit
Stage
Reward
S-Rank Reward
Timed Attack
10
Kingswood
Iron Axe
Gold Rush
16
Triangle Amplification
Aytolis City
Oboro's Chest Guard
Iron Sword
Recruitment Battle
19
Dusk Castle
Swordbane Tome
Fort Siege
23
Dragon Valley
Azura's Pendant
Master Seal
Timed Onslaught
31
Desert Arena
Takumi's Fur Wrap
Ally Rescue
38
Great Plain
Bowbane Axe
Recruitment Battle
45
Spears
Fortified Citadel
Lancebane Lance
Shadow Elimination
57
The World Tree
Clawbanestone
Recruitment Battle
19
Aytolis Castle
Swordbanestone
Pincer Escape
24
Desolate Gorge
Bowbane Sword
Ally Rescue
32
Castle Sol
Ryoma's Battle Coat
Oboro's Spear
Fort Defense
41
Desolate Gorge
Tomebane Tome
Recruitment Battle
42
Axes
Desert Arena
Tomebane Bow
Gold Rush
44
Dragon Valley
Lancebane Sword
Oboro's Spear's Scroll
Arena
50
Kingswood
Axebanestone
Arena
59
Great Plain
Axebane Tome
Rendezvous Disruption
62
Awakening Heroes
Castle Sol
Clawbane Lance
Targeted Elimination
68
Ebony Volcano
Dragonbane Axe
Gold Rush
69
Mounted Advantage
The Interspace
Dragonbane Lance
Elixir
Land of Gods
65
Dusk Castle
Navarre's Sword Strap


Butler costume

Oboro's Spear's Opus
Unworty
(Timed Onslaught)
72
Male
The World Tree
Chaos Dragon's Jewel
Spellbane Yumi's Opus
How You Fall
(Shadow Elimination)
77
Neutralized Effectiveness
Mounted
Ebony Volcano
Celica's Circlet
Hinoka's Spear's Opus
Oboro & Niles
(Fort Siege)
80
Swords
The Interspace
Darios's Circlet
Raijinto's Opus
Oboro & Lissa
(Fort Defense)
84
Fortified Citadel
Anna's Purse
Fujin Yumi's Opus
Mission deployment
Start of map:
After clearing one mission:
After clearing Validar Land of Gods Lv. 65 and reopening the map:

4 Space-Time Distortions will appear.
Strategy
This section details unofficial strategies that may help with completion of the chapter. This may not work for everybody.
Validar will be the clear target at the start. However after clearing one mission, Hinoka and Oboro will appear and Validar will be blocked. Reach and clear both Hinoka's and Oboro's missions to allow access to Mage Arena Lv. 50. After doing so, clear Validar's mission to complete the map's story.
Etymology and other languages
Names, etymology, and in other regions
Language
Name
Definition, etymology, and notes
English

Land of Gods

Japanese

神々の坐す国

Land Where the Gods Sit
Gallery
---
This section has been marked as a stub. Please help improve the page by adding information.
---