Site News
Warning: This wiki contains spoilers. Read at your own risk!


Social media: If you would like, please join our Discord server, and/or follow us on Twitter or Tumblr!

Engage info: As the game has only recently released, we lack much key information. Please help add any info that you can.
Tarrah
From Fire Emblem Wiki, your source on Fire Emblem information. By fans, for fans.
Tarrah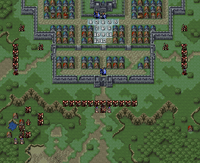 | | |
| --- | --- |
| Chapter(s) | |
| Country | |
| Appearance(s) | |
| | | |
| --- | --- | --- |
| " | Tarrah had been allowed to keep its autonomy, but even at the time, the city's freedom was thought to be as precarious and fleeting as a candle flickering in the wind... | " |
Tarrah (Japanese: ターラ Tahra) is a free city of the Thracian Peninsula of Jugdral. Originally part of the Munster District, it was taken over by Thracia in the year 776.
History
Tarrah was originally a free city part of the Munster District. In the year 769, Leif arrived in the city of Tarrah, trying to hide from the Loptrian Empire. In the year 773, the Empire learnt about Leif's presence, forcing the him to flee the city.
Around the year 776, the Empire assieged Tarrah, trying to reclaim it. With the help of Leif's liberation army, Tarrah was able to fight the Empire to a draw. Using the exhaustion to both parties at his advantage, King Travant of Thracia took control of the city, forcing the Empire, the liberation army, and the current ruler Linoan to flee the city.
Characters from Tarrah
Gameplay
Tarrah is present as a group of six villages in Chapter 9 of Genealogy of the Holy War. The left-central village grants a Barrier Ring. If Jeanne or Hermina is to visit the northwestern one, a secret event will start in which a Shannan impersonator will grant them +3 Defense.
Tarrah is the location of two chapters in Thracia 776. In Chapter 13, Tarrah is the escape point of the map. The entirety of Chapter 14 takes place in Tarrah, with the goal being to defend its gate for ten turns.
Etymology and other languages
Names, etymology and in other regions
Language
Name
Definition, etymology, and notes
English

Tarrah

Used in Fire Emblem Engage. Possibly from the Hill of Tara, a hill in County Meath in Ireland traditionally believed to be the coronation site of the High Kings of Ireland.

English
(unofficial)

Tahra

Used in Thracia 776 fan translations.

Japanese

ターラ

Officially romanized as Tahra. Possibly from the Hill of Tara, as above.
Gallery
References