Site News
Warning: This wiki contains spoilers. Read at your own risk!


Discord and Twitter: If you would like, please join our Discord server, and/or follow us on Twitter at @FEWikiOfficial!

Cross-Wiki Week 2022: From September 23–30, make contributions to NIWA wikis that you normally don't edit, or Halopedia, for a chance to win a Nintendo eShop gift card! See here for more details.
Summoner (Heroes)
From Fire Emblem Wiki, your source on Fire Emblem information. By fans, for fans.
"Kiran" redirects here. For the similarly named Axe Knight, see Kieran.
---
This page has been marked as a stub. Please help improve the page by adding information.
---
Summoner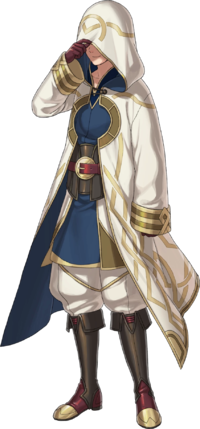 Artwork of the Summoner from Heroes.
---
You, summoned from another world. According to legend, you are the hero that will save this world.
| | |
| --- | --- |
| Gender | Chosen by the player.* |
| Race | |
| Appearance(s) | |
The Summoner (Japanese: 召喚師 Master Summoner) is a character in Fire Emblem Heroes, responsible for summoning Heroes for the Order of Heroes. The Summoner is the avatar for the player, but unlike other avatars is meant to be a direct representation of the player, having been summoned from the modern world to the World of Zenith. They are given the default name Kiran (Japanese: エクラ Eclat), which the player can change at their discretion.
Role
The Summoner originates from the real world, called the "World of Steel" in-game. They are summoned to the World of Zenith by Commander Anna of the Order of Heroes. The Summoner is able to summon characters from the Fire Emblem series using the divine weapon Breidablik to help them on their attempt to stop Embla's invasion. Soon after, they are given command of the Order's forces in the field, acting as a field commander and tactician that controls summoned Heroes in battle. Aside from this, prior to Book IV, the Summoner serves only minor roles in the story, mainly allowing characters to explain the backstory of the game and using Breidablik to thwart several antagonists' protective power. As time goes on, they also become a dear friend of Sharena and especially Alfonse, the princess and prince of Askr.
Book IV
During Book IV, the Summoner takes on the role of Alfonse within their own dream, and are convinced that they are Alfonse until they come across the real Alfonse within Freyja's dream world, who had been dressed as the Summoner and falsely given their identity in order to maintain the illusion. This was done in order to ensure that neither Alfonse nor the Summoner could escape Ljósálfheimr with the help of Gullinkambi, which required the dreamer to remember their waking lives in order to awaken from the dream.
Book V
In Book V, Princess Reginn of Niðavellir was ordered by her brother Ótr to invade Askr and capture the Summoner so that they may aid him in using the weapon Járngreipr that can destroy gates. This attempt failed, as Reginn suddenly allied herself with the Order of Heroes.
In gameplay: My Summoner
From 5.2.0 onward, the Summoner's appearance can be chosen from nine preset designs (4 male, 4 female, and 1 with the hood up); they can equip accessories available to Heroes, and they have exclusive Summoner accessories available to them as well. The Summoner has no dialogue, save for a greeting that can be specified by the player. The Summoner can be also deployed as a playable infantry unit in Heroes Journey and Mjölnir's Strike, albeit without the ability to be Paired Up with anyone in the latter mode and with their choice of sword, axe, lance, and any tome color as their weapon. With the Copy Skills command in the My Summoner menu, the Summoner can copy infantry-compatible skills from any unit in their barracks, any Combat Manual they own, or any skills available in Divine Codes. It should also be noted that the Summoner cannot gain SP or Hero Merit, does not appear in Barracks or the Catalog of Heroes, cannot be used outside of Heroes Journey and Mjölnir's Strike, and cannot be interacted with on the status screen.
Starting stats
Level
40
Max HP
41
Rarity

★★★★★

Weapon type
Movement type
Skill set
Biography
Little information is given about the Summoner; however, the Summoner makes references to the real world, talking about automobiles and skyscrapers to Alfonse,[1]and compares Breidablik to a gun with Ephraim.[2] In Book IV, the world the Summoner is from is revealed to be named the World of Steel.[3]
Other appearances
Fire Emblem Cipher
The Summoner, under their default name Kiran, is featured on two cards in Fire Emblem Cipher.
Fire Emblem Cipher data for Kiran
Great Hero of Another World, Kiran
"'"
Attack: 0
Support: X
Range: -
Deploy Cost: 3
Class: Summoner
Tier: Base
Class Change Cost: --
Summoning Weapon: Breidablik:

[Activate]

[] Reveal the top card of your deck. You may []. If you do, deploy that card.
Salvation's Command:

[Support]

Choose 1 card from your hand, and reveal it. Until the end of this combat, this card's support stat is equal to the revealed card's support stat. (If it is X, it becomes 0.)
Card #B13-088R • Artist: Clover.K
Legendary Hero, Kiran
"'"
Attack: 0
Support: X
Range: -
Deploy Cost: 1
Class: Summoner
Tier: Base
Class Change Cost: --
Summon Heroes:

[Activate]

[] Choose 1 bond card with a deployment cost of 1, and deploy it.
Divine Weapon of Summoning:

[Support]

Until the end of this combart, this card's support is equal to the total number of orbs you have ×10.
Card #B13-089N • Artist: Clover.K
Some card information translation provided by Serenes Forest.
For more detailed strategic information on these cards, see their TCG wiki article on Kiran .
Flavor text
Game
Text
(English)
Text
(Japanese)

Heroes


(???: Summoned One)
???
???

Heroes


(Kiran: Hero Summoner)
You, summoned from another world.
According to legend, you are the hero
that will save this world.
異世界から召喚された、あなた。
伝説では、世界を救う救世主と伝えられている。
Etymology and other languages
Summoner
Names, etymology and in other regions
Language
Name
Definition, etymology and notes
English

Summoner

Refers to the player's ability to summon Heroes from the various worlds of the Fire Emblem series.

Japanese

召喚師

Master summoner

Spanish

• Invocador
• Invocadora

Summoner; the former is used for males and the latter for females

French

• Invocateur
• Invocatrice

Summoner; the former is used for males and the latter for females

German

• Beschwörer
• Beschwörerin

Summoner; the former is used for males and the latter for females

Italian

• Evocatore
• Evocatrice

Summoner; the former is used for males and the latter for females

Portuguese
(Brazil)

• Invocador
• Invocadora

Summoner; the former is used for males and the latter for females

Traditional Chinese

召喚師

Master summoner
Default name
Names, etymology and in other regions
Language
Name
Definition, etymology and notes
English

Kiran

A gender-neutral name of Sanskrit origin, meaning "ray of light".

Japanese

エクラ

Romanized as Eclat in the internal game files. From the French éclat, meaning brilliance, shine, or lustre.

Spanish

Kiran

--

French

Kiran

--

German

Kiran

--

Italian

Kiran

--

Portuguese
(Brazil)

Kiran

--

Traditional Chinese

艾克拉

Eclat
Gallery
References
↑ "I suppose we don't know much about your world. And how rude of us not to ask until now! What? Your world has buildings that scrape the sky? And what do you mean by "cars"? Like wagons...that run without horses...and are made of metal? Fascinating." — Alfonse in World of Binding, Fire Emblem Heroes
↑ "You say weapons are shaped like your Breidablik back in your world? I'd like to visit and see that for myself." — Ephraim: Restoration Lord in the castle, Fire Emblem Heroes
↑ "Alfonse: Towers that pierced the heavens... Iron horses people rode inside of rather than atop... No world I know.
Peony: Sounds like the world of steel to me! Dream-King Freyr told me about it..." — Alfonse and Peony in Book IV Chapter 12 Part 1, Fire Emblem Heroes