Site News
Warning: This wiki contains spoilers. Read at your own risk!


Discord and Twitter: If you would like, please join our Discord server, and/or follow us on Twitter at @FEWikiOfficial!

Cross-Wiki Week 2022: From September 23–30, make contributions to NIWA wikis that you normally don't edit, or Halopedia, for a chance to win a Nintendo eShop gift card! See here for more details.
Confer Blessing
From Fire Emblem Wiki, your source on Fire Emblem information. By fans, for fans.
---
This page has been marked as a stub. Please help improve the page by adding information.
---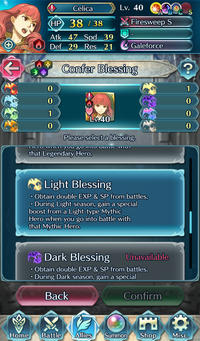 Confer Blessing (Japanese: 祝福付与 Bestow Blessing) is a mechanic in Fire Emblem Heroes that allows players to grant characters not termed as Legendary Heroes additional power based on certain elemental seasons.
Overview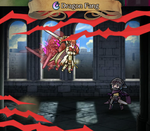 In order to use the Confer Blessing mechanic, the player must have obtained one Blessing; this, in turn, requires successfully summoning a character termed as a Legendary Hero or completion of a quest that rewards a blessing. Once the player has used a Blessing, that character will earn double SP, this bonus stacks with other SP increasing conditions, such as the valor line of skills or the SP bonus occurring on Fridays and Saturdays.
When a character is granted a blessing they gain a visual effect in battle; this visual effect is also given to Legendary Heroes at all times. The visual effect manifests itself in battle as colored afterimages of the character. The coloring of the afterimages matches the elemental blessings. Once a hero has been conferred with a blessing by a Legendary or Mythic Hero, it cannot be removed, but instead switched for another.
Statistical bonuses
Legendary Heroes
Legendary Heroes grant bonuses to blessed allies anytime they enter into battles in a specific elemental season (

Water,

Earth,

Fire, and

Wind).
Season and stat correlation
Blessings/Bonus
HP+3
HP+3 /

Duel


Atk+2

Spd+3

Def+4

Res+4

Pair Up
File:Is feh blessing duel attack.png
Atk+2
File:Is feh blessing duel speed.png
Spd+3
File:Is feh blessing duel defense.png
Def+4
File:Is feh blessing duel resistance.png
Res+4

Water

Eirika

Fjorm

Ryoma

Azura

Leif

Chrom

Dimitri

Byleth (♂)

Caeda

Wind

Lyn

Lucina

Hríd

Gunnthrá

Eliwood

Corrin

Sigurd

Micaiah

Byleth (♀)

Myrrh

Earth

Ike

Robin

Tiki

Alm

Julia

Seliph

Claude

Fae

Deirdre

Nanna

Fire

Hector

Ephraim

Marth

Roy

Celica

Edelgard

Lilina

Eitri

Xander
Mythic Heroes
Mythic Heroes grant bonuses to mythic-blessed allies anytime they enter into Aether Raids battles in a specific elemental season (Light, Dark, Astra, and Anima).
Light and Astra: These Mythic Heroes increase Aetheric Lift gain for successful attacks based on the number of merges on that Mythic Hero.
Dark and Anima: These Mythic Heroes decrease Aetheric Lift loss for unsuccessful defenses based on the number of merges on that Mythic Hero.
Seasons
Etymology and other languages
Names, etymology and in other regions
Language
Name
Definition, etymology and notes
English

Confer Blessing

Japanese

祝福付与

Bestow blessing

Spanish

Conferir bendiciones

Confer blessings
Gallery
Choosing a blessing to give to Celica: Warrior Priestess.

Celica: Imprisoned Soul attacking while possessing a Fire Blessing.