Site News
Warning: This wiki contains spoilers. Read at your own risk!


Social media: If you would like, please join our Discord server, and/or follow us on Twitter (X) or Tumblr!
Beyond Escape/The Great Bridge Coup
From Fire Emblem Wiki, your source on Fire Emblem information. By fans, for fans.
The Great Bridge Coup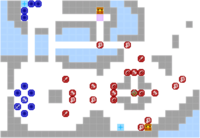 | | |
| --- | --- |
| Location | Great Bridge of Myrddin |
| Boss(es) | |
| Previous chapter(s) | |
| Next chapter(s) | |
The Great Bridge Coup (Japanese: ミルディン大橋の戦い Battle of the Great Bridge of Myrddin) is the main battle map of the thirteenth chapter of the Crimson Flower route in Fire Emblem: Three Houses. In this map, the Adrestian Empire mounts an attack to seize the strategic location of the Great Bridge of Myrddin.
Beginning log
The Black Eagle Strike Force has an unexpected encounter with someone thought to have died years prior. Amidst the joy, your forces prepare to invade Alliance territory.
Map data
Character data
Characters
New units
Required characters


Available characters




























Item data
Enemy data
Reinforcements
At the start of the player phase after any player unit enters the area around Judith's fort or all of the Fortress Knights, Grapplers, Cavaliers, Brawlers (Hard/Maddening), and Warriors (Maddening) west of the fort are defeated.
Boss data
Skill Levels

| | | | | | | | | | | | |
| --- | --- | --- | --- | --- | --- | --- | --- | --- | --- | --- | --- |
| | | | | | | | | | | | |
| D+ | E | E | E | E | E | E | C | E | E | E | |
Sub-bosses
Ignatz does not appear if he was recruited and is replaced by an Alliance General Sniper.
Skill Levels

| | | | | | | | | | | | |
| --- | --- | --- | --- | --- | --- | --- | --- | --- | --- | --- | --- |
| | | | | | | | | | | | |
| E | E | E | A | E | E | E | C | E | E | E | |
Leonie does not appear if she was recruited and is replaced by an Alliance General Paladin.
Skill Levels

| | | | | | | | | | | | |
| --- | --- | --- | --- | --- | --- | --- | --- | --- | --- | --- | --- |
| | | | | | | | | | | | |
| E | B | E | E | E | E | E | C | E | B | E | |
| Combat arts | Spells | Battalion |
| --- | --- | --- |
| -- | -- | -- |

Skill Levels

| | | | | | | | | | | | |
| --- | --- | --- | --- | --- | --- | --- | --- | --- | --- | --- | --- |
| | | | | | | | | | | | |
| E | B | E | E | E | E | E | D | E | D | E | |
Strategy
This section details unofficial strategies that may help with completion of the chapter. This may not work for everybody.
Edelgard has just been handed her personal weapon, Aymr. Its exclusive Combat Art, Raging Storm, is effectively an on-command Galeforce. However, unlike other Relic weapons, Aymr uses the rare Agarthium to repair, so don't go wasting it when you don't need to. Unless you've found some Giant Crawlers in auxiliary battles, Chapter 16 will be your ONLY opportunity to restock!
Can be completed on a normal play through without NG+:
Recommended personnel: Byleth (default), Edelgard (default), Jeritza, Hubert (Dark Bishop), Petra (Assassin), Linhardt, Casper (Grappler), Bernadetta (Sniper), Ferdinand (Paladin), Dancer, Lysithea (Gremory) or a high-movement range character
Recommended equipment/gambits/combat arts: Deadeye, Meteor/Bolting, Warp, Encloser, Sword of the Creator (fully repaired), Draw Back/Reposition/Swap/Smite (for two or three characters), Evasion Rings, Accuracy Rings, Chest Keys, March Ring, Stride gambit, Impenetrable Wall gambit
The first battle post-time skip is a great introduction to what can be expected for the remainder of the Black Eagles playthrough. Positioning on the map, using obstacles, and gambit/attack boosts are essential. You will also have future maps where your characters are 5-10 levels lower than the enemy.
Your team will be split into two and you will have approximately five turns to take out Judith before her reinforcements will appear and then attack (they will appear at the end of turn four and attack during the enemy portion of turn five). This can be done.
The north squad of four has only a few objectives: secure the ballista, raid the chest, and kill the two Grapplers as well as the two Paladins closest to the bridge. If you happen to have Lysithea and she has the Warp spell, you can use this to Warp a strong character to the nearest Grappler (such as Jeritza) and if he does not finish him off move Petra to the ballista to finish him off. Be careful not to have Jeritza within the attack range of too many enemies.
For your squad to the south, immediately use Stride and then focus on either the northern or the southern group of enemies (consisting of a Paladin, Warrior, and Grappler). Use the obstacle (rubble?) in the middle of these two groups as a wall to either the left or right of your team (for context, I went after the southernmost group first). Using the right combination of skills, you should be able to take out two of the three, use Encloser (Bernadetta) on the enemy you weren't able to kill, and then use Impregnable Wall on the group near the rubble. If done correctly, the group you didn't fight will have to travel around the middle obstacle to get to your squad while being outside of attack range for any of your personnel that does not have Impregnable Wall active. The Fortress Knights in the central area along with any enemies within range will attack the Impregnable Wall group while the remainder of your squad is out of range. This may take a few turns to get the positioning correct so use Divine Pulse as needed. This will complete turn one.
For the next two turns, continue to have the northern group take out the remaining Grappler and two Paladins (one of these Paladins may break off and head towards the group to the south) and if you have Lysithea on hand, keep her near Jeritza so you can use Warp soon. The group to the south should take out the remaining surrounding enemies while using Edelgard as a tank and/or Impregnable Wall to aggro the archers towards your squad. Stay out of range of Ignatz/Brave Bow Sniper for now unless an Impregnable Wall character can safely draw him out. Do not forget about attack gambits, Banshee (Hubert), and Encloser (Bernadetta) if you have an enemy that has too many hit points to finish off in one turn.
On turn four, its time to begin our approach towards Judith, Ignatz, and to claim the chest to the south. If you have still have some straggler enemies left on turn four and need another turn before approaching Judith, make sure you take them out on this turn or use Banshee and gambits while moving your squad closer to Judith. Igntaz/Brave Bow Sniper should be killed by the end of turn four. One hit from Sublime Heaven will usually do the trick but if not, you can use movement combat abilities (Reposition, Draw Back) to move Byleth back and bring in another character to finish Ignatz off. Beware Judith's Rapier when doing this as it does bonus damage to heavy armor and cavalry units. Additionally on turn four, make sure to have the character with the chest key getting closer to the chest or at least be near the unit that has Stride or Warp (Linhardt most likely).
At the beginning of turn five, reinforcements will appear to the northwest and northeast. You can ignore them, loot the chest to the south for a Bow of Zoltan, move your characters within attack range of Judith for an attack/gambit boost, and then finish her off with a combo of Sublime Heaven and any bow attack from Bernadetta.
Five turns is tight but think of this map as a preview of the maps to come. The positioning of your army, the underrated movement Combat Arts, Warp, and Impregnable Wall will make victory possible.
A final tip for the remaining maps is to use stat boosting items on your character's strengths with the exception of Luck boosting items as they should go to characters with low luck so as to reduce the chances of an unlucky critical hit.
Etymology and other languages
Names, etymology, and in other regions
Language
Name
Definition, etymology, and notes
English

The Great Bridge Coup

--

Japanese

ミルディン大橋の戦い

Battle of the Great Bridge of Myrddin

Spanish

Batalla del Gran Puente

Battle of the Great Bridge

French

En vue du grand pont

In view of the great bridge

German

Bei der Großen Brücke

At the Great Bridge

Italian

Battaglia al Gran Ponte

Battle at the Grand Bridge

Korean

미르딘대교의 전투

Battle of the great bridge of myrddin

Simplified Chinese

密尔丁大桥之战

Great bridge myrddin battle

Traditional Chinese

密爾丁大橋之戰

Great bridge myrddin battle
Gallery
---
This section has been marked as a stub. Please help improve the page by adding information.
---
Fire Emblem: Three Houses
Playable characters

Black Eagles

Bernadetta • Caspar • Dorothea • Edelgard • Ferdinand • Hubert • Linhardt • Petra

Blue Lions

Annette • Ashe • Dedue • Dimitri • Felix • Ingrid • Mercedes • Sylvain

Golden Deer

Claude • Hilda • Ignatz • Leonie • Lorenz • Lysithea • Marianne • Raphael
Other
Alois • AnnaDLC • Byleth • Catherine • Cyril • Flayn • Gilbert • Hanneman • Jeritza • Manuela • Seteth • Shamir

Ashen Wolves

DLC
Balthus • Constance • Hapi • Yuri
Non-playable characters
AbysskeeperDLC • Duke Aegir • Fleche • Gatekeeper • Duke Gerth • Ionius IX • Jeralt • Judith • Ladislava • Nader • Randolph • Rhea • Rodrigue • Sothis
Bosses
Acheron • AelfricDLC • Alois • Lord Arundel • Bias • Blaiddyd • Caspar • Catherine • Charon • Chilon • Claude • Cornelia • Daphnel • Dedue • Death Knight • Dimitri • Dominic • Baron Dominic • Edelgard • Felix • Ferdinand • Flame Emperor • Flayn • Fraldarius • Gautier • Gloucester • Goneril • Gwendal • Hubert • Ingrid • The Immaculate One • The Immovable • Judith • Kostas • Kronya • Ladislava • Lamine • Linhardt • Lonato • Lorenz • Mercedes • Metodey • Miklan • Myson • Nader • Nemesis • Baron OchsDLC • Odesse • Pallardó • Pittacus • Randolph • Rhea • Riegan • Rodrigue • Seteth • Shamir • Solon • Sylvain • Thales • Wandering Beast • The Wind Caller
Background characters
Lord Arundel • Count Bergliez • Cornelia • Margrave Gautier • Glenn • Count Gloucester • Count Hevring • Holst • Lambert • Monica • Patricia • Rufus • Seiros • Sitri • Tomas • Tiana • Count Varley
Personal weapons and regalia
Aegis Shield • Areadbhar • Asclepius • Athame • Axe of Ukonvasara • Aymr • Blutgang • Caduceus Staff • Circe Staff • Crusher • Failnaught • Fetters of Dromi • Freikugel • The Inexhaustible • Lance of Ruin • Lúin • Ochain Shield • Rafail Gem • Scythe of Sariel • Seiros Shield • Spear of Assal • Sword of Begalta • Sword of Moralta • Sword of Seiros • Sword of the Creator • Tathlum Bow • Thunderbrand • Thyrsus • Vajra-Mushti
Chapters
Part I

P: An Inevitable Encounter • 1: Three Houses • 2: Familiar Scenery • 3: Mutiny in the Mist • 4: The Goddess's Rite of Rebirth • 5: Tower of Black Winds • 6: Rumors of a Reaper • 7: Field of the Eagle and Lion • 8: The Flame in the Darkness • 9: The Cause of Sorrow • 10: Where the Goddess Dwells • 11: Throne of Knowledge • 12: To War / Outset of a Power Struggle
Part II
Silver Snow

13: Reunion at Dawn • 14: A King Without a Kingdom • 15: Valley of Torment • 16: The Rose-Colored River • 17: The Impregnable Fortress • 18: The Chaos of War • 19: Conclusion of the Crossing Roads • 20: The City Without Light • 21: Following a Dream
Azure Moon

13: Reunion at Dawn • 14: The Delusional Prince • 15: Valley of Torment • 16: The Rose-Colored River • 17: Blood of the Eagle and Lion • 18: The King's Triumphant Return • 19: The Golden Deer's Plea • 20: The Impregnable Fortress • 21: Our Chosen Paths • 22: Oath of the Dagger
Verdant Wind

13: Reunion at Dawn • 14: The Alliance Leader's Ambitions • 15: Valley of Torment • 16: The Rose-Colored River • 17: Blood of the Eagle and Lion • 18: The Golden Scheme • 19: The Chaos of War • 20: Conclusion of the Crossing Roads • 21: The City Without Light • 22: Fódlan's New Dawn
Crimson Flower

13: Beyond Escape • 14: The Master Tactician • 15: Tempest of Swords and Shields • 16: Lady of Deceit • 17: Field of Revenge • 18: To the End of a Dream
Paralogues
Part I
Black Market SchemeDLC • A Cursed RelicDLC • Death Toll • Dividing the World • Falling Short of Heaven • The Forgotten • Land of the Golden Deer • An Ocean View • Oil and Water • Rumored Nuptials • The Secret MerchantDLC • Sword and Shield of Seiros • Tales of the Red Canyon • True Chivalry • War for the Weak
Part II
Darkness Beneath the Earth • Dividing the World • Eternal Guardian • The Face Beneath • Foreign Land and Sky • Forgotten Hero • Insurmountable • Legend of the Lake • Retribution • The Secret MerchantDLC • The Silver Maiden • The Sleeping Sand Legend • Weathervanes of Fódlan
Cindered Shadows
(DLC side story)

1: The Fourth House • 2: What Lies Beneath • 3: The Rite of Rising • 4: Danger in the Dark • 5: Betrayal • 6: Return to Me • 7: Wolf Pack
Locations
Fódlan • Adrestia • Faerghus • Garreg Mach Monastery (Abyss) • Leicester • Almyra • Brigid • Dagda • Sreng • Zahras
Groups, objects and concepts
10 Elites • Ashen Wolves • Black Eagles (Black Eagle Strike Force) • Blue Lions • Children of the Goddess • Church of Seiros (Knights of Seiros) • Crests (Crest Stone) • Divine Pulse • Golden Deer • Heroes' Relics • Insurrection of the Seven • Monsters • Those who slither in the dark • Tragedy of Duscur • War of Heroes
Related topics
Music Library • Name chart • Other games (

Warriors: Three Hopes

) • Pre-release information • Unused content • Downloadable content • List of quests • Class mastery