Site News
Warning: This wiki contains spoilers. Read at your own risk!


Social media: If you would like, please join our Discord server, and/or follow us on Twitter or Tumblr!
Anri
From Fire Emblem Wiki, your source on Fire Emblem information. By fans, for fans.
Gender

Male

Race
Family
Title(s)

First King of Altea
Anri the Great (OVA only)

Appearance(s)

N/A
"
A young man hailing from the Altea region appeared with a divine blade in hand. He stood against the Shadow Dragon, and struck him down.
"

— Prologue of

Shadow Dragon
Anri (Japanese: アンリ Anri) was the founder of the Kingdom of Altea and the legendary hero who used the divine blade Falchion to slay Medeus at the climax of the War of Liberation.
Biography
Anri originated as an unassuming peasant of the remote Altea islands, living with his brother Marcelus. His life changed when he met Artemis, the princess of Archanea in hiding after the domination of her nation by the Dolhr Empire; the two soon fell in love with each other, and Anri came to learn of the wider conflict between Dolhr and the people it oppressed. Under the guidance of Gotoh, Anri travelled to the far northern reaches of Archanea, though Mamorthod and the Flame Barrel, to the Ice Dragon Temple, where he obtained Falchion; his feats were recorded in a literary work known as the Anri Saga (Japanese: アンリ・サーガ Anri Saga).[1]
By the time Anri returned from his journey in the year 498, an uprising of the people of Archanea, under Duke Caldas and the Fire Emblem he bore, had challenged Dolhr head-on with great success, until Medeus himself entered the fray and devastated its numbers. At this moment, Anri himself appeared and challenged the Shadow Dragon, slaying him and ending Dolhr's grasp on the world. Following Medeus's death, in the year 500, Anri founded the Kingdom of Altea in the islands of his homeland, and became its first king; meanwhile, despite her ongoing love for Anri, Artemis married Caldas at the entreaty of the people of Archanea. Anri died unmarried and childless in the year 537; he was succeeded by his brother Marcelus, whose ascension sparked a dispute among the nobility resulting in the foundation of Gra, which would remain a close Altean ally for decades.
Sixty-eight years later, in the War of Shadows and War of Heroes, Anri's descendant Marth would come to repeat the feats of Anri by twice slaying the revived Medeus and in making a journey to the Ice Dragon Temple. The people of Archanea came to regard Marth as a "second coming" of Anri.[2]
Other appearances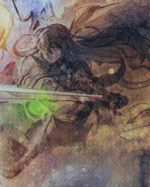 While Anri does not feature as his own card he does make an appearance on Nyna's debut card, B04-048SR. In the background he is depicted fighting a dragon, which may be intended to be Medeus.
Trivia
In the Japanese version of

Shadow Dragon & the Blade of Light

, Anri is called Anri I by Malledus, implying there was at least one Altean king named after him.[3] However, later material lists Marth's genealogy back to Marcelus, Anri's brother, and does not mention any other kings named Anri.
Etymology and other languages
Names, etymology and in other regions
Language
Name
Definition, etymology and notes
English

Anri

Georgian form of Henri.[4]

Japanese

アンリ

Officially romanized as Anri. Possibly from Henri, a French form of Henry.

Spanish

Anri

As above.

French

Anri

As above.

German

Anri

As above.

Italian

Anri

As above.

Portuguese

Anri

Mentioned in Heroes.

Korean

앙리

Henri; used in the trophy description of Marth in Super Smash Bros. Brawl.

Traditional Chinese

昂利

Anri; mentioned in Heroes.
Gallery
References
| | |
| --- | --- |
| | This article is part of Project Characters, a project focused on writing articles for every character present in the Fire Emblem series. |