Site News
Warning: This wiki contains spoilers. Read at your own risk!


Social media: If you would like, please join our Discord server, and/or follow us on Twitter or Tumblr!

Engage info: As the game has only recently released, we lack much key information. Please help add any info that you can.
Archanean League
From Fire Emblem Wiki, your source on Fire Emblem information. By fans, for fans.
---
This page has been marked as a stub. Please help improve the page by adding information.
---
Archanean League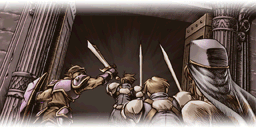 The Archanean League storming Dolhr Keep.
| | |
| --- | --- |
| Leader | |
| Size | Unknown (57 named) |
| Group type | Army |
| Purpose | To defeat Dolhr and bring peace to the continent |
| Appearance(s) | |
| | | | |
| --- | --- | --- | --- |
| " | Our victory was not just the accomplishment of us Altean knights. Overcoming status and position; being able to fight together as equals... That is how Prince Marth fights. No matter when an ally came to our side, they could instantly join the battle with us. That is also a necessary skill for an Altean knight. | " | — Jagen to Kris |
The Archanean League (Japanese: アカネイア同盟軍 Akaneian Alliance Army), more often simply called the League (Japanese: 同盟軍 Alliance Army), is an army formed by the union of the Altean, Aurelian, and later the Archanean armies in order to defeat Dolhr and its allies during the War of Shadows. It was formed after Marth obtained the Fire Emblem at Aurelis from Princess Nyna of Archanea.
After Medeus's defeat and the end of the war, the Archanean League was disbanded and everyone went their separate ways.
History
Main article: War of Shadows
The Archanean League was formally founded after Marth obtained the Fire Emblem at Aurelis from Princess Nyna of Archanea in the aftermath of the Battle in Aurelis Castle. Prior to this, Marth had already managed to amass a sizable army consisting of the Altean soldiers Jagen, Cain, Abel, Draug, Gordin, Norne and tactician Malledus, the Talysian princess Caeda and soldiers Ogma, Bord, Cord, Barst and Castor, along with the healer Wrys. Marth and Caeda have also manage to recruit the Galder pirate Darros, the Soothsires Julian and Navarre, Macedon nobles Lena and Matthis, Marth's friend Merric and his mentor Wendell, the thief Rickard and Prince Hardin of Aurelis, along with his soldiers Wolf, Sedgar, Roshea and Vyland.
Following this, the army made a detour to assist a village whose children have been abducted by pirates. During the resulting skirmish against the pirates, a foreign swordswoman named Athena decides to accompany Marth and the pirates are successfully slain. On their way to Archanea, the army traversed through Lefcandith Gauntlet, where Marth encountered Bantu, a Manakete who was searching for another Manakete named Tiki; Bantu joined the army to do so more effectively. During a brief recuperation in Port Warren, the army was attacked by Grustian soldiers. With the aid of hired swordsmen Caesar, Radd and the Grustian knight Roger, whom Caeda managed to seduce into defecting, the league managed to defeat the Grustian force. With the enemy in hot pursuit, the league decided they had no choice but to flee to the island kingdom of Pyrathi.
Members
Main article: List of characters in Fire Emblem: Shadow Dragon
Marth
Malledus
Caeda
Jagen
Cain
Abel
Draug
Gordin
Norne
Wrys
Ogma
Barst
Bord
Cord
Darros
Castor
Julian
Lena
Navarre
Matthis
Merric
Hardin
Wolf
Sedgar
Roshea
Vyland
Wendell
Rickard
Nyna
Athena
Bantu
Caesar
Radd
Roger
Jeorge
Maria
Minerva
Linde
Jake
Boah
Dolph
Macellan
Tomas
Midia
Horace
Beck
Astram
Palla
Catria
Xane
Etzel
Arran

or

Samson
Est
Tiki
Lorenz
Ymir
Elice
Gotoh
Trivia
During the final stages of the War of Heroes, Marth's army would similarly come to be known as the "Altean League" (Japanese:

アリティア同盟軍

Aritian Alliance Army) and "the League" (Japanese:

同盟軍

Alliance Army).
Chrom's army in the second half of Fire Emblem Awakening is known as the "Ylissean League" (Japanese:

イーリス同盟軍

Iris Alliance Army).
Etymology and other languages
Names, etymology and in other regions
Language
Name
Definition, etymology, and notes
English

Archanean League

--

English
(PAL)

Akaneian League

--

English
(unofficial)

Allied army

Used in the Mystery of the Emblem fan translation.

Japanese

アカネイア同盟軍

Akaneian Alliance Army; this full name is used sparingly, and dialogue almost always omits "Akaneia".

Spanish

Alianza Akaneia

Akaneia alliance

French

Ligue d'Akaneia

League of Akaneia

German

Akaneisches Bündnis

Akaneian alliance

Italian

Lega di Akaneia

League of Akaneia
References