Site News
Warning: This wiki contains spoilers. Read at your own risk!


Social media: If you would like, please join our Discord server, and/or follow us on Twitter or Tumblr!

Engage info: As the game has only recently released, we lack much key information. Please help add any info that you can.
Zofia's Call
From Fire Emblem Wiki, your source on Fire Emblem information. By fans, for fans.
Zofia's Call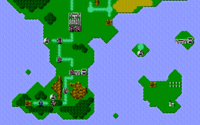 | | |
| --- | --- |
| Location | |
| New units | Alm, Lukas, Gray, Tobin, Kliff, Faye,[Note 1] Silque, Clair, Forsyth, Python, Clive |
| Boss(es) | |
| Previous chapter(s) | |
| Next chapter(s) | |
| | | | |
| --- | --- | --- | --- |
| " | You'll come in General Mycen's stead? Thank you. My comrades will definitely be pleased as well. Well then, let's go together to the Deliverance's secret base. | " | — Lukas |
Zofia's Call (Japanese: ソフィアへ! To Sofia!) is the first Act of Fire Emblem Gaiden and its remake, Echoes: Shadows of Valentia. Alm begins his journey across Zofia to save the country from Desaix's tyranny. In this chapter Alm only has access to the southern portion of Zofia on the world map.
Plot
Main article: Zofia's Call/Script
Note that while the general structure of the plot is unchanged between Gaiden and Shadows of Valentia, plot elements related to Fernand and Berkut are specifically based on Shadows of Valentia.
Seven years later, in Flostym 401 V.C., Alm has become a fine swordsman under Mycen's tutelage. Although Alm wants to set out into the outside world and help protect innocent people from the bandit raids and Rigelian invasions that have been recurring lately, Mycen adamantly refuses to let him leave.
One day, a man named Lukas arrives in Ram. He explains that King Lima IV has been assassinated by Chancellor Desaix, who has seized control of Zofia and sold it out to Rigel. Lukas is hoping to recruit Mycen to serve the Deliverance, a rebellion group dedicated to overthrowing Desaix. Mycen refuses, however, so Alm, Gray, and Tobin join in his stead. Kliff and Faye can also be convinced to join. The group leaves to battle Desaix. Along the way, they rescue a cleric named Silque.
After rescuing Silque, Alm's group begins to encounter Desaix's forces, engaging them at some forts. In one of the strongholds he finds Clair, a pegasus knight that had been captured by Desaix's forces. As he presses northwards, Alm encounters Fernand, a haughty member of the Deliverance who has had a grudge against the underclasses ever since his peasants stormed his manor and killed his family during the drought. Alm then makes it to the Deliverance's hideout, killing some monsters along the way and meeting the other Deliverance members: Forsyth and Python, and their leader, Clive. Clive, believing that a commoner leader will be able to rally the Deliverance better than he can, places Alm in command of the Deliverance. This enrages Fernand, who deserts them.
The Deliverance marches towards Zofia Castle to engage Desaix and Slayde. Meanwhile, Fernand is captured by Desaix's forces near the castle. He explains that Mycen's supposed grandson Alm is now leading the Deliverance; this confuses Desaix, who claims that Mycen never had any children. He spares Fernand's life and places him under the command of Berkut, Rudolf's nephew and heir presumptive to the Rigelian throne. The Deliverance attacks Zofia Castle; they are unable to kill Desaix, as he flees before being in any danger, having left a double behind to stall Alm's forces. Regardless, Zofia Castle is liberated from Desaix's control. Inside the castle, Alm decides to press forward and drive Rigel out of Zofia's borders. He also learns from an old timer that Mycen had no family. Finally, he reunites with Mycen at the castle balcony. Mycen expresses his pride in Alm's growth and warns him of the peril he is marching into should he do battle with Rigel. Alm then greets the people of Zofia, who celebrate their new champion.
Meanwhile, in Rigel, Emperor Rudolf and High Priest Jedah learn of the events that transpired at Zofia Castle. Rudolf is pleased to learn that Alm has taken command of the Deliverance.
Character data
Gaiden Echoes: Shadows of Valentia
Characters
New Units
Python

Archer
HP
24
Inventory


Bow

Level
3
Talk to him at the Deliverance Hideout Entrance after Clive joins
Available Characters

Map data
There are nine combat maps in Act 1 of Gaiden. Each one is detailed below, with what character is recruited on what map and so on.
Two of these maps, the Thieves' Shrine and Deliverance Hideout, are dungeons which contain replayable skirmishes.
Exploration sections
Ram
Main article: Ram
Ram is Alm's hometown, and the first area visited in the game.
Thieves' Shrine
Main article: Thieves' Shrine
The Thieves' Shrine is a hideout used by the local bandits, and is the first dungeon in the game.
Southern Outpost
Main article: Southern Outpost
The Southern Outpost is a fortification formerly occupied by the Deliverance, taken by the Zofian Army.
Zofia Castle
Main article: Zofia Castle
Zofia Castle is the heart of Zofia, from where its former king ruled. It is the last area visited in Act 1.
Trivia
In Gaiden, if the player resets the game while in Ram, Gray's position will change, meaning that he is not required to talk to in order to leave the village.
In Gaiden, if the player does not recruit a character with Alm, Celica can recruit them in Act 2. The characters have no unique dialogue for this—some call Celica "Alm", and Alm even speaks in Forsyth's recruitment. In Shadows of Valentia, many of these characters cannot be recruited by Celica; however, Kliff and Faye can be, and have unique dialogue for this occurrence.
Etymology and other languages
Names, etymology and in other regions
Language
Name
Definition, etymology, and notes
English

Zofia's Call

--

English
(unofficial)

To Zofia!

--

Japanese

ソフィアへ!

To Sofia!

Spanish

Rumbo a Zofia

To Zofia

French

L'appel de Zofia

The call of Zofia

German

Zofia ruft

Zofia calls

Italian

Zofia chiama

Call of Zofia

Dutch

Zofia roept

Zofia Calls

Korean

소피아로!

To Sofia!

Simplified Chinese

前往索菲亚!

To Sofia!

Traditional Chinese

前往索菲亞!

To Sofia!
Gallery
Notes