Site News
Warning: This wiki contains spoilers. Read at your own risk!


Discord and Twitter: If you would like, please join our Discord server, and/or follow us on Twitter at @FEWikiOfficial!
The Pilgrimage
From Fire Emblem Wiki, your source on Fire Emblem information. By fans, for fans.
---
This page has been marked as a stub. Please help improve the page by adding information.
---
The Pilgrimage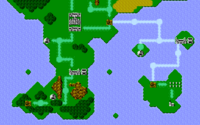 | | |
| --- | --- |
| Location | |
| New units | Celica, Mae, Boey, Genny, Saber, Valbar, Kamui, Leon, Gray,[Note 1] Tobin,[Note 1] Kliff, Faye, Silque,[Note 1] Clair,[Note 1] Clive,[Note 1] Forsyth,[Note 1] Python[Note 1] |
| Boss(es) | |
| Previous chapter(s) | |
| Next chapter(s) | |
| | | | |
| --- | --- | --- | --- |
| " | Celica... Must you go no matter what? The road to the Temple of Mila is long. | " | — Nomah to Celica |
The Pilgrimage (Japanese: セリカの旅立ち Cellica's Departure) is the second Act of Fire Emblem Gaiden and Fire Emblem Echoes: Shadows of Valentia.
Plot
In Avistym 401 V.C., Celica has a nightmare of Alm being slain in a duel with Rudolf. Word of Lima IV's death reaches the Novis Monastery. Due to this and the many calamities that have recently plagued Zofia, Celica suspects that something has happened to Mila, so she and her friends Mae, Boey, and Genny embark on a journey to find her with the reluctant blessing of the high priest Nomah. At Novis Greatport, Celica enlists the services of veteran mercenary Saber to act as a bodyguard on her quest. She battles her way through the pirate-infested Zofia Seaway and kills Barth, the so-called "Pirate King". As Celica continues north, she comes under attack from mysterious dark mages with the power to summon Terrors.
When Celica arrives at Zofia Harbor, she receives a hero's welcome for defeating Barth. A civilian informs Celica that the Deliverance has liberated Zofia Castle and Alm now commands them. Celica heads to Zofia Castle, and as Mae and Boey head into the castle, Celica and Saber are attacked by more cantors. They are rescued by a mysterious masked knight, and together they drive off the enemies. As they flee, the enemies encounter Slayde, who identifies them as Rigelian and defects. Inside the castle, Celica reunites with Alm, but the two get into an argument over Alm's intention to battle Rigel and part ways in bitterness.
Character data
Gaiden Echoes: Shadows of Valentia
Characters
New Units
Returning Characters
None
Map data
There are nine combat maps in Act 2 of Gaiden. In Echoes: Shadows of Valentia, a tenth battle is added at the end of the chapter.
Exploration sections
Priory
The Priory is Celica's current abode, and the first area visited in Act 2.
Novis Greatport
The largest port on the isle of Novis, where Celica gains access to a boat to the mainland.
The Pirate Throne
The fort out of which Barth operates.
Seabound Shrine
A cave in a small island guarded by a necrodragon; the first dungeon Celica can explore.
Zofia Harbor
A harbor east of Zofia Castle and south of the country's desert.
Etymology and other languages
Names, etymology and in other regions
Language
Name
Definition, etymology and notes
English

The Pilgrimage

--

Japanese

セリカの旅立ち

Cellica's Departure

Spanish

Peregrinaje

Pilgrimage

French

Pèlerinage

Pilgrimage

German

Auf Pilgerfahrt

On Pilgrimage

Italian

Il pellegrinaggio

The pilgrimage

Dutch

De pelgrimage

The pilgrimage

Korean

세리카의 여정

Celica's journey

Simplified Chinese

赛莉卡启程

Celica departs

Traditional Chinese

賽莉卡啟程

Celica departs
Gallery
---
This section has been marked as a stub. Please help improve the page by adding information.
---
Notes