Site News
Warning: This wiki contains spoilers. Read at your own risk!


Social media: If you would like, please join our Discord server, and/or follow us on Twitter or Tumblr!

Engage info: As the game has only recently released, we lack much key information. Please help add any info that you can.
Land of Sorrow (Gaiden)
From Fire Emblem Wiki, your source on Fire Emblem information. By fans, for fans.
---
This page has been marked as a stub. Please help improve the page by adding information.
---
Land of Sorrow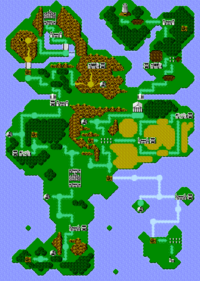 Location
New units

Alm's Route: Tatiana, Zeke, Mycen
Celica's Route: Nomah, Conrad[Note 1]

Boss(es)

Alm's Route: Fernand,[Note 1] Berkut,[Note 1] Shizas,[Note 2] Xaizor, Marla, Nuibaba, Jerome, Zeke, Magnus, Hestia, Rudolf, Mueller
Celica's Route: Garcia, Dolth, Jamil, Jedah

Previous chapter(s)
Next chapter(s)
Land of Sorrow (Japanese: 悲しみの大地 Land of Sadness) is the fourth act of Fire Emblem Gaiden and Fire Emblem Echoes: Shadows of Valentia.
Plot
Main article: Land of Sorrow (Gaiden)/Script
Wyrmstym 401 V.C. arrives, and Alm's pleas to Rudolf to begin negotiations for peace go unanswered. Alm elects to launch a counter-invasion of Rigel, and notes that the cold air feels oddly familiar to him. His first opponent is Berkut, who personally takes command of the border division to repay his humiliation in Zofia. Alm emerges victorious once again, and Berkut swallows his pride and smashes Nuibaba's mirror. An army of Terrors emerge from the ground and begins attacking the Deliverance, disgusting even Berkut and Fernand. Alm successfully dispels the Terrors by praying to Celica's charm. Berkut and Fernand retreat and flee back to the capital, where Berkut rages at his inability to defeat Alm to his beloved fiancée Rinea and hears a mysterious voice beckon to him. Alm detours to Nuibaba's Abode to kill her and rescue the innocent maidens she has abducted, including the priestess Tatiana. Afterwards, he makes his way up Rigel's west coast. Alm also recruits Zeke, an amnesiac general who was being forced to serve the corrupt Jerome by using Tatiana as leverage. Any further attempts to reach Rigel Castle are arrested by a rockslide at the Dragon's Maw.
Meanwhile, Celica begins her march towards Duma Tower. As she sets out, Jedah telepathically contacts her and reveals that both Mila and Duma are suffering from mental degradation that will destroy all of Valentia if left unchecked. He offers to release Mila if Celica offers her soul up to Duma to restore his mind, which would allow Alm to end his military campaign. Troubled by Jedah's offer, Celica and her forces battle the cantor Dolth. After his defeat, Dolth nearly convinces Celica to surrender, only to be killed by the masked knight. He reveals himself to be Celica's presumed-dead older half-brother Conrad, and convinces her to keep living for the sake of her friends. Celica's party confronts Jedah, who bids Celica come to the peak of Duma Tower to give her answer to his offer. Celica and her friends make their way through Duma Tower and meet Jedah, who shows them a vision of Mila's corpse with Falchion plunged into it. He explains that after Rudolf sealed Mila, Mila sealed Falchion, making Duma unstoppable. Jedah warps Celica's party away and removes the rockslide impeding Alm's progress.
Alm begins the final push towards Rigel Castle. At the Last Bastion, he encounters Slayde once more, and the Deliverance finally slays him once and for all. Finally, Alm besieges Rigel Castle and mortally wounds Rudolf. As he dies, Rudolf claims that Alm is his only son and begs him to take Falchion and slay Duma. A distraught and confused Alm enters Rigel Castle and meets Rudolf's captain of the guards, Massena. Massena directs him to Mycen, who explains that Alm is indeed Albein Alm Rudolf, firstborn heir to the Rigelian Empire. Alm was born with the Brand, marking him as the one who would save Valentia, and Rudolf entrusted Mycen with his care in order to protect him from the Duma Faithful and fashioned himself a tyrant for Alm to rise against. Meanwhile, at Duma Tower, Jedah points out that Alm's quest to defeat Duma is doomed without Falchion's power. Celica finally breaks down and agrees to sacrifice her soul to Duma to protect Alm.
Character data
Character data
Gaiden Echoes: Shadows of Valentia
Alm's route Celica's route
Characters
New Units
Available Characters














Map data
There are a total of 18 maps in Act 4 of Gaiden and Echoes: Shadows of Valentia.
Alm's route
Celica's route
Exploration sections
---
This section has been marked as a stub. Please help improve the page by adding information.
---
Trivia
In the original Gaiden Shizas was the boss of the battle at the Rigel-Zofia border. The remake, Echoes: Shadows of Valentia, has Berkut wholly replace his role. Shizas does not appear anywhere in the remake at all, though he does have some unused data suggesting he was possibly planned to appear in the game at some point in development.[1]
Etymology and other languages
Names, etymology and in other regions
Language
Name
Definition, etymology, and notes
English

Land of Sorrow

--

Japanese

悲しみの大地

Land of Sadness

Spanish

Tierra de tragedia

Land of tragedy

French

Les terres de douleur

The land of sorrow

German

Land des Wehklagens

Land of Lament

Italian

Terra di dolore

Land of sorrow

Dutch

Land van verdriet

Land of sorrow

Korean

슬픔의 대지

Earth of sorrow

Simplified Chinese

悲情的大地

Land of sorrow

Traditional Chinese

悲情的大地

Land of sorrow
Gallery
---
This section has been marked as a stub. Please help improve the page by adding information.
---
Notes
References
↑ "Oh, he's in the character database, but he doesn't have a model, voice or allegiance. I guess he's not an actual character then ^^;;
His stats for reference:
Level 1 Gold Knight
HP 40
STR 18
SKL 7
SPD 12
LCK 0
DEF 13
RES 6" — VincentASM, Data-mined Information (SPOILERS; please read first post), Serenesforest.net, Published: April 6th 2017, Retrieved: April 7th 2017